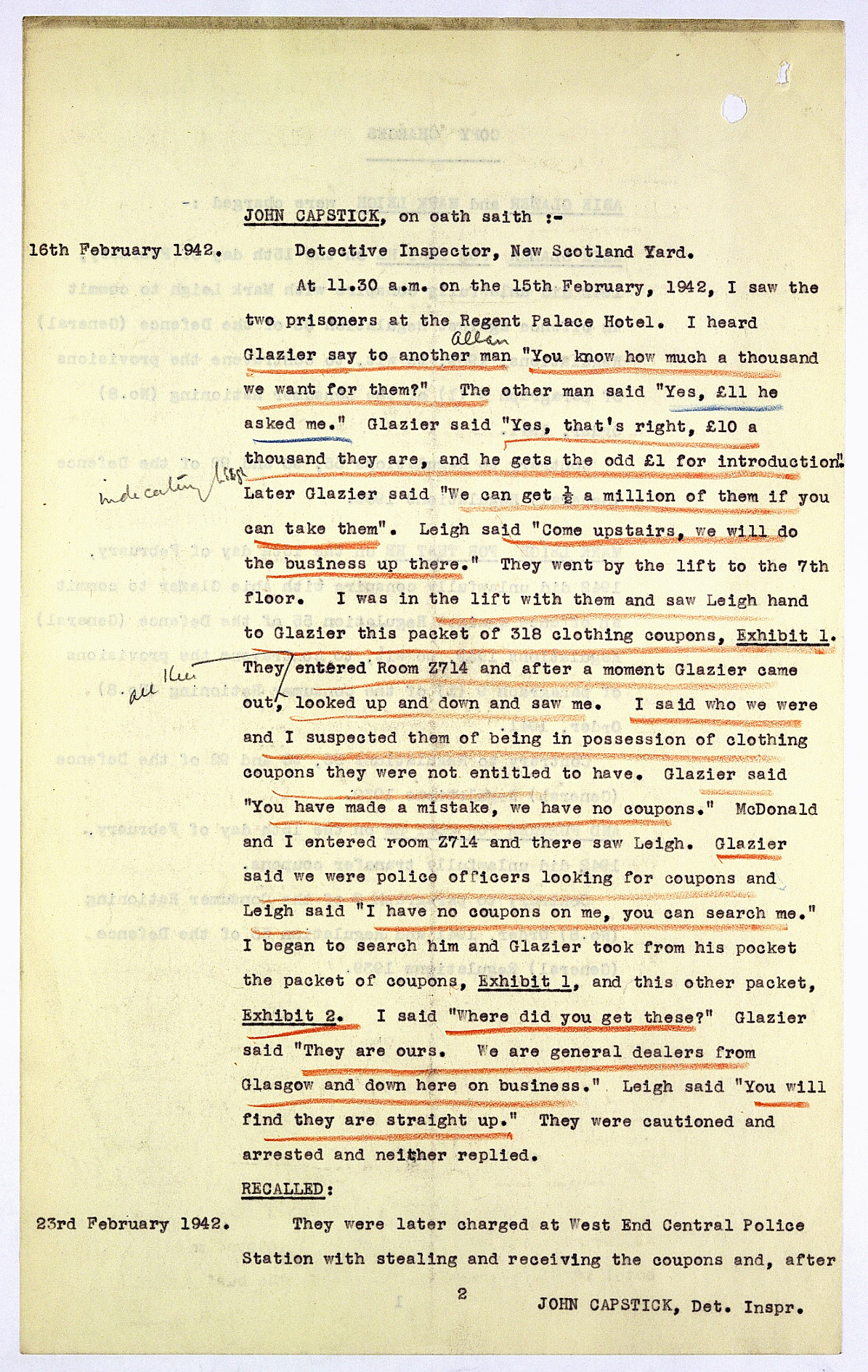 Evidence of Detective Inspector Capstick used in the case of Rex v. Glazier and Leigh, two 'spivs', convicted of illegally selling extra clothing coupons, March 1942, Catalogue ref: CRIM 1/1387
Lots of people did try and get round rationing, buying extra clothes and food without coupons on the 'Black Market' from profiteers known as 'Spivs'. Coupons were also forged, or stolen and sold on the black market at high prices so people could get more than their ration.
Transcript
JOHN CAPSTICK, on oath saith:-
16th February 1942.
Detective Inspector, New Scotland Yard.
At 11.30 a.m. on the 15th February, 1942, I saw the two prisoners at the Regent Palace Hotel. I heard Glazier say to another man "You know how much a thousand we want for them?" The other man said "Yes, £11 he asked me." Glazier said "Yes, that's right, £10 a thousand they are, and he gets the odd £1 for introduction."
Later Glazier said "We can get half a million of them if you can take them." Leigh said "Come upstairs, we will do the business up there." They went by the lift to the 7th floor. I was in the lift with them and saw Leigh hand to Glazier this packet of 318 clothing coupons, Exhibit 1.
They entered Room Z714 and after a moment Glazier came out, looked up and down and saw me. I said who we were and I suspected them of being in possession of clothing coupons they were not entitled to have. Glazier said "You have made a mistake, we have no coupons." McDonald and I entered room Z714 and there saw Leigh. Glazier said we were police officers looking for coupons and Leigh said "I have no coupons on me, you can search me." I began to search him and Glazier took from his pocket the packet of coupons, Exhibit 1, and this other packet, Exhibit 2. I said "Where did you get these?" Glazier said "They are ours. We are general dealers from Glasgow and down here on business." Leigh said "You will find they are straight up." They were cautioned and arrested and neither replied.
RECALLED:
23rd February 1942.
They were later charged at West End Central Police Station with stealing and receiving the coupons…
JOHN CAPSTICK, Det. Inspr.
Return to Home Front 1939-1945 (part two)