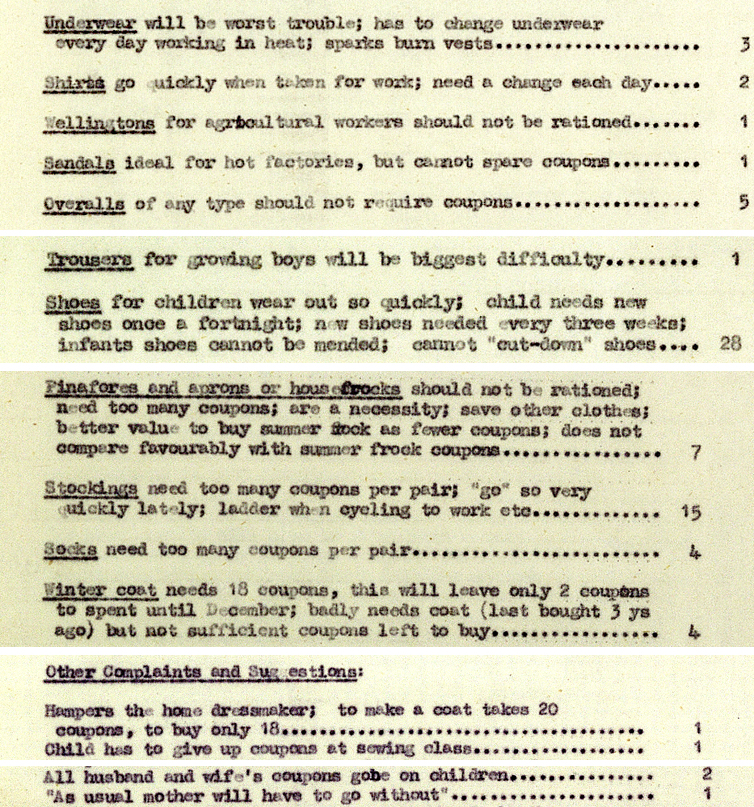 Results of an investigation recording attitudes towards clothes rationing, 1941, Catalogue ref: BT 64/4101
The Government wanted to make sure everyone pulled together to help fight the war on the Home Front. The publicity produced about salvage, food and clothes rationing made it seem that everyone was willing to make sacrifices so that there was enough to go around, and that all spare resources went in to the war effort.
Those that did try and keep to the ration often found it difficult, and there were many complaints about how difficult it still was to get some types of clothes. Lots of substitute foods such as dried egg powder, and liquid paraffin instead of cooking oil, had to be used to make up for the shortages. These were not very tasty and people hated them. Housewives were advised to tell their families what had gone into their dinner only after they had eaten it!
Transcript
Underwear will be worst trouble; has to change underwear every day working in heat; sparks burn vests…………3
Shirts go quickly when taken for work; need a change each day…………2
Wellingtons for agricultural workers should not be rationed…………1
Sandals ideal for hot factories, but cannot spare coupons…………1
Overalls of any type should not require coupons…………5
…
Trousers for growing boys will be biggest difficulty…………1
Shoes for children wear out so quickly; child needs new shoes once a fortnight; new shoes needed every three weeks; infants shoes cannot be mended; cannot "cut-down" shoes…………28
…
Pinafores and aprons or housefrocks should not be rationed; need too many coupons; are a necessity; save other clothes; better value to buy summer frock as fewer coupons; does not compare favourably with summer frock coupons…………7
Stockings need too many coupons per pair; "go" so very quickly lately; ladder when cycling to work etc…………15
Socks need too many coupons per pair…………4
Winter coat needs 18 coupons, this will leave only 2 coupons to spent until December; badly needs coat (last bought 3 years ago) but not sufficient coupons left to buy…………4
…
Other Complaints and Suggestions
Hampers the home dressmaker; to make a coat takes 20 coupons, to buy only 18…………1
Child has to give up coupons at sewing class…………1
All husband and wife's coupons gone on children…………2
"As usual mother will have to go without" …………1
Return to Home Front 1939-1945 (part two)