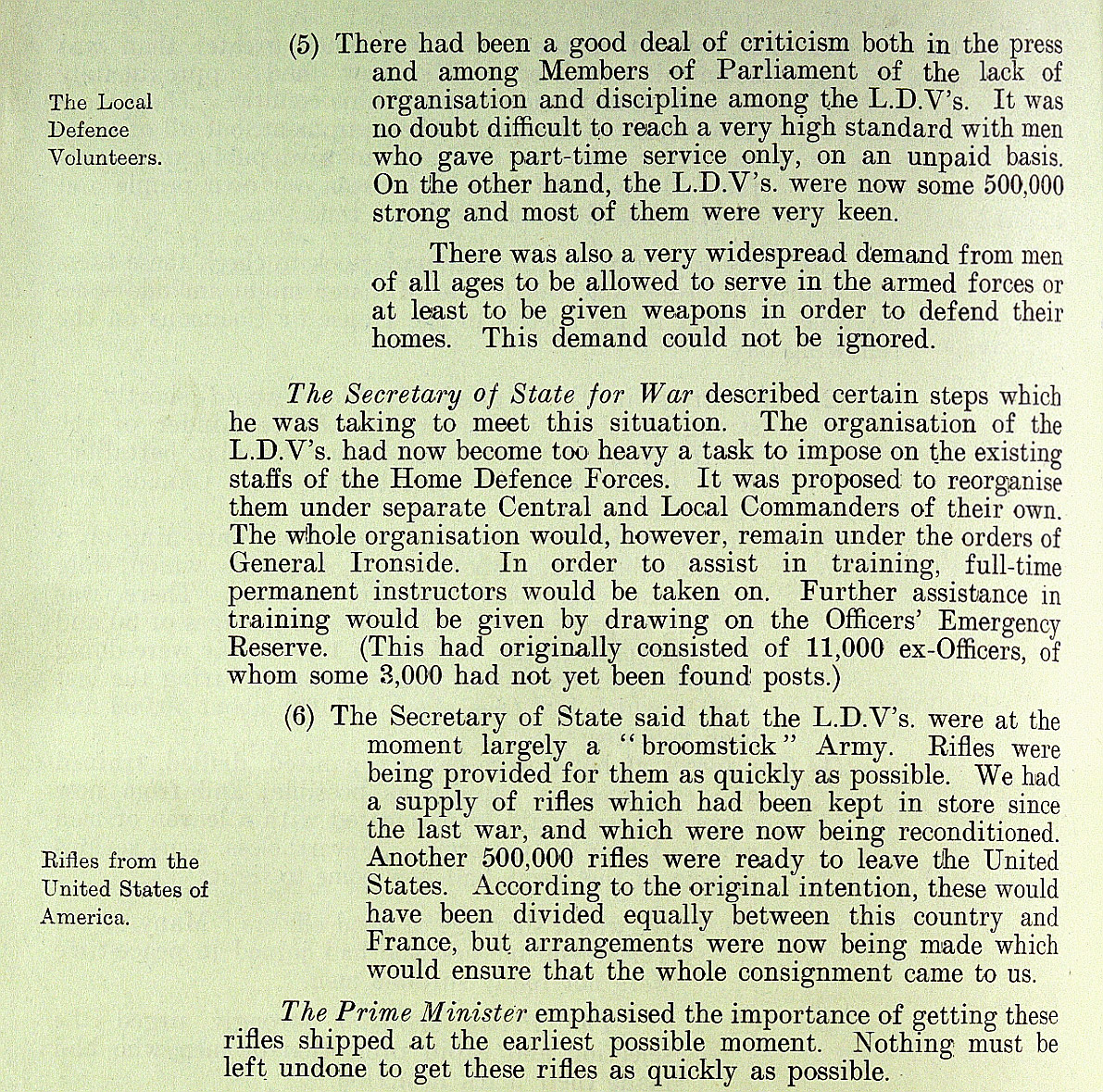 Problems with supplying guns to the Home Guard, June 1940, Catalogue ref: CAB 65/7/170
Hundreds of thousands of men joined the Home Guard in the summer of 1940 and served through the war. The force had some problems to begin with because they did not have proper weapons or uniforms. Despite this they began training to resist an enemy invasion and soon became a familiar sight around the country performing a number of roles. Although it was expected, the Germans did not try to invade, so the Home Guard never faced an invading force and the question remains about how they would have fought.
Transcript
The Local Defence Volunteers.
(5) There had been a good deal of criticism both in the press and among Members of Parliament of the lack of organisation and discipline among the L.D.V's. It was no doubt difficult to reach a very high standard with men who gave part-time service only, on an unpaid basis. On the other hand, the L.D.V's were now some 500,000 strong and most of them were very keen.
There was also a very widespread demand from men of all ages to be allowed to serve in the armed forces or at least to be given weapons in order to defend their homes. This demand could not be ignored.
The Secretary of State for War described certain steps which he was taking to meet this situation. The organisation of the L.D.V's had now become too heavy a task to impose on the existing staffs of the Home Defence Forces. It was proposed to reorganise them under separate Central and Local Commanders of their own. The whole organisation would, however, remain under the orders of General Ironside. In order to assist in training, full-time permanent instructors would be taken on. Further assistance in training would be given by drawing on the Officers' Emergency Reserve. (This had originally consisted of 11,000 ex-Officers, of whom some 3,000 had not yet been found posts.)
Rifles from the United States of America.
(6) The Secretary of State said that the L.D.V's were at the moment largely a 'broomstick' Army. Rifles were being provided for them as quickly as possible. We had a supply of rifles which had been kept in store since the last war, and which were now being reconditioned. Another 500,000 rifles were ready to leave the United States. According to the original intention, these would have been divided equally between this country and France, but arrangements were now being made which would ensure that the whole consignment came to us.
The Prime Minister emphasised the importance of getting these rifles shipped at the earliest possible moment. Nothing must be left undone to get these rifles as quickly as possible.
Return to Home Front 1939-1945 (part one)