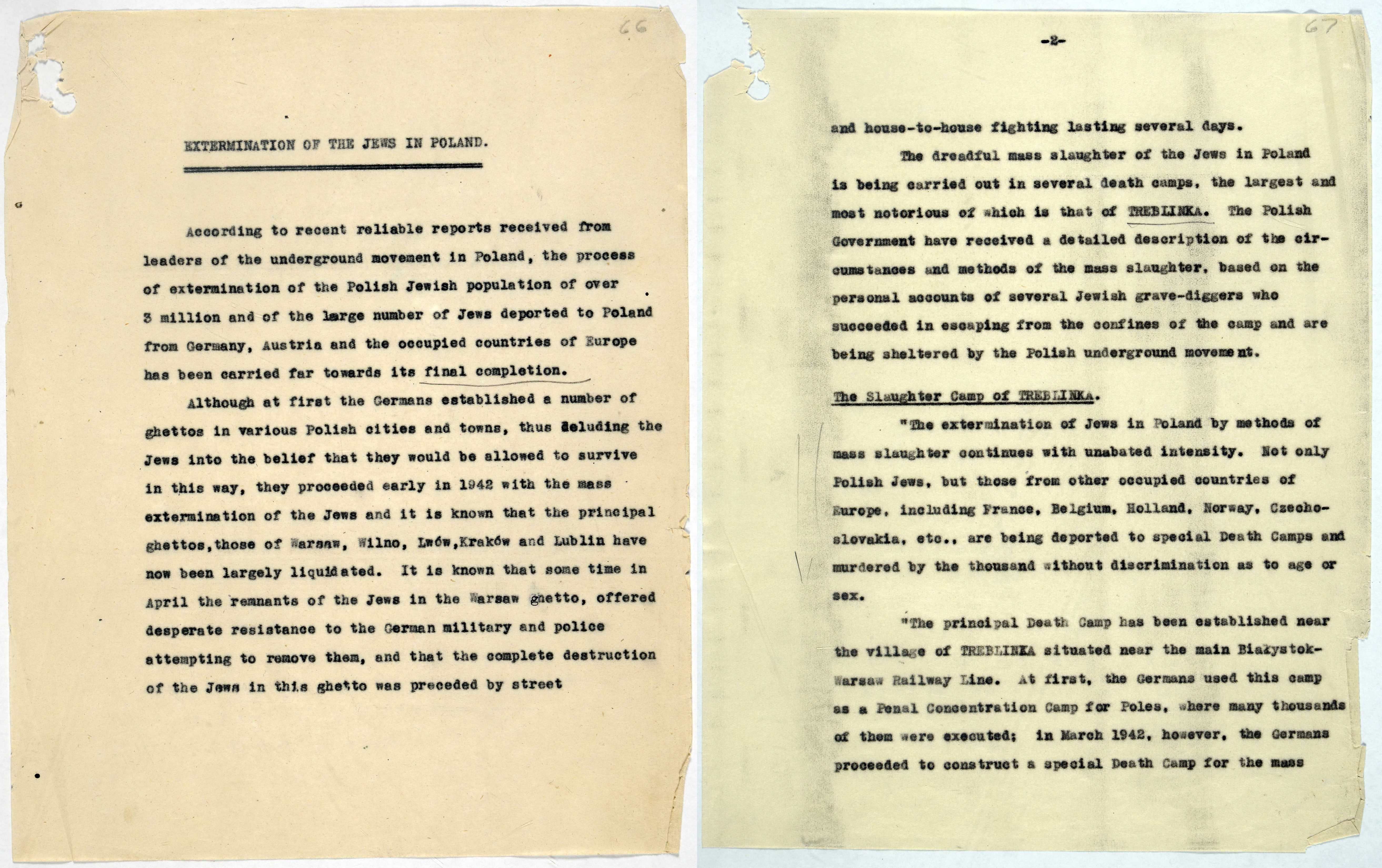 Report of the mass execution of Jews in Poland (catalogue reference FO 371/34550)
Transcript
EXTERMINATION OF THE JEWS IN POLAND
According to recent reliable reports received from leaders of the underground movement in Poland, the process of extermination of the Polish Jewish population of over 3 million and of the large number of Jews deported to Poland from Germany, Austria and the occupied countries of Europe has been carried far towards its final completion.
Although at first the Germans established a number of ghettos in various Polish cities and towns, thus deluding the Jews into the belief that they would be allowed to survive in this way, they proceeded early in 1942 with the mass extermination of the Jews and it is known that the principal ghettos, those of Warsaw, Wilno, Lwow, Krakow and Lublin have now been largely liquidated. It is known that some time in April the remnants of the Jews in the Warsaw ghetto, offered desperate resistance to the German military and police attempting to remove them, and that the complete destruction of the Jews in this ghetto was preceded by street and house-to-house fighting lasting several days.
The dreadful mass slaughter of the Jews in Poland is being carried out in several death camps, the largest and most notorious of which is that of TREBLINKA. The Polish Government have received a detailed description of the circumstances and methods of the mass slaughter, based on the personal accounts of several Jewish grave-diggers who succeeded in escaping from the confines of the camp and are being sheltered by the Polish underground movement.
The Slaughter Camp of TREBLINKA.
'The extermination of Jews in Poland by methods of mass slaughter continues with unabated intensity. Not only Polish Jews, but those from other occupied countries of Europe, including France, Belgium, Holland, Norway, Czechoslovakia, etc., are being deported to special Death Camps and murdered by the thousand without discrimination as to age or sex.
'The principal Death Camp has been established near the village of TREBLINKA situated near the main Biakystok-Warsaw Railway Line. At first, the Germans used this camp as a Penal Concentration Camp for Poles, where many thousands of them were executed in March 1942, however, the Germans proceeded to construct a special Death Camp for their mass …'
Return to The Holocaust