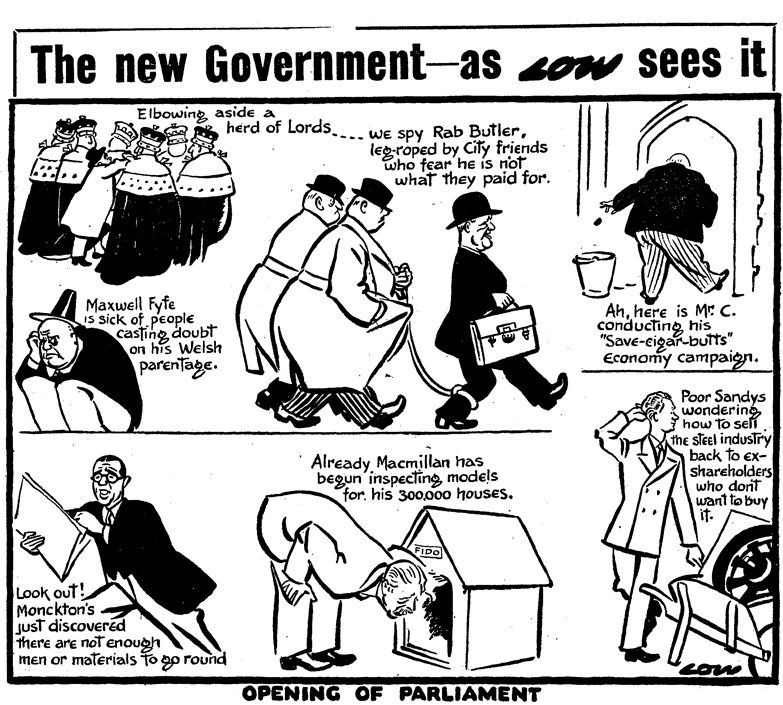 'The New Government', cartoon by David Low printed in the Daily Herald newspaper, 6th November 1951
From the collection of the British Cartoon Archive, University of Kent. © Solo Syndication
Transcript
Opening of Parliament
The new Government – as Low sees it
Elbowing aside a herd of Lords…we spy Rab Butler, leg-roped by City friends who fear he is not what they paid for.
Ah, here is Mr C. conducting his "save-cigar-butts" economy campaign.
Maxwell Fyfe is sick of people casting doubt on his Welsh parentage.
Look out! Monckton's just discovered there are not enough men or materials to go around.
Already Macmillan has begun inspecting models for his 300,000 houses.
Poor Sandys, wondering how to sell the steel industry back to ex-shareholders who don't want to buy it.
Return to Fifties Britain