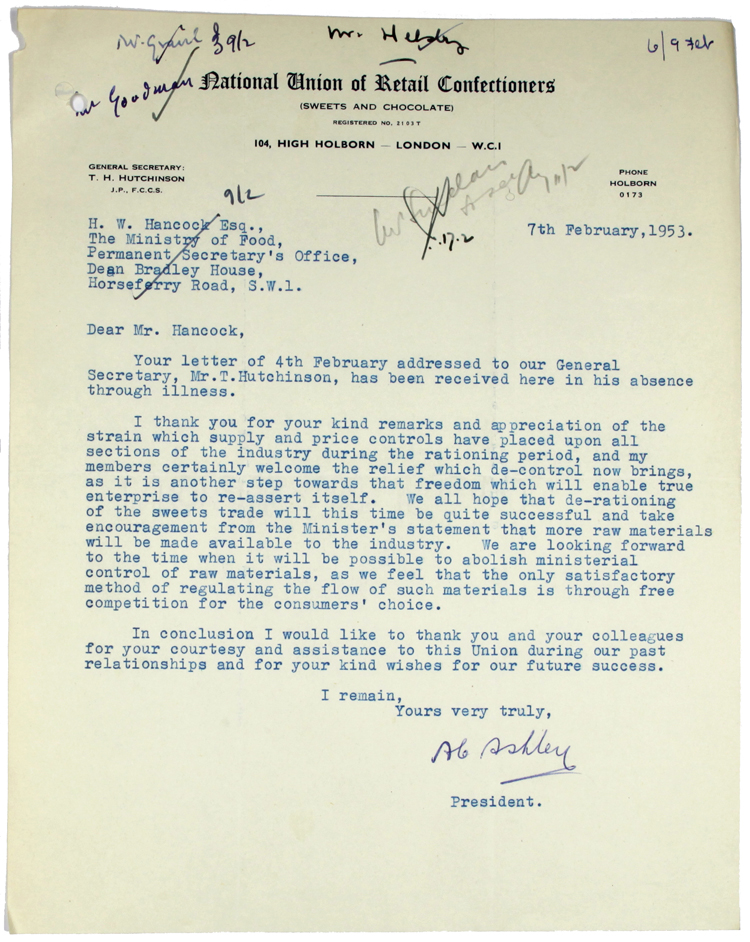 Letter sent to the Minister of Food from the National Union of Retail Confectioners, 7th February 1953 (MAF 263/56)
Transcript
National Union of Retail Confectioners (Sweets and Chocolate)
7th February, 1953.
Dear Mr. Hancock,
Your letter of 4th February addressed to our General Secretary, Mr. T. Hutchinson, has been received here in his absence through illness.
I thank you for your kind remarks and appreciation of the strain which supply and price controls have placed upon all sections of the industry during the rationing period, and my members certainly welcome the relief which de-control now brings, as it is another step towards that freedom which will enable true enterprise to re-assert itself. We all hope that de-rationing of the sweet trade at this time be quite successful and take encouragement from the Minister's statement that more raw materials will be made available to the industry. We are looking forward to the time when it will be possible to abolish ministerial control of raw materials, as we feel that the only satisfactory method of regulating the flow of such materials is through free competition for the consumers' choice.
In conclusion I would like to thank you and your colleagues for your courtesy and assistance to this Union during our past relationships and for your kind wishes for our future success.
I remain,
Yours very truly,
A. C. Ashley
President
Return to Fifties Britain