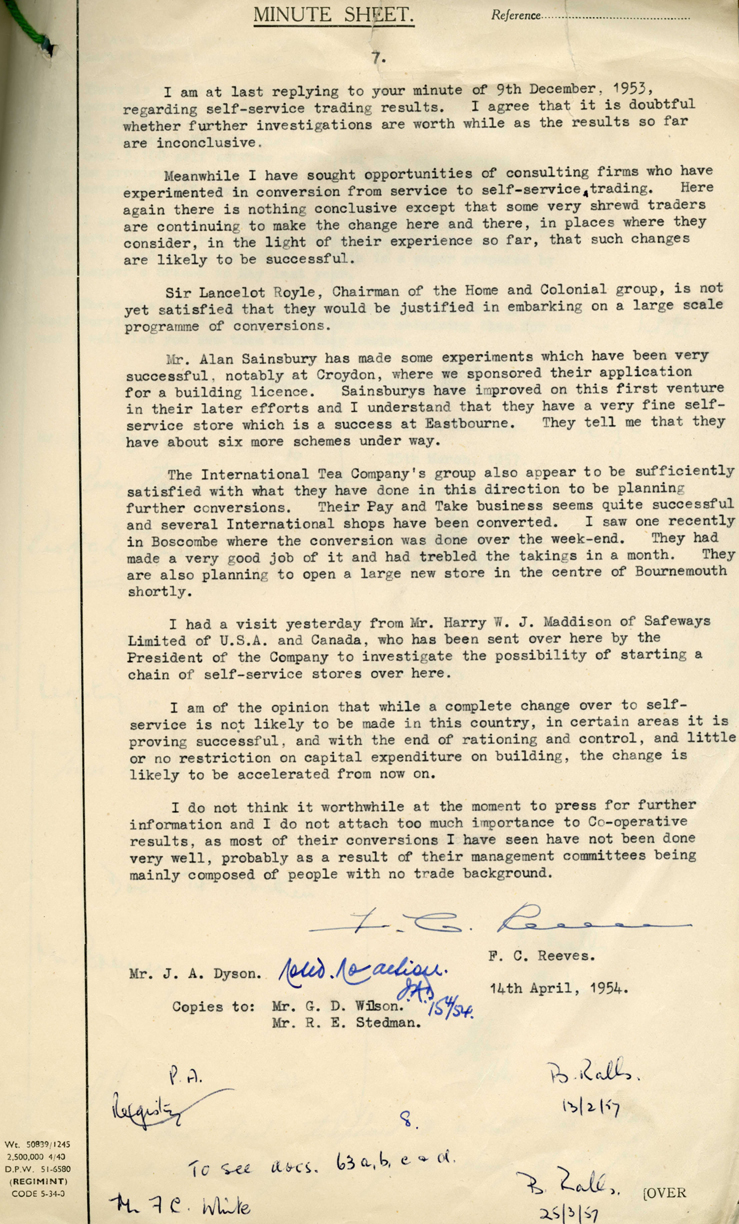 A reply sent to Mr. J.A. Dyson regarding his enquiry into self service and non-self service shops from Mr. F.C. Reeves at the Ministry of Agriculture, Fisheries & Food, 14th April 1954 (MAF 392/3031)
Transcript
MINUTE SHEET
I am last replying to your minute of 9th December, 1953, regarding self-service trading results. I agree that it is doubtful whether further investigations are worth while as the results so far are inconclusive.
Meanwhile I have sought opportunities of consulting firms who have experimented in conversion from service to self-service trading. Here again there is nothing conclusive except that some very shrewd traders are continuing to make the change here and there, in places where they consider, in the light of their experience so far, that such changes are likely to be successful.
Sir Lancelot Royle, Chairman of the Home and Colonial group, is not yet satisfied that they would be justified in embarking on a large scale programme of conversions.
Mr. Alan Sainsbury has made some experiments which have been very successful, notably in Croydon, where we sponsored their application for a building licence. Sainsburys have improved on this first venture in their later efforts and I understand that they have a very fine self service store which is a success at Eastbourne. They tell me that they have about six more schemes underway.
The International Tea Company's group also appear to be sufficiently satisfied with what they have done in this direction to be planning further conversions. Their Pay and Take business seems quite successful and several International shops have been converted.I saw one recently in Boscombe where the conversion was done over the week-end. They had made a very good job of it and had trebled the takings in a month. They are also planning a new store in the centre of Bournemouth shortly.
I had a visit yesterday from Mr.Harry W.J. Maddison of Safeways Limited of U.S.A. and Canada, who has been sent over here by the President of the Company to investigate the possibility of starting a chain of self-service stores over here.
I am of the opinion that while a complete change over to self-service is not likely to be made in this country, in certain areas it is proving successful, and with the end of rationing and control, and little or no restriction on capital expenditure on building, the change is likely to be accelerated from now on.
I do not think it worthwhile at the moment to press for further information and I do not attach too much importance to Co-operative results, as most of their conversions I have seen have not been done very well, probably as a result of their management committees being composed of people with no trade background.
F.C. Reeves 14th April, 1954
Return to Fifties Britain