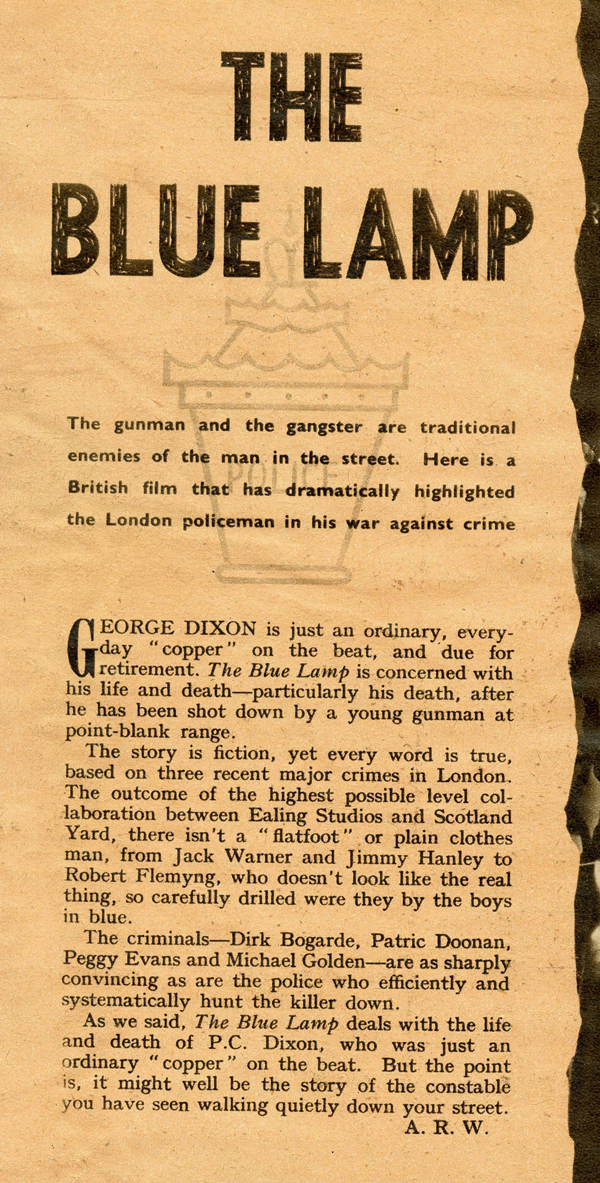 Review of the Ealing Studios film 'The Blue Lamp' from Picturegoer magazine, 18th February 1950 (MEPO 2/8342)
Transcript
THE BLUE LAMP
The gunman and the gangster are traditional enemies of the man in the street. Here is a British film that has dramatically highlighted the London policeman in his war against crime.
George Dixon is just an ordinary, everyday "copper" on the beat, and due for retirement. The Blue Lamp is concerned with his life and death-particularly his death, after he has been shot down by a young gunman at point-blank range.
The story is fiction, yet every word is true, based on three major crimes in London. The outcome of the highest possible level collaboration between Ealing Studios and Scotland Yard, there isn't a "flatfoot" or plain clothes man, from Jack Warner and Jimmy Handley to Robert Flemyng, who doesn't look like the real thing, so carefully drilled were they by the boys in blue.
The criminals-Dirk Bogarde, Patric Doonan, Peggy Evans and Michael Golden- are as sharply convincing as are the police who efficiently and systematically hunt the killer down.
As we said, The Blue Lamp deals with the life and death of P.C. Dixon, who was just an ordinary "copper" on the beat. But the point is, it might well be the story of the constable you have seen walking quietly down your street.
A.R.W.
Return to Fifties Britain