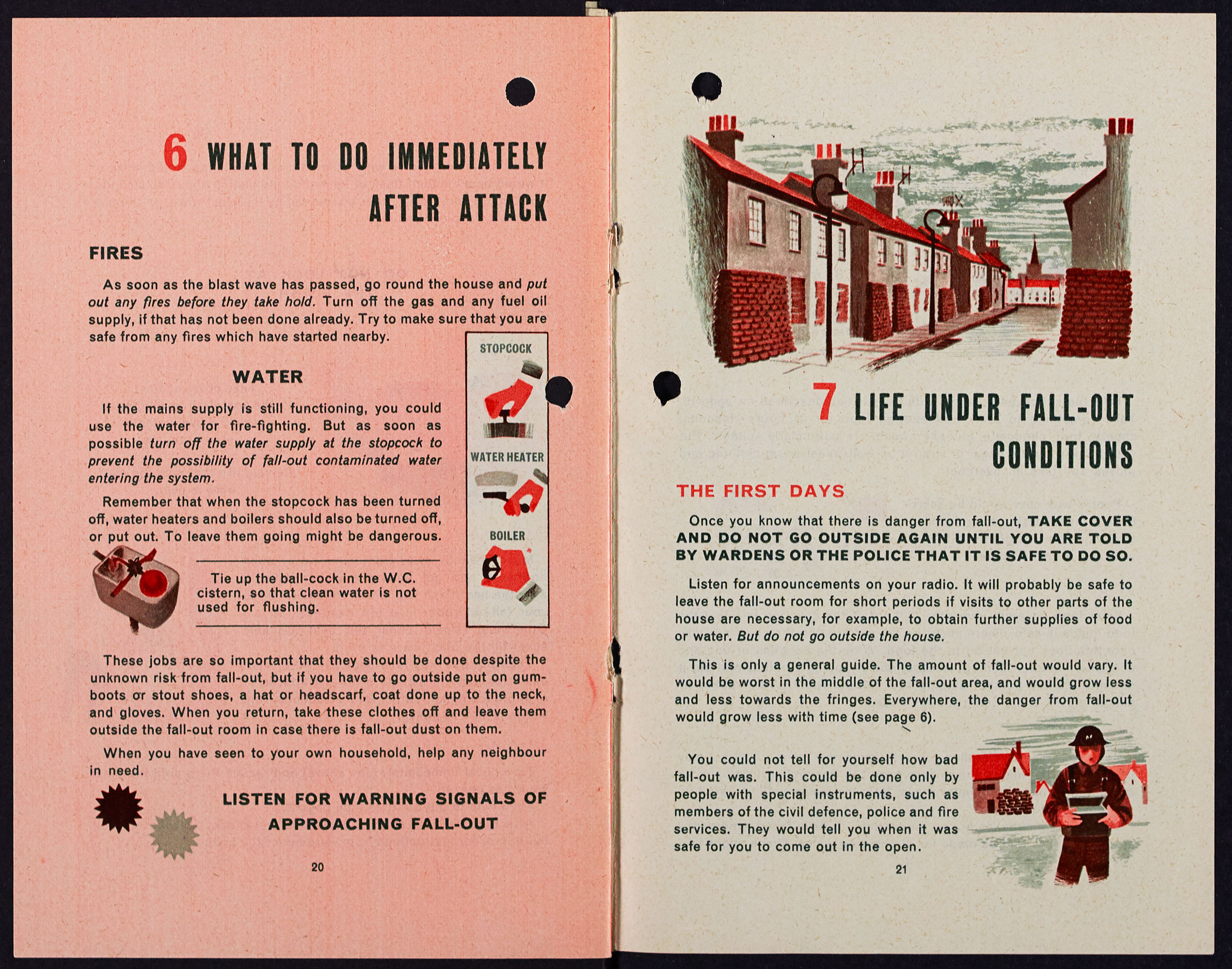 Extract from a leaflet advising householders on protection against nuclear attack, 1963, (Catalogue ref: HO 338/57)
A Home Defence Review in 1960 looked into the policy on Civil Defence in the event of a nuclear war and the survival of the British public through planned evacuation of major population centres, the building of shelters and public education. This leaflet is aimed at raising public awareness.
Transcript
[Page 20]
WHAT TO DO IMMEDIATLEY AFTER ATTACK
FIRES
As soon as the blast wave has passed, go round the hose and put out any fires before they take hold. Turn off the gas and any fuel oil supply, if that has not been done already.
WATER
If the mains supply is still functioning, you could use the water for fire-fighting. But as soon as possible turn off the water supply at the stopcock to prevent the possibility of fall-out of contaminated water entering the system.
Remember that when the stopcock has been turned off, water heaters and boilers should be turned off, or put out. To leave them going might be dangerous.
Tie up the ball-cock in the W.C. cistern, so that clean water is not used for flushing.
These jobs are so important that they should be done despite the unknown risk from fall-out, but if you have to go outside put on gumboots or stout shoes, a hat or headscarf, coat done up to the neck, and gloves. When you return, take these clothes off and leave them outside the fall-out room in case there is fall-out dust on them.
When you have seen to your own household, help any neighbour in need.
LISTEN FOR WARNING SIGNALS OF APPROACHING FALL-OUT
[Page 21]
LIFE UNDER FALL-OUT CONDITIONS
THE FIRST DAYS
Once you know that there is danger from fall-out, TAKE COVER AND DO NOT GO OUTSIDE AGAIN UNTIL YOU ARE TOLD BY WARDENS OR THE POLICE THAT IT IS SAFE TO DO SO.
Listen for announcements on your radio. It will probably be safe to leave the fall-out room for short periods if visits to other parts of the house are necessary, for example to obtain further supplies of food or water. But do not go outside the house.
This is only a general guide. The amount of fall-out would vary. It would be worst in the middle of the fall-out area, and would grow less and less towards the fringes. Everywhere, the danger from fall-out would grow less with time (see page 6).
You could not tell for yourself how bad fall-out was. This could be done only by people with special instruments, such as members of the civil defence, police and fire services. They would tell you when it was safe for you to come out into the open.
Return to Cold War on File