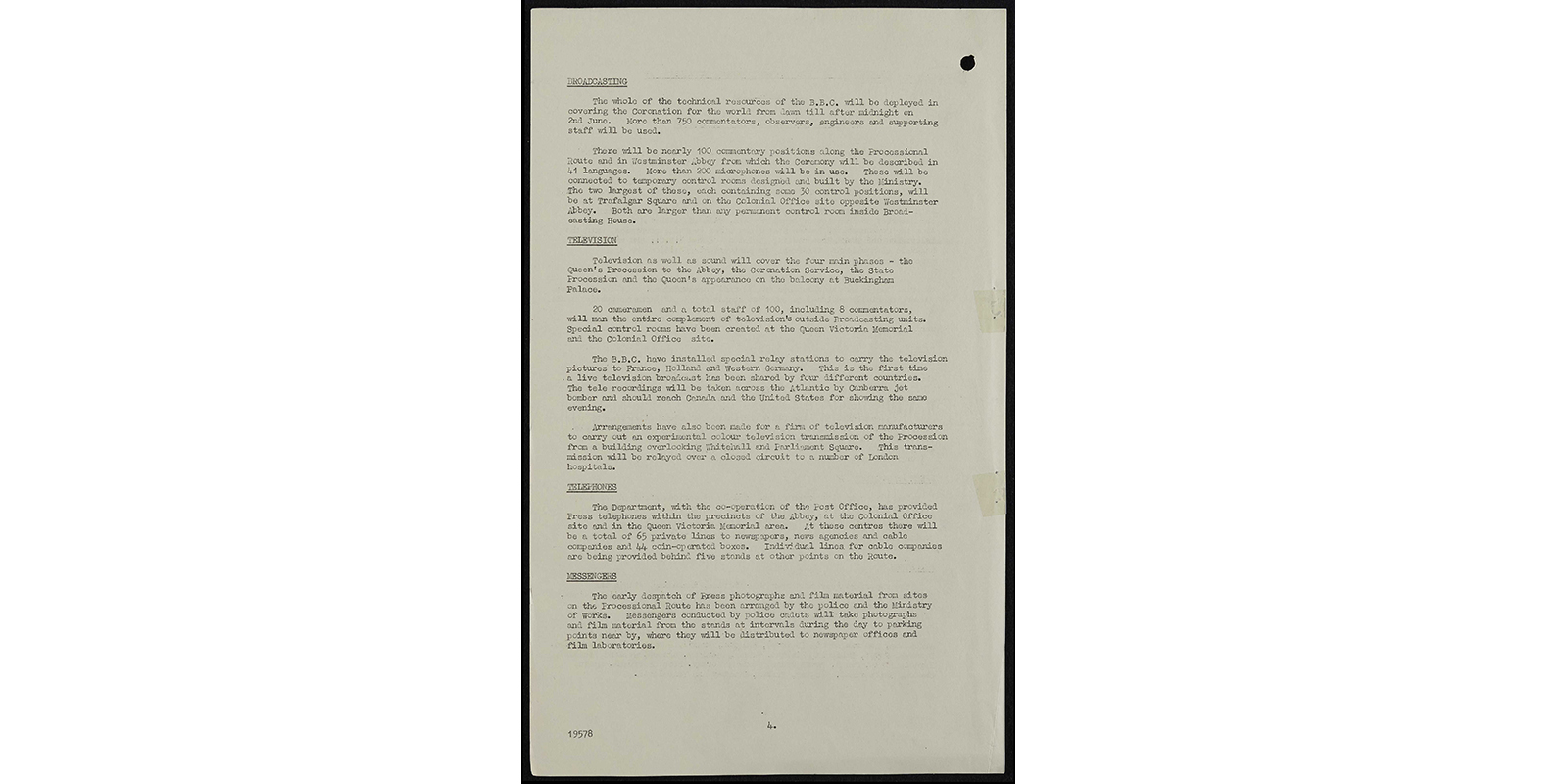 Extract about the radio, television, and press coverage on the coronation of the Queen, 1953. Document reference: WORK 21/303. 
You can download the full digitised document via Discovery, our online catalogue: Broadcasting plans for the coronation
Transcription:
BROADCASTING
The whole of the technical resources of the B.B.C. will be deployed in covering the Coronation for the world from dawn till after midnight on 2nd June. More than 750 commentators, observers, engineers and supporting staff will be used.
There will be nearly 100 commentary positions along the Processional Route and in Westminster Abbey from which the Ceremony will be described in 41 languages. More than 200 microphones will be in use. These will be connected to temporary control rooms designed and built by the Ministry. The two largest of these, each containing some 30 control positions, will be at Trafalgar Square and on the Colonial Office site opposite Westminster Abbey. Both are larger than any permanent control room inside Broad-casting House.
TELEVISION
Television as well as sound will cover the four main phases – the Queen's Procession to the Abbey, the Coronation Service, the State Procession and the Queen's appearance on the balcony at Buckingham Palace.
20 cameramen and a total staff of 100, including 8 commentators, will man the entire complement of television's outside Broadcasting units. Special control rooms have been created at the Queen Victoria Memorial and the Colonial Office site.
The B.B.C. have installed special relay stations to carry the television pictures to France, Holland and Western Germany. This is the first time a live television broadcast has been shared by four different countries. The tele recordings will be taken across the Atlantic by Canberra jet bomber and should reach Canada and the United States for showing the same evening.
Arrangements have also been made for a firm of television manufacturers to carry out an experimental colour television transmission of the Procession from a building overlooking Whitehall and Parliament Square. This transmission will be relayed over a closed circuit to a number of London hospitals.
TELEPHONES
The Department, with the co-operation of the Post Office, has provided Press telephones within the precincts of the Abbey, at the Colonial Office site and in the Queen Victoria Memorial area. At these centres there will be a total of 65 private lines to newspapers, news agencies and cable companies and 44 coin-operated boxes. Individual lines for cable companies are being provided behind five stands at other points on the Route.
MESSAGES
The early despatch of Press photographs and film material from sites on the Processional Route has been arranged by the police and the Ministry of Works. Messengers conducted by police cadets will take photographs and film material from the stands at intervals during the day to parking points near by, where they will be distributed to newspaper offices and film laboratories.
Find out more about the BBC's involvement in the coronation of Queen Elizabeth II here: The BBC and the Coronation
Return to Historical coronations – document highlights