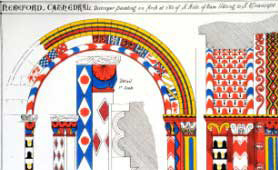 Read about the 2010 survey of religious archives in the UK and our work to advance the resulting Religious Archives Support Plan.
Religious archives are a crucial element of our national heritage.  They cover a wide range of subjects and serve a variety of researchers, from academics to genealogists.  They are also important for faith communities themselves and for wider society.
In 2010 we conducted a survey of religious archives in the United Kingdom. This survey was funded by the Pilgrim Trust and was in partnership with the Archives and Records Association (UK and Ireland) and the Religious Archives Group.
Survey results were used to update and extend the information held in the National Register of Archives, which is now incorporated into our Discovery resource. This has led to significant improvements to its coverage, recording the existence and availability of archives not previously represented.
The survey also resulted in recommendations for improving the coverage of religious archives, under the following themes:
strategic infrastructure to safeguard collections and improve network support
funding
advocacy
cross-sectoral collaboration
good governance through best practice in record-keeping
Following the publication of the report and subsequent meetings, a Religious Archives Support Plan was drawn up. From October 2012 to June 2015, The National Archives appointed a Senior Adviser: Religious Archives within the Independent Archives Team to take forward the Support Plan, in association with other partners. A report on the successful completion of this phase of work and the progress made to meeting the survey's recommendations may be seen below.
Further information and updates on the Support Plan can be found on the Religious Archives Group website.
Putting the Religious Archives Support Plan into practice (PDF, 0.29MB)
Read the Religious Archives Survey 2010
Religious Archives Survey 2010 (PDF, 0.58Mb)
Appendices to the Religious Archives Survey 2010 (PDF, 2.61Mb)
Translations of the executive summary
Welsh executive summary (PDF, 0.21Mb)
Urdu executive summary (PDF, 0.39Mb)
Punjabi executive summary (PDF, 0.09Mb)
Hindi executive summary (PDF, 0.45Mb)
Bengali executive summary (PDF, 0.08Mb)
Arabic executive summary (PDF, 0.25Mb)