Café: Maids of Honour at The National Archives
The café and coffee bar at The National Archives is provided by Maids of Honour, a historic tea room and bakery in the local Kew area.
It provides a variety of high-quality lunchtime specials, sandwiches, panini, salads, savoury and sweet pastries, soft drinks, tea, coffee and ice cream. We cater for vegetarians, vegans and other dietary requirements. We offer spacious indoor and outside seating and a soft play area.
Our café is open between 09:00 and 17:00 on Tuesday and Thursday and between 09:00 and 16:00 on Wednesday, Friday and Saturday. On select Sundays when we are open, the café is open from 11:00 and 16:00.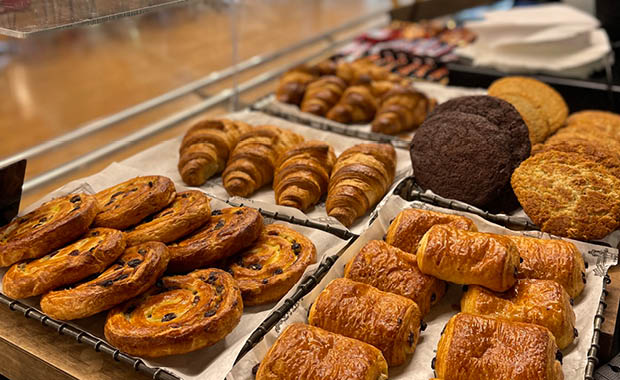 History of The Original Maids of Honour Tea Room
The Maids of Honour tart is part of local Richmond history for nearly 500 years. These sweet pastry tarts are thought to have originated in the royal kitchens.  There are many stories to its origins but one belief is that King Henry VIII rediscovered the recipe and either presented it to or named it for Ann Boleyn, lady-in-waiting to his first wife, Catherine of Aragon. The recipe appeared in the The Accomplisht Cook (1665) and by 1760, commercial production began in Hill Street, Richmond.
In 1860, Robert Newens who served his apprenticeship at the Hill Street bakery opened a shop and the family later moved their shop to Kew Road, Kew where it remains open until this day. Today you can only taste the Maids of Honour tarts at the Original Maids of Honour tea room or at Maids of Honour at The National Archives.