The 10th International Conference on the History of Records and Archives (ICHORA) was held online during the week of 25-29 July 2022, hosted virtually by The National Archives (UK) and the Forum for Archives and Records Management Education and Research (FARMER).
The year 2022 marked the centenary of a number of important events that have significantly shaped recordkeeping in the hosts' countries of the United Kingdom and Ireland. From the destruction of seven centuries of Ireland's records in the Four Courts explosion in Dublin to the publication of Sir Hilary Jenkinson's Manual of Archive Administration, the impact of the year 1922 is still being felt today through its legacies of loss and intellectual tradition. ICHORA 2022 is therefore shaped by a desire for both reflection and renewal.
The conference encouraged anyone interested in the practical ways that archives and records are communicated through time to do two things:
1. Discover and present stories about aspects of this practice or figures associated with it.
2. Reflect on recordkeeping historiography (the sources, techniques and theories that are used to study and shape the history of recordkeeping).
ICHORA 2022 programme
Monday 25 July
14:00 to 16:00 – Opening event
Opening remarks and instructions.
Geoffrey Yeo, Writing (Uncanonical) Archival Histories: Challenges and Opportunities
Followed by virtual reception/postcard session.
Tuesday 26 July
12:00 to 12:50 – Data histories
Sara Jorgensen, A Data Repository before its Time: NASA's Space Life Sciences Archival Library (1975-1981) and the Evolution of Data Preservation and Reuse in the Life Sciences
Zanna Friberg, The interconnected recordkeeping histories of archaeological legacy records
14:00 to 15:15 – Reflecting on records and recordkeeping
Lucy Brownson, Odds, Ends and Ephemeral Exclusion in Archives
Cherish Watton, Community scrapbook competitions and grassroots recordkeeping in 1960s rural England
Ellen Engseth, Reading a House as an Archive
15:45 to 17:00 – Reflecting on recordkeepers
Ted Lee, A Brief History of Archival (Un-)Professionalism: Why Understanding How Recordkeepers Imagine Themselves Matters
Michael Marlatt, (In)visible: The Importance of Underrepresented Lived Experience in Studying the History of the Archivist
Wendy Cox, Archiving Women Archivists in the South African Archives
Wednesday 27 July
12:00 to 12:50 – How's it going so far?
An informal session for catching up with others attending and sharing reflections so far.
14:00 to 15:15 – Reflecting on the shape(s) we give things
Krzystof Ziomek, History of the nachlass of Jan Pitoń, CM
Jennifer Douglas and Alexandra Alisaukas, #Receipts: Creation of Archive Evidence in the Lives of Girls and Women
Emma Phil Skoog, The significance of the autograph collection for the historical archives
15:45 to 17:15 – Reflecting on collecting and collectors
Heather MacNeil, Constructing an Archive of the English Reformation: the manuscript collections of Matthew Parker and Robert Cotton
Michael Riordan, The prosopography of early modern English archivists: a gap in our knowledge
Erik Nordberg, Personality over Policy: Collecting Records of American Business, Industry and Technology
Alida Green, Sian Pretorius-Nel and Tiffaney Morolong, Revolutionizing record retention: The case of the University of Pretoria Archives
Thursday 28 July
12:00 to 12:50 – Contested Histories
Anne Gilliland, From Partition of Ireland to Brexit and Beyond: Reflections on the Record of Cross-Border Community Experiences in Derry-Donegal
(From Panel Two) Kate Keane, The History of the Prisons Memory Archive in Northern Ireland
14:00 to 15:15 – Reflecting on historical understandings of records, archives and archivists in 20th-century Ireland (Panel Two)
Elizabeth Mullins, Writing the history of religious archiving in Ireland
Daniel Ayiotis, Writing the history of the Irish Military Archives
Lisa Collins Shortall, Historical perspectives on the creation of records about unmarried mothers and babies in 20th century Ireland
15:45 to 17:00 – Reflecting on recordkeeping histories
Charles Farrugia and Valeria Vanesio, Pioneers in Maltese Archives and Libraries. Reconstructing recordkeeping and archival thinking in 20th-century Malta
Claudio Ogass Bilbao, Troubling the History of Our Discipline: A Latin-American Archival Thinking?
James Lowry, (Critical) Intellectual History in Archival Studies
Friday 29 July
14:00 to 15:00 – Drawing to a close
An informal session for saying goodbye and sharing reflections on the conference as a whole.
Postcards from the Past (however distant or recent)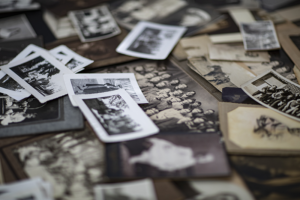 For the 'Postcards from the Past' stream, we collected submissions in the form of short stories about people, places, events or ideas from the history of recordkeeping (organisational or personal, written or oral etc) answering the following questions:
Is there someone whose contribution to the development of recordkeeping has been unrecognised?
Or is there another aspect to a familiar figure that is less well understood or discussed?
Who were the advocates and pioneers who worked to preserve records in your part of the world?
Are there specific places or objects that carry with them a long connection with the keeping of records?
What significant impacts on the evolution of local recordkeeping are unknown on the global stage?
The postcards are now available to read online.
We give our thanks to those who chose to share these stories with us. We hope you can both enjoy what is presented here, but also see this presentation as a prompt to reflect on all the other stories that remain untold.
Programme committee
Cleophas Ambira, President, Kenyan Archives and Records Management Association
Alan Butler, Associate Lecturer in Heritage, University of Plymouth
Vitor Manoel Marques da Fonseca, Associate Professor, Universidade Federal Fluminense
Fiorella Foscarini, Associate Professor, University of Toronto
Leisa Gibbons, Lecturer, Curtin University
Stanley H Griffin, Deputy Dean, The University of the West Indies, Mona Campus
Valerie Johnson, Director of Research & Collections, The National Archives
Elizabeth Lomas, Senior Lecturer in Information Governance, University College London
Elizabeth Mullins, Lecturer/Assistant Professor, University College Dublin
Ricky Punzalan, Associate Professor of Information, University of Michigan
Pimphot Seelakate, Lecturer, Chulalongkorn University
Anthea Seles, Secretary General, International Council on Archives
Hrvoje Stančić, Professor, University of Zagreb