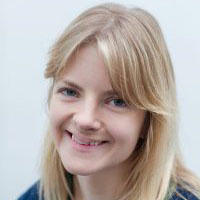 Position: Principal Records Specialist – Diverse Histories
Specialism: Gender, Women's history

Victoria.Iglikowski@nationalarchives.gov.uk
Vicky has worked at The National Archives since 2012 and has an MA in women and gender history from Royal Holloway University, where her dissertation focused on the late 19th-century British women's movement.
She specialises in communicating her research through public engagement activities, working with community groups and artistic practitioners to reach wider audiences. Her developing research interests include the history of British society and culture, gender and sexuality, and 20th-century social change and protest.
Her most recent project, Suffrage 100, involved original research on the vast records from across government departments, which are held on this topic. This led to a number of exciting, research-led projects, including: 100neHundred a community and youth archival inspired dance project with Combination Dance; Suffragette City an immersive experience in collaboration with the National Trust and Suffragettes vs. the State, an on-site exhibition focusing on the militant side of the 20th-century women's suffrage movement.
Vicky also works on The National Archives collections on the black British civil rights movement including the UK Black Power Movement and the trial of the Mangrove Nine, as well as the development of LGBTQ rights and queer spaces.
She is a member of the Women's History Network.