To celebrate the opening of our new exhibition – Treason: People, Power & Plot – and the launch of our Treason season, we're excited to announce that we've partnered with Windsor & Eton Brewery to produce a special limited edition can of their popular Treason IPA.
Treason – a West Coast IPA that has won several gold medals in national and international competitions – is one of their most popular brews. The tasting notes describe it as 'a bold, uncompromising beer, packed with hops at four different stages in the brewing process'. The limited edition cans feature our Treason campaign graphic, providing the perfect refreshment for exhibition visitors to enjoy during their visit.
Windsor & Eton Brewery were established in 2010, bringing brewing back to the heart of Windsor after more than 80 years. Since opening they have been awarded a Royal Warrant for Her Late Majesty Queen Elizabeth II.
The limited edition 440ml cans are now available to buy in our café (individual cans) and shop (in packs of four and 12).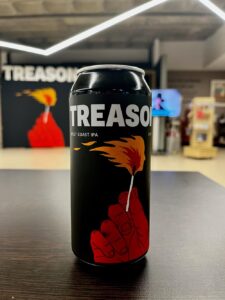 Special themed brewery tour
We're teaming up with Windsor & Eton Brewery to run a special treason-themed historical tour of the brewery on Thursday 10 November with Euan Roger, principal medieval records specialist and one of the curators of our new exhibition. Enjoy a night discovering the history of beer, treason and treachery and trying several beers.
Book your place on the tour now.