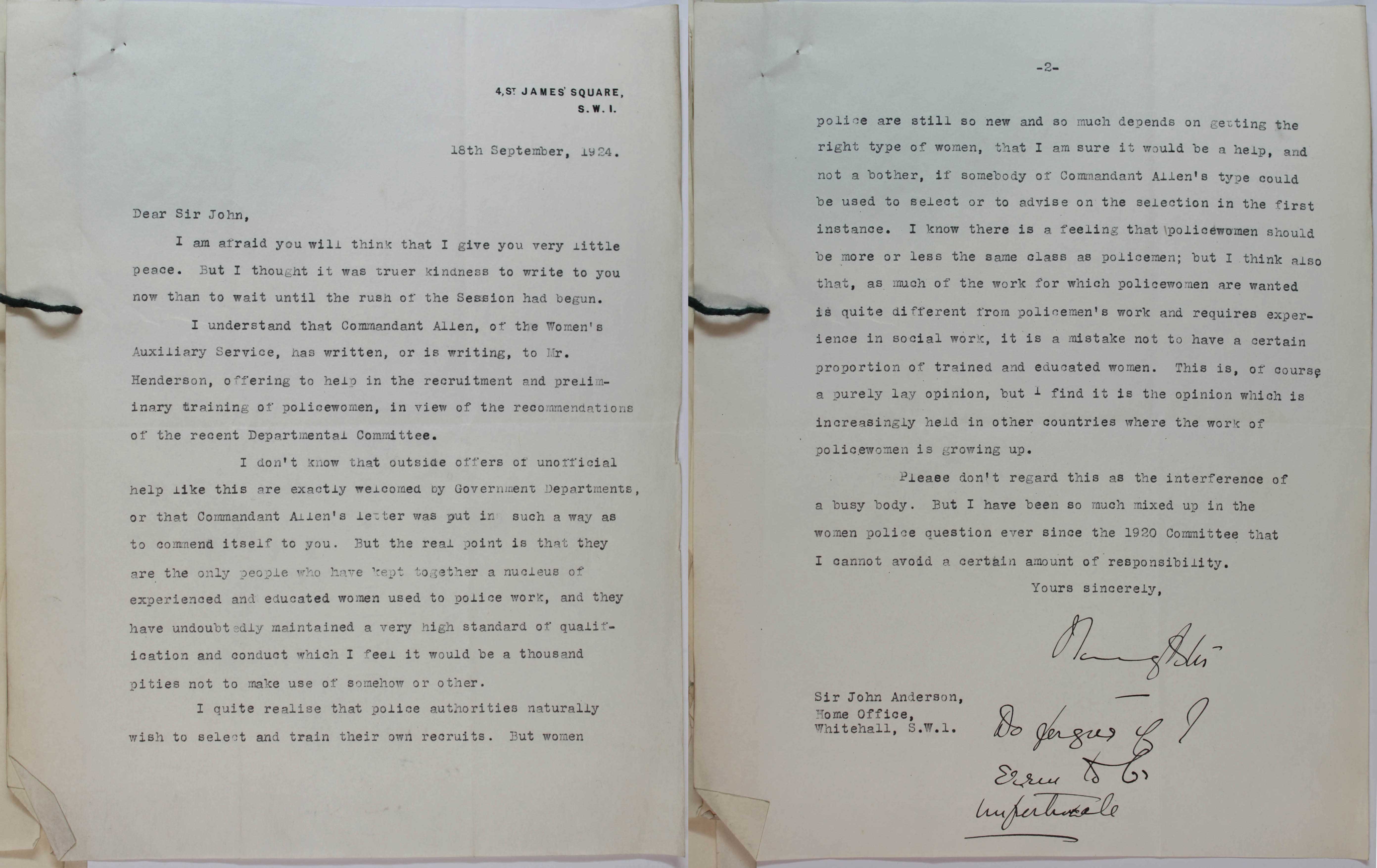 Letter from Lady Nancy Astor, 18 September 1924 on recruiting women for the police service.  Nancy Astor was the first British female M.P. and stood as a Conservative elected for Plymouth in 1919 (Catalogue ref: HO 45/12293)
Transcript
4, St. James' Square,
S.W.1
18th September, 1924
Dear Sir John,
I am afraid you will think that I give you very little peace. But I thought it was truer kindness to write to you now than to wait until the rush of the Session had begun.
I understand that Commandant Allen, of the Women's Auxiliary Service, has written, or is writing, to Mr. Henderson, offering to help in the recruitment and preliminary training of policewomen, in the view of the recommendations of the recent Departmental Committee.
I don't know that outside offers of unofficial help like this are exactly welcomed by Government Departments, or that Commandant Allen's letter was put in such a way as to commend itself to you. But the real point is that they are the only people who have kept together a nucleus of experienced and educated women used to police work, and they have undoubtedly maintained a very high standard of qualification and conduct which I feel it would be a thousand pities not to make use of somehow or other.
I quite realise that police authorities naturally wish to select and train their own recruits. But women police are still so new and so much depends on getting the right of women, and I am sure it would be a help, and not a bother, if somebody of Commandant Allen's type could be used to select or to advise on the selection in the first instance. I know there is a feeling that policewomen should be more or less the same class as policemen; but I also think that, as much of the work for which policewomen are wanted is quite different from policemen's work and requires experience in social work, it is a mistake not to have a certain proportion of trained and educated women. This is, of course a purely lay opinion, but I find it is the opinion which is increasingly held in other countries where the work of policewomen is growing up.
Please don't regard this as the interference of a busy body. But I have been so much mixed up in the women police question ever since the 1920 Committee that I cannot avoid a certain amount of responsibility,
Yours sincerely,
Nancy Astor
Sir John Anderson
Home Office
Whitehall, S.W.1
Return to Twenties Britain (part one)