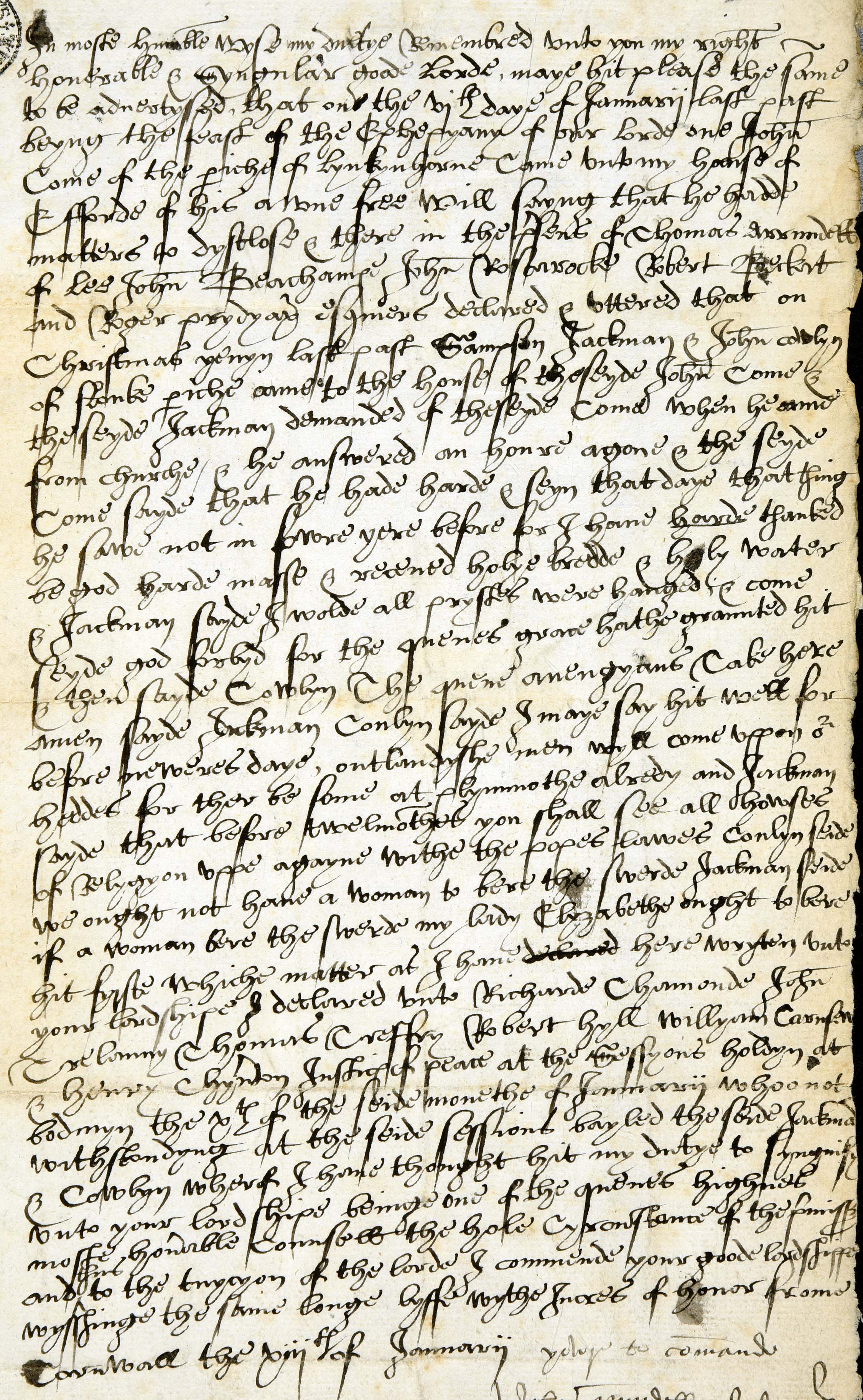 Sir John Arundell to the Earl of Arundel, 13 January, 1554 (SP11/2/2, f.2r)
This letter gives an indication of the different views people held on religion and, indeed, on Mary's legitimacy (and female monarchy generally) at the start of her reign.  Note how Sir John reports the case to someone higher up the order and that he names witnesses, so that the Earl can investigate.  One senses that he was unhappy about the Justices of Peace's decision and saw a way of seeking redress.
Transcript
In most humble wise my duty remembered unto you my right Honorable & singular good Lorde, may that it please the same to be advertised, that on the 6th day of January last past being the feast of the Epithany of our Lord, one John Come of the parish of Linkinhorne  [Cornwall] came unto my house of Efford of his own free will saying that he had matters to disclose & there in the presence of Thomas Arundel of Lee John Beachamp, John Roscarocke, Robert Becket and Roger Prydyax esquires declared & uttered that on Christmas eve last past Sampson Jackman & John Cowlyn of Stoke parish [Stoke, Climsland] came to the house of the said John Come & the said Jackman demanded of the said Come when he came from church and he answered an hour ago & the said Come says that he had heard & seen that day that thing he saw not in for year before, for I have heard thanks be god heard mass & received holy bread [communion] & holy water.  Jackman said I would all priests were hanged & Come said, god forbid for the Queen's grace hath granted it, & then said Cowlyn, the queen a vengeance. Take new year's amen said Jackman, Cowlyn said I may say it well for before new year's day, outlandish men will come upon our heads for there be some at Plymouth already and Jackman said that before twelve months [in a year's time] you shall see all houses of religion up again with the popes laws. Cowyn said we ought not have a woman to bear the sword [as queen]. Jackman said if a woman bear the sword, my lady Elizabeth ought to bear it first which matter as I have delivered here written unto your lordship. I declared unto Richarde Chamonde John Trelenny Thomas Creffry Robert Hill William Carnsew & Henry Chiverton Justices of peace at the Sessions holding at Bodmin, the 10th of the said month of January, who notwithstanding at the said sessions bailed the said Jackman & Cowlyn where of I have thought that it my duty to signify unto your lordships being one of the queen's highness most honourable Counsel the whole circumstance of the [unclear] and thus to the tuition[1] of the lord I commend your good lordship wishing the same long life with increase of honour from Cornwall the xiii of January …
[1] tution.  What follows is a common way of signing off a letter – it generally means leaving the recipient to the protection and care of God.
Return to English Reformation c1527-1590