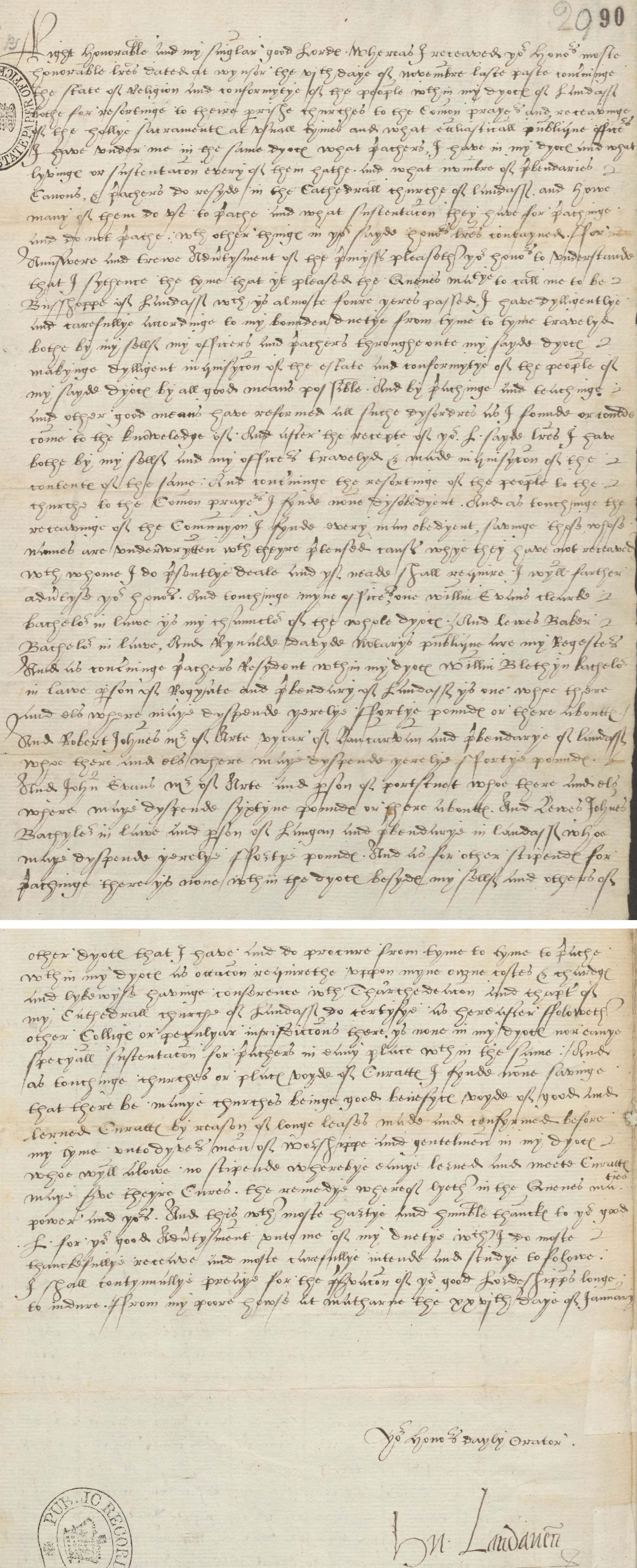 Hugh Jones, Bishop of Llandaff to the Privy Council, 26 January 1570 (SP12/66/29, f.90r-90v)
This is one of a number of letters sent between the council and various bishops in the aftermath of the Northern Rising, in which the council sought information on the state of religion in different dioceses. Considering that the Reformation did not spread very successfully to Wales, Jones gives a rather positive picture, although he does complain than many parishes do not have curates because the stipend has been granted to a layman and so there is insufficient money to support a clergyman.
Transcript
Right honourable and my singular good Lord.  Whereas I received your Honour's most honourable letters dated at Windsor the 6th day of November last past concerning the state of Religion and conformity of the people within my diocese of Landaff, both for resorting to their parish churches to the Common prayers and receiving of the holy sacraments at usual times and what ecclesiastical public officers I have under me in the same diocese what preachers, I have in my diocese and what livings or sustentation [maintenance, upkeep] every of them hath, and what number of prebendaries Canons, & preachers do reside in the Cathedral church of Landaff, and how many of them do use to preach and what sustentation they have for preaching and do not preach: which other things in your said honours letters contained.  For answer and true advertisement of the promises pleaseth your honours to understand that I since the time that it pleased the Queen's majesty to call me to be Bishop of Landaff which has almost four year passed, I have diligently and carefully according to my bounden duty from time to time travelled both by myself, my officers and preachers throughout my said diocese making diligent inquisition of the estate and conformity of the people of my said diocese by all good means possible.  And by preaching and teaching and other good means have reformed all such disorders as I found or could come to the knowledge of.  And after the receipt of your Lords said letters I have both by myself and my officers travelled & made inquisition of the contents of the same: And concerning the resorting of the people to the church to the common prayers I find none disobedient.  And as touching the receiving of the Communion I find every man obedient, saving those whose names are underwritten with their pretended causes where they have not received which whom I do presently deal and if need shall require I will further advertise your honours.  And touching mine officers, one William Evans Clarke, bachelor in law is my chancellor of the whole diocese. And Lewes Baker, Bachelor in laws, and Rynald David notaries public, are my Registers. And, as concerning preachers, resident within my diocese, William Blethyn bachelor in law, parson of Rogyate[1] and prebendary of Landaff is one who there and elsewhere may dispend yearly forty pounds or there about. And Robert Johnes, Master of Arts, vicar of Llancarfan [Glamorgan] and prebendary of Landaff whose there and elsewhere may dispend yearly forty pounds.  And Jon Evans, Masters of Art and parson of Portstuet [Portskewett, Monmouthshire] who there and elsewhere may dispend sixteen pounds or there about.  And Lewes Johnes, Bachelor in law and parson of Langan[2] and prebendary in Landaffe whose may dispend yearly forty pounds.  And as for other stipends for preaching there is none within the diocese besides myself and others of
[f. 90v]
other dioceses that I have and do procure from time to time to preach within my diocese as occasion required upon mine own costs & charges and likewise having conference with the archdeacon and chapter of my cathedral church of Landaff do certify as hereafter followed other College or peculiar jurisdictions[3] there is none in my diocese nor carry special sustention for preachers in any place with in the same.  And as touching churches or places void [without] of curates, I find none saving that there be many churches being good benefices [livings] void of good and learned curates by reason of long leases made and confirmed before my time unto divers [several] men of worship and gentlemen in my diocese who will allow no stipend where by any learned or educated and able curates [assistant to priest] may serve their cures [souls of the parish].  The remedy where of lies in the Queen's Majesty power and yours  and this with most hearty and humble thanks to your good Lords for your good advertisement [explanation] unto me of my duty, which I do most thankfully receive and most carefully intend and study to follow. I shall continually pray for the preservation of your good Lordships long to endure. From my poor house at Matharne the 26th day of January
Your honours daily orator
Hu: Landanen[4]
[He enclosed a list of people who have not received Communion, and a list of the canons and prebendaries of the cathedral]
[1] Possibly Roggiet with Ifton in Monmouthshire
[2] Llangan, Glamorgan
[3] Parishes or livings that were not in the jurisdiction of the bishop, but under another bishop or archbishop, the crown etc.
[4] Bishops tended to sign their names in the format of first name and the name of the diocese (in Latin).
Return to English Reformation c1527-1590