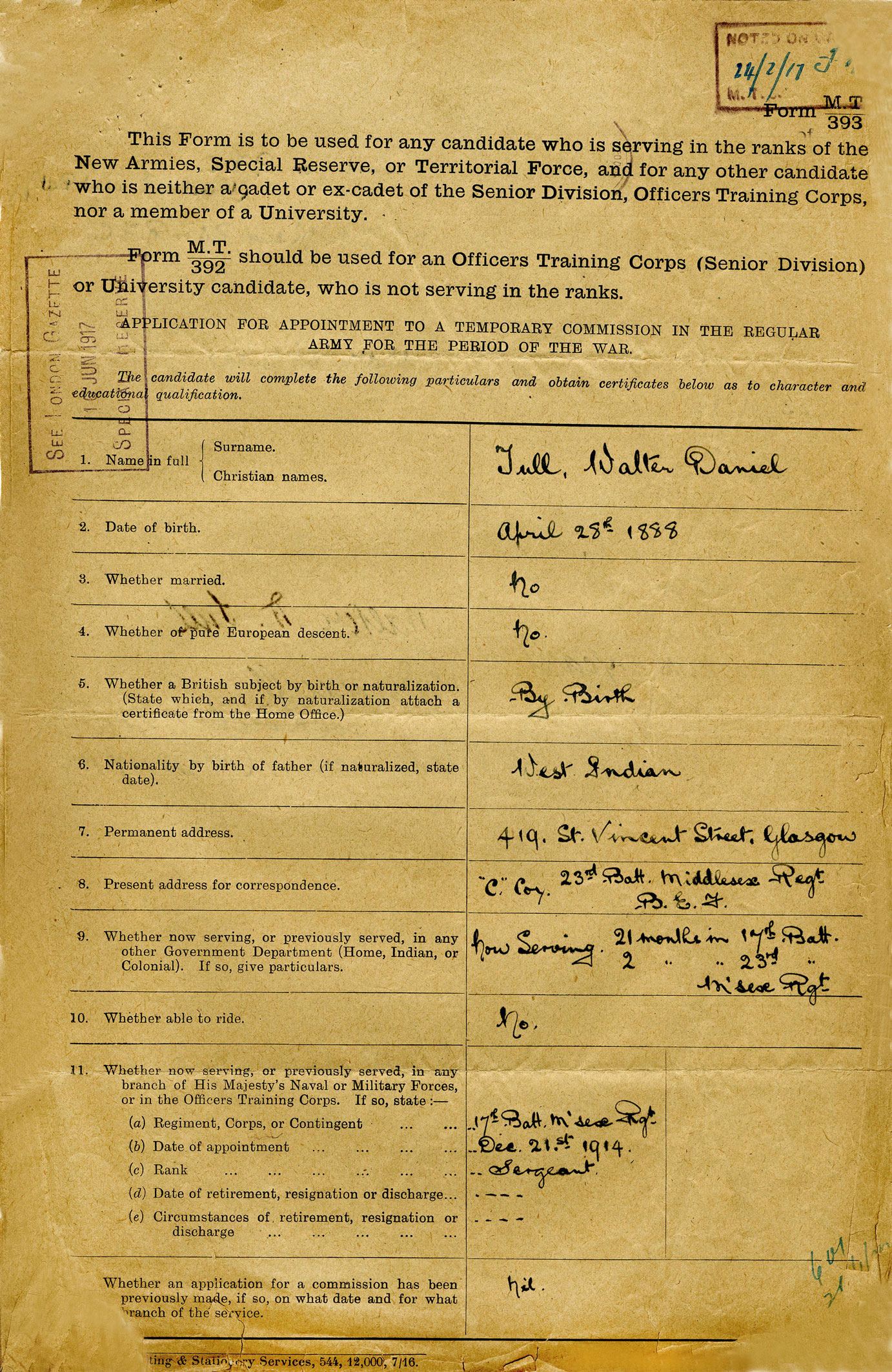 Walter Tull (1888-1918) was of dual heritage, his mother was white British and his father was African-Caribbean. Tull was commissioned* as an officer in 1917 at a time when the army required officers to be of 'pure European descent.' This was an important challenge to a racist policy. For his army service he was recommended a Military Cross. This is his application for a temporary commission form, 1917, (Catalogue ref: WO 339/90293) Watch our 'Unboxing the Archive' video about Tull on YouTube.
*A commissioned officer commands a military unit.
Transcript
…
APPLICATION FOR APPOINTMENT TO A TEMPORARY COMMISSION IN THE REGULAR ARMY FOR THE PERIOD OF THE WAR
The candidate will complete the following particulars and obtain certificates below as to the character and educational qualification.
1.    Name in full   (Surname

( Christian names

Tull, Walter Daniel
2.    Date of birth
April 28th 1888
3.    Whether married
No
4.    Whether of pure European descent
No
5.    Whether a British subject by birth or naturalization. (State which, and if by naturalization attach a certificate from the Home Office
By Birth
6.    Nationality by birth of father (if naturalized, state date).
West Indian
7.    Permanent address
419, St. Vincent Street, Glasgow
8.    Present address for correspondence
23rd Battalion Middlesex Regiment, "C" Company, B.E.F.[British Expeditionary Force]
9.    Whether now serving, or previously served, in any other Government Department (Home, Indian, or Colonial). If so give particulars.
Now serving.

21 months in 17th Battalion Middlesex Regiment

2 months in 23rd Battalion [Middlesex Regiment]

10.  Whether able to ride
No.
11. Whether now serving, or previously served, in any branch of His Majesty's Naval or Military Forces, or in the Officers Training Corps. If so state:-

(a). Regiment, Corps, or Contingent

(b). Date of appointment

(c). Rank

(d). Date of retirement, resignation or discharge

(e). Circumstances of retirement, resignation or discharge

17th Battalion, Middlesex Regiment

December 21st 1914

Sergeant

Whether an application for a commission has been previously made, if so, on what date and for what branch of the service.

Nil.
Return to Significant People