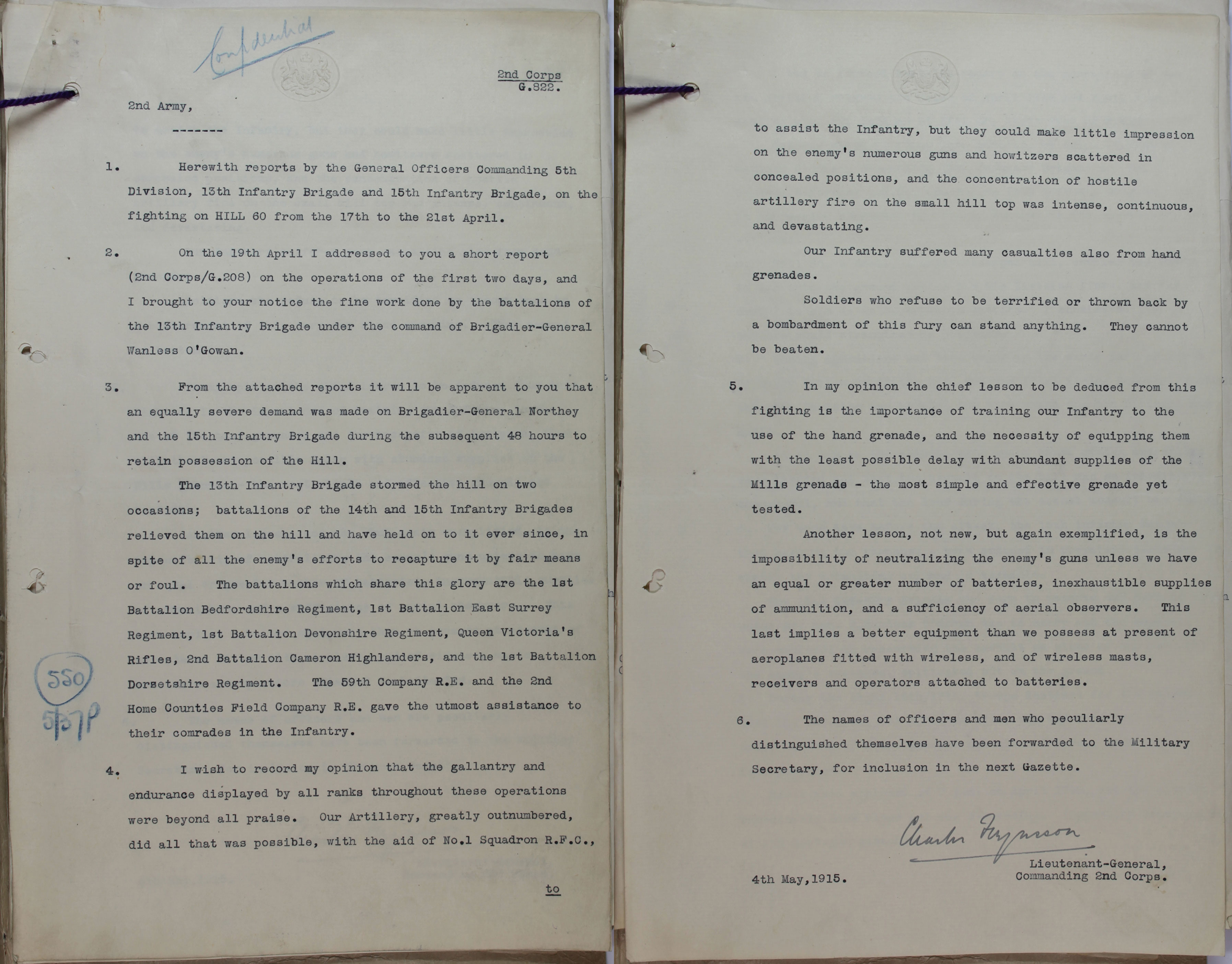 Report dated 4 May 1915 from Lieutenant General, 2nd Corps commenting on the lessons learned from the operation to capture Hill 60 in April 1915, (Catalogue ref: WO 158/216)
Transcript
2nd Army,
—–
Herewith reports by the General Officers Commanding 5th Division, 13th Infantry Brigade and 15th Infantry Brigade, on the fighting on HILL 60 from the 17th to the 21st
On the 19th April I addressed to you a short report (2nd Corps/G.208) on the operations of the first two days, and I brought to your notice the fine work done by the battalions of the 13th Infantry Brigade under the command of Brigadier-General Wanless O'Gowan.
From the attached reports it will be apparent to you that an equally severe demand was made on Brigadier-General Northey and the 15th Infantry Brigade during the subsequent 48 hours to retain possession of the Hill.
The 13th Infantry Brigade stormed the hill on two occasions; battalions of the 14th and 15th Infantry Brigades relieved them on the hill and have held on to it ever since, in spite of all the enemy's efforts to recapture it by fair means or foul. The battalions which share this glory are the 1st Battalion Bedfordshire Regiment, Queen Victoria's Rifles, 2nd Battalion Cameron Highlanders, and the 1st Battalion Dorsetshire Regiment. The 59th Company R.E. and the 2nd Home Counties Field Company R.E. gave the utmost assistance to their comrades in the Infantry.
I wish to record my opinion that the gallantry and endurance displayed by all ranks throughout these operations were beyond all praise. Our Artillery, greatly outnumbered, did all that was possible, with the aid of No.1 Squadron R.F.C., to assist the Infantry, but they could make little impression on the enemy's numerous guns and howitzers scattered in concealed positions, and the concentration of hostile artillery fire on the small hill top was intense, continuous and devastating.
Our Infantry suffered many casualties also from hand grenades.
Soldiers who refuse to be terrified or thrown back by a bombardment of this fury can stand anything. They cannot be beaten.
In my opinion the chief lesson to be deduced from this fighting is the importance of training our Infantry to the use of the hand grenade, and the necessity of equipping them with the least possible delay with abundant supplies of the Mills grenade – the most simple and effective grenade yet tested.
Another lesson, not new, but again exemplified, is the impossibility of neutralizing the enemy's guns unless we have an equal or greater number of batteries, inexhaustible supplies of ammunition, and a sufficiency of aerial observers. This last implies a better equipment than we possess at present of aeroplanes fitted with wireless, and of wireless masts, receivers and operators attached to batteries.
The names of officers and men who peculiarly distinguished themselves have been forwarded to the Military Secretary, for inclusion in the next Gazette.
4th May, 1915.
[signature]
Lieutenant – General,
Commanding 2nd Corps.
Return to Medicine on the Western Front (part two)