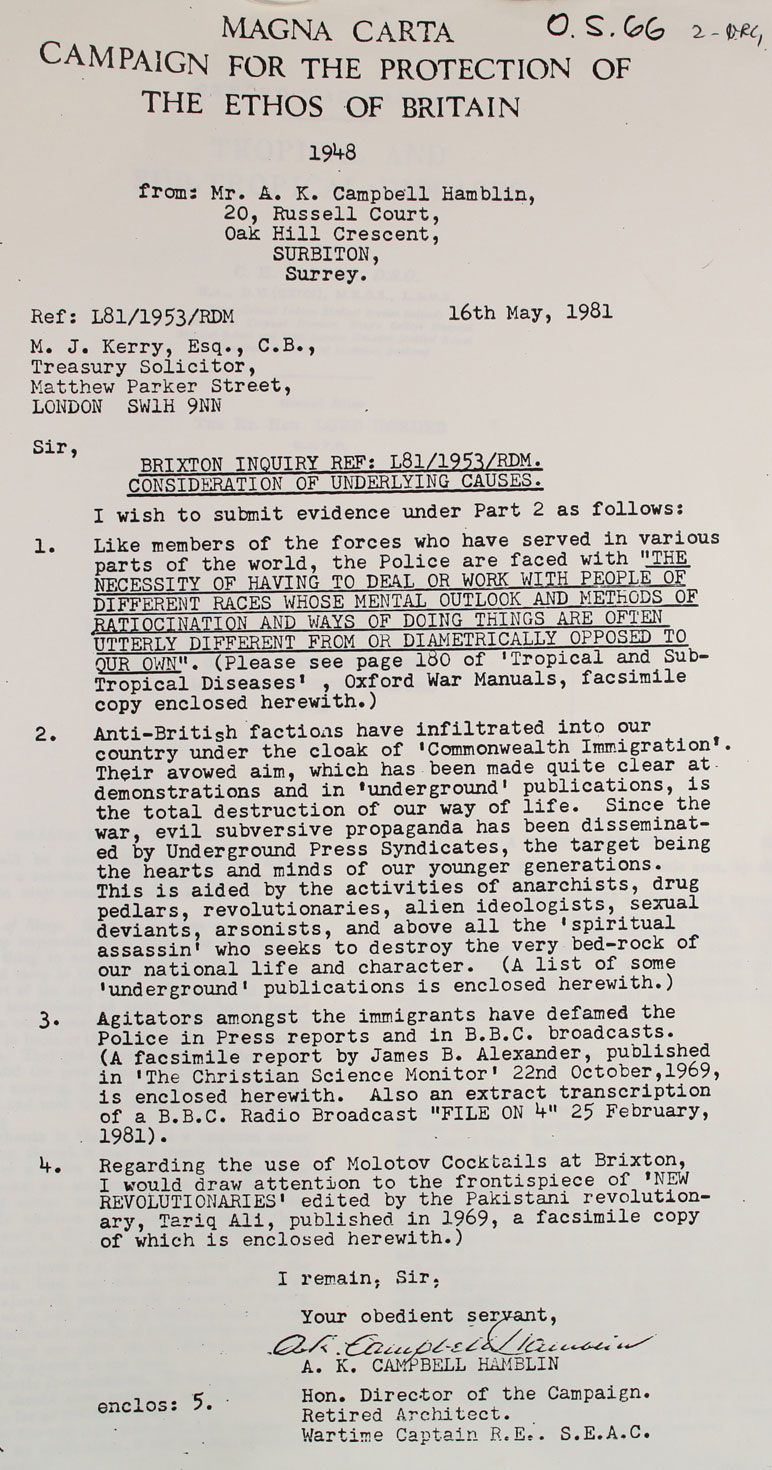 Submission by an anti-immigration campaign group to the Home Office following the Brixton riots in 1981. The group had appropriated the name Magna Carta as a representation of a traditional British way of life. Dated 1981 (HO 266/119).
Transcript
MAGNA CARTA CAMPAIGN FOR THE PROTECTION OF THE ETHOS OF BRITAIN
16th May, 1981,
Sir,
BRIXTON INQUIRY REF: L81/1953/RDM.
CONSIDERATION OF UNDERLYING CAUSES.
I wish to submit evidence under Part 2 as follows:
Like members of the forces who have served in various parts of the world, the Police are faced with "THE NECESSITY OF HAVING TO DEAL OR WORK WITH PEOPLE OF DIFFERENT RACES WHOSE MENTAL OUTLOOK AND METHODS OF RATIOCINATION AND WAYS OF DOING THINGS ARE OFTEN UTTERLY DIFFERENT FROM OR DIAMETRICALLY OPPOSED TO OUR OWN". (Please see page 180 of 'Tropical and Sub-Tropical Diseases, Oxford War Manuals, facsimile copy enclosed herewith.)
Anti-British factions have infiltrated into our country under the cloak of 'Commonwealth Immigration'. Their avowed aim, which has been made quite clear at demonstrations and in 'underground' publications, is the total destruction of our way of life. Since the war, evil subversive propaganda has been disseminated by Underground Press Syndicates, the target being the hearts and minds of our younger generations. This is aided by the activities of anarchists, drug pedlars, revolutionaries, alien ideologists, sexual pedlars, revolutionaries, alien ideologists, sexual deviants, arsonists, and above all the 'spiritual assassin' who seeks to destroy the very bed-rock of our national life and character (A list of some 'underground' publications is enclosed herewith.)
Agitators amongst the immigrants have defamed the Police in Press reports and in B.B.C. broadcasts. (A facsimile report by James B. Alexander, published in 'The Christian Science Monitor' 22nd October, 1969, is enclosed herewith. Also an extract transcription of a B.B.C. Radio Broadcast "FILE ON 4" 25 February, 1981).
Regarding the use of Molotov Cocktails at Brixton, I would draw attention to the frontispiece of 'NEW REVOLUTIONARIES' edited by the Pakistani revolutionary, Tariq Ali, published in 1969, a facsimile copy of which is enclosed herewith.
I remain, Sir;
Your obedient servant
K. Hamblin
Hon. Director of the Campaign
Retired Architect
Wartime Captain R.E., S.E.A.C.
Return to Magna Carta, 1215 and beyond