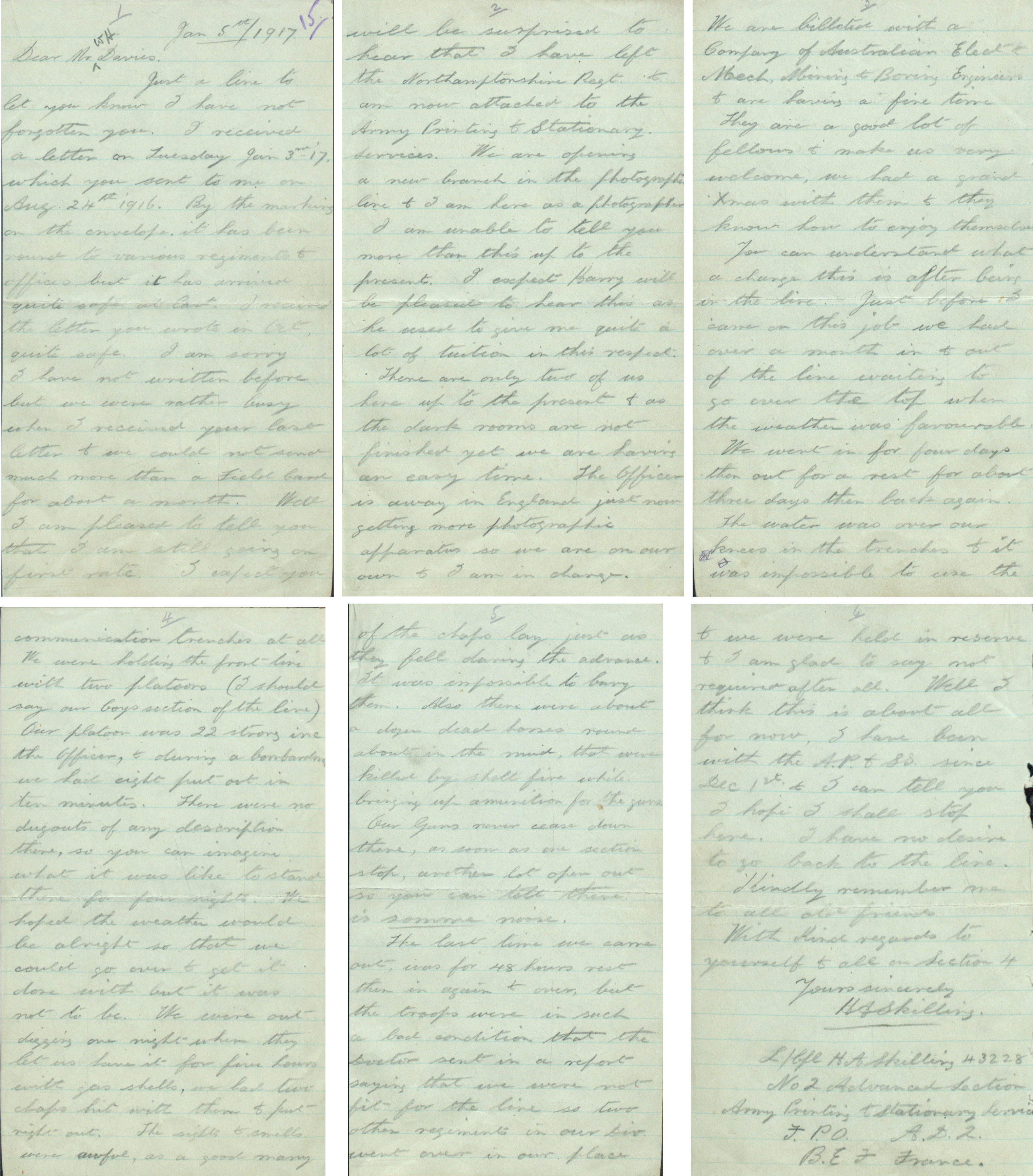 This is one of many letters sent by staff of the Great Western Railway Audit office at Paddington who had enlisted to fight in the First World War. (RAIL 253/516)
Hugh Andrew Skilling, 5 January 1917, France. Born: 17 April 1891, Regiment: 3 Battalion Bedfordshire Regiment; 7 London Brigade Field Artillery, Regiment number: 43228, Rank: Lance Corporal, Died: 1970
Transcript
Dear Mr W.H. Davies,
Just a line to let you know I have not forgotten you. I received a letter on Tuesday 3rd of January 1917 which you sent to me on August 24th 1916. By the marking on the envelope it has been round to various regiments and officers, but it has arrived quite safe at last. I received the letter you wrote in October quite safe. I am sorry I have not written before but we were rather busy when I received your last letter and we could not send more than a field card for about a month. Well I am pleased to tell you that I am still going on first rate. I expect you will be surprised to hear that I have left the Northamptonshire Regiment and am now attached to the Army Printing and Stationary Services. We are opening a new branch in the photography line and I am here as a photographer.
I am unable to tell you more than this up to the present. I expect Harry will be pleased to hear this as he used to give me quite a lot of tuition in this respect.
There are only two of us here up to the present and as the dark rooms are not finished yet we are having an easy time. The Officer is away in England just now getting some more photographic apparatus so we are on our own and I am in charge.
We are billeted with a company of Australian electricians, mechanics, mining and boring engineers and are having a fine time. There are a good lot of fellows and make us very welcome. We had a grand Xmas with them and they know how to enjoy themselves. You can understand what a change this is after being in the line. Just before I came on this job we had over a month in and out of the line waiting to go over the top when the weather was favourable.
We went in for four days then out for a rest for about three days then back again. The water was over our knees in the trenches and it was impossible to use the communication trenches at all. We were holding the front line with two platoons (I should say our boys' section of the line). Our platoon was twenty two strong including the Officer, and during the bombardment we had eight put out in ten minutes. There were no dugouts of any description there, so you can imagine what it was like to stand there for four nights. We hoped the weather would be alright so that we could go over and get it done with but it was not to be. We were out digging one night when they let us have it for five hours with gas shells, we had two chaps hit with them and put right out.
The sights and smells were awful, as a good many of the chaps lay just as they fell during the advance. It was impossible to bury them. Also there were about a dozen dead horses round about in the mud that were killed by shell fire while bringing up ammunition for the guns. Our guns never cease down there, as soon as one section stop, another lot open out so you can tell there is Somme noise.
The last time we came out, was for forty eight hours' rest then in again and over, but the troops were in such a bad condition that the doctor sent in a report saying we were not fit for the line so two other regiments in our division went over in our place.
We were held in reserve and I am glad to say not required after all. Well I think this is about all, for now, I have been with the A.P. & S.S. since December 1st and I can tell you, I hope I shall stop here. I have no desire to go back to the line. Kindly remember me to all old friends. With kind regards to yourself and all on Section 4.
Yours sincerely, H.A. Skilling
No. 2 Section Advanced Section
Army Printing & Stationary Service…
Return to Letters from the First World War, part two