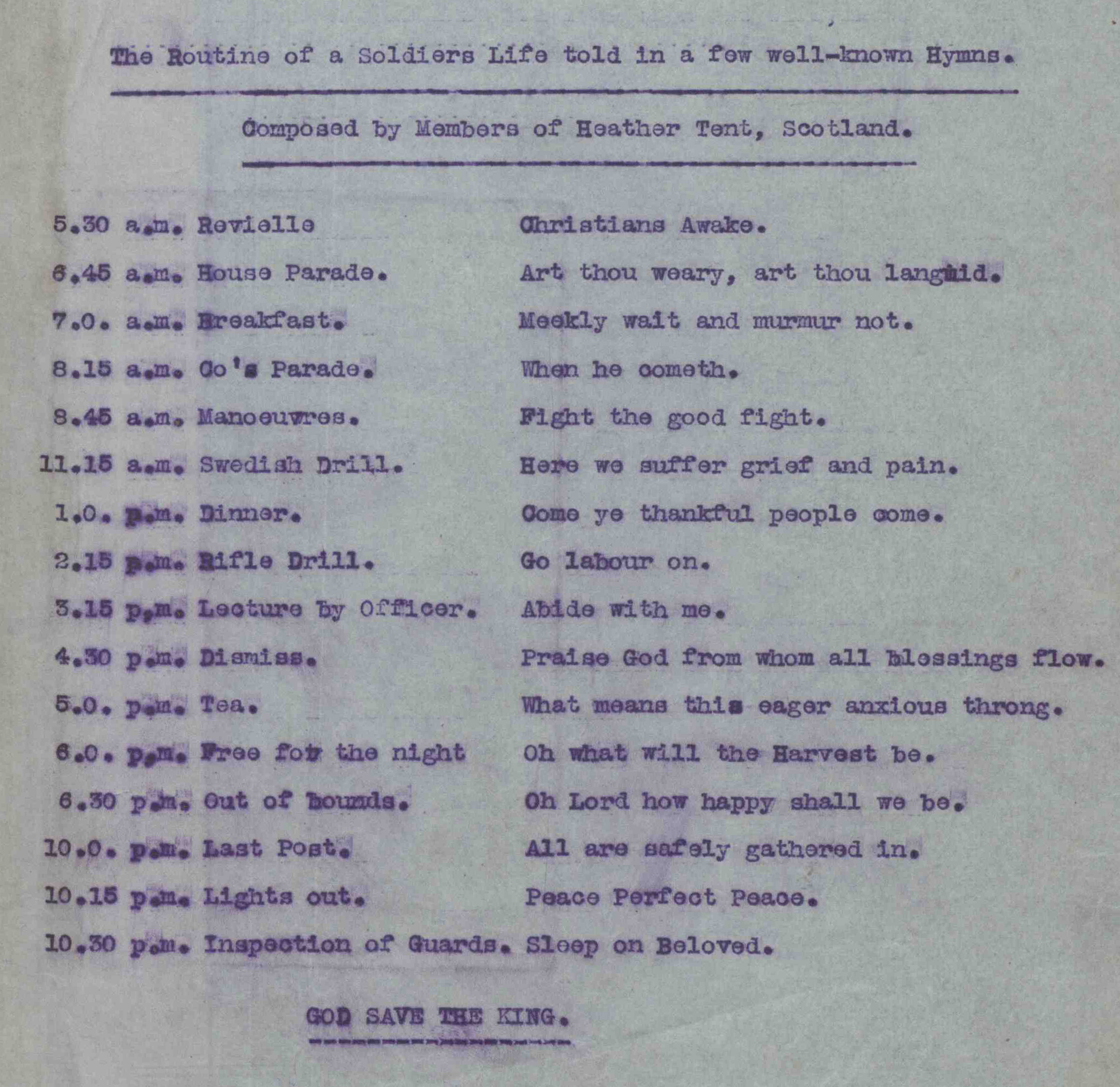 Routine of a soldier's life told in a few well-known hymns composed by members of Heather Tent, Scotland. This was included in the newsletter for the Great Western Railway Paddington Audit office in May 1916.
It was probably sent in by one of their staff who was training at a camp in Scotland and then typed out by the office. It provided a wonderful insight into the training schedule and possible thoughts surrounding it! (RAIL 253/516)
Transcript
5.30 am   Revielle   Christians Awake
6.45 am   House Parade   Art though weary thou languid
7.00 am   Breakfast   Meekly wait and murmur not
8.15 am   Company parade   When he cometh
8.45 am   Manoeuvres   Fight the good fight
11.15 am Swedish Drill   Here we suffer grief and pain
1.00 pm Dinner   Come ye thankful people come
2.15 pm   Rifle Drill   Go labour on
3.15 pm   Lecture by Officer   Abide with me
4.30 pm   Dismiss   Praise God from whom all blessings flow
5.00 pm   Tea   What means this eager anxious throng?
6.00 pm   Free for the night   Oh what will the harvest be?
6.30 pm   Out of bounds   Oh Lord how happy shall we be
10.00 pm Last post   All are safely gathered in
10.15 pm   Lights out   Peace Perfect Peace
10.30 pm  Inspection of Guards   Sleep on beloved
GOD SAVE THE KING
Return to Letters from the First World War, part two