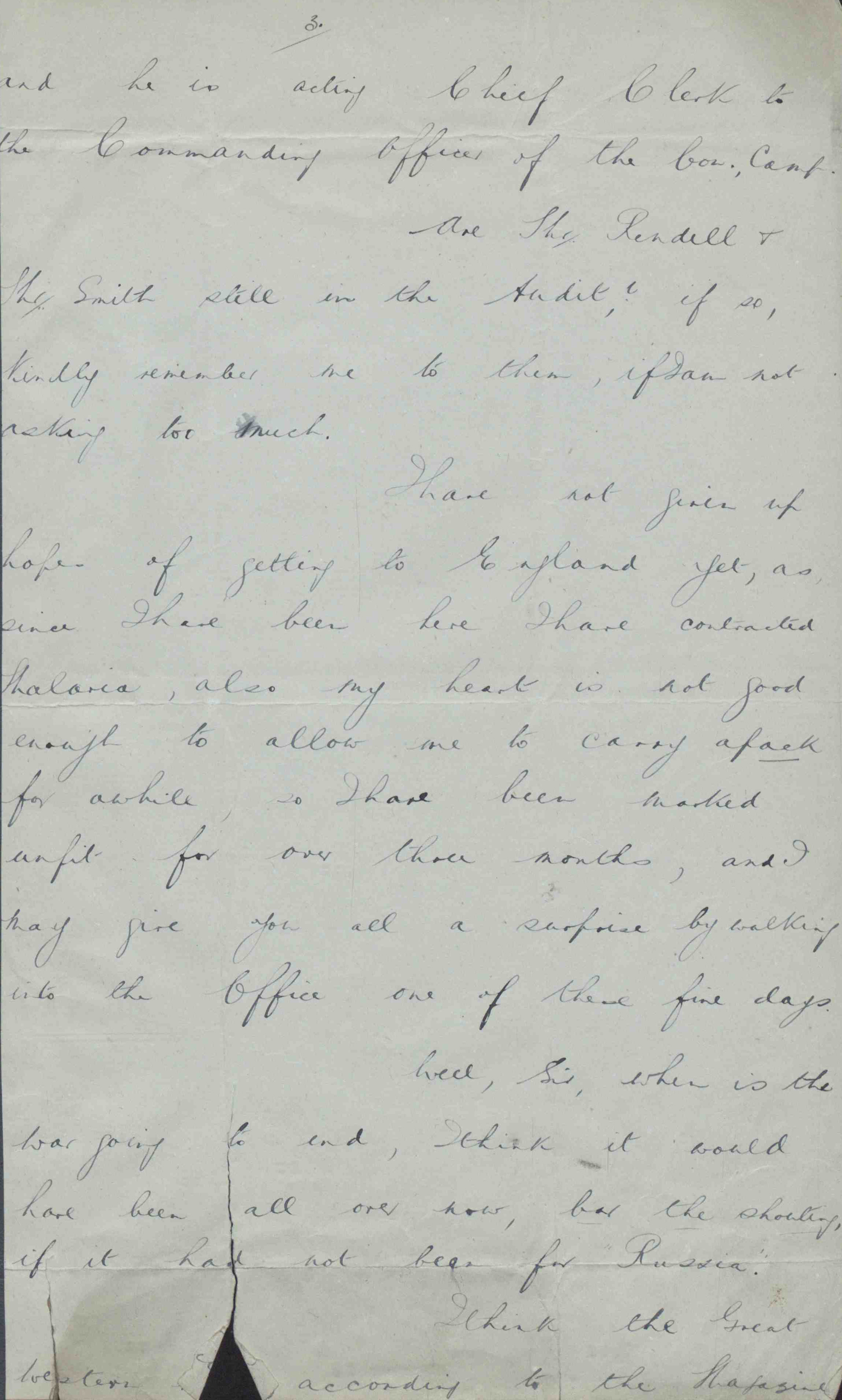 This image is an extract of one of the many letters sent by staff of the Great Western Railway Audit office at Paddington who had enlisted to fight in the First World War. The image shows part of the letter; the full transcript is given below. (RAIL 253/516).
James Claude Kibblewhite, 1 September 1917, Malta. Born: 14 June 1895, Regiment: 2/13 Battalion London Regiment, Regiment number: 490602, Rank: Sergeant, Died: 20 December 1951
Transcript
Dear Sir,
I trust you will excuse the liberty I have taken in writing you, after such a long absence from England, but the difficulties of active service is my excuse, although I am sorry to say laziness has a lot to do with it.
No doubt you will wonder what I am doing wasting my time in Malta; well, I came here last January through an attack of dysentery followed by constipation, there I remained, and am likely to do so, unless something very unexpected happens.
I have been taken on the temporary staff, and am acting as parade staff sergeant, quite a nice easy position, except when we are receiving or sending troops away.
How are things in general, looking at Paddington, I suppose the office is full of ladies and men who are over the age limit.
I saw a Great Western Magazine a few days ago, and I noticed that a large number of the 'chiefs' have retired, also that Artlett has not given up trying to bring sports honours to the Audit with the Bowls team.
The weather here is absolutely glorious, and our camp is right against the sea, we get some lovely bathing and boating, in fact it is almost as good as any resort in England.
We are about ten miles from Valletta, but we can always get a ride in a motor lorry or a gharry (horse-drawn cab) I have only met one G.W. man since I have been here and that is Cowles of the Agreements. He has been here since the Dardanelles; and he is acting chief clerk to the commanding officer of the Company Camp…
I have not given up hope of getting to England yet, as since I have been here I have contracted malaria, also my heart is not good enough to allow me to carry a pack for a while, so I have been marked unfit for over three months, and I may give you all a surprise by walking into the office one of these fine days.
Well, sir, when is the war going to end, I think it would have been all over now, bar the shouting, if it had not been for Russia.
I think the Great Western Railway according to the magazine have reaped a fair share of the awards for bravery etc, on the field.
Well, sir, I trust it will not be long before I have the pleasure of receiving a reply to my letter, and kindly remember me to all that are left of the old room 19… I am, Sir, Yours respectfully,
J.C. Kibblewhite Sgt.
Return to Letters from the First World War, part two