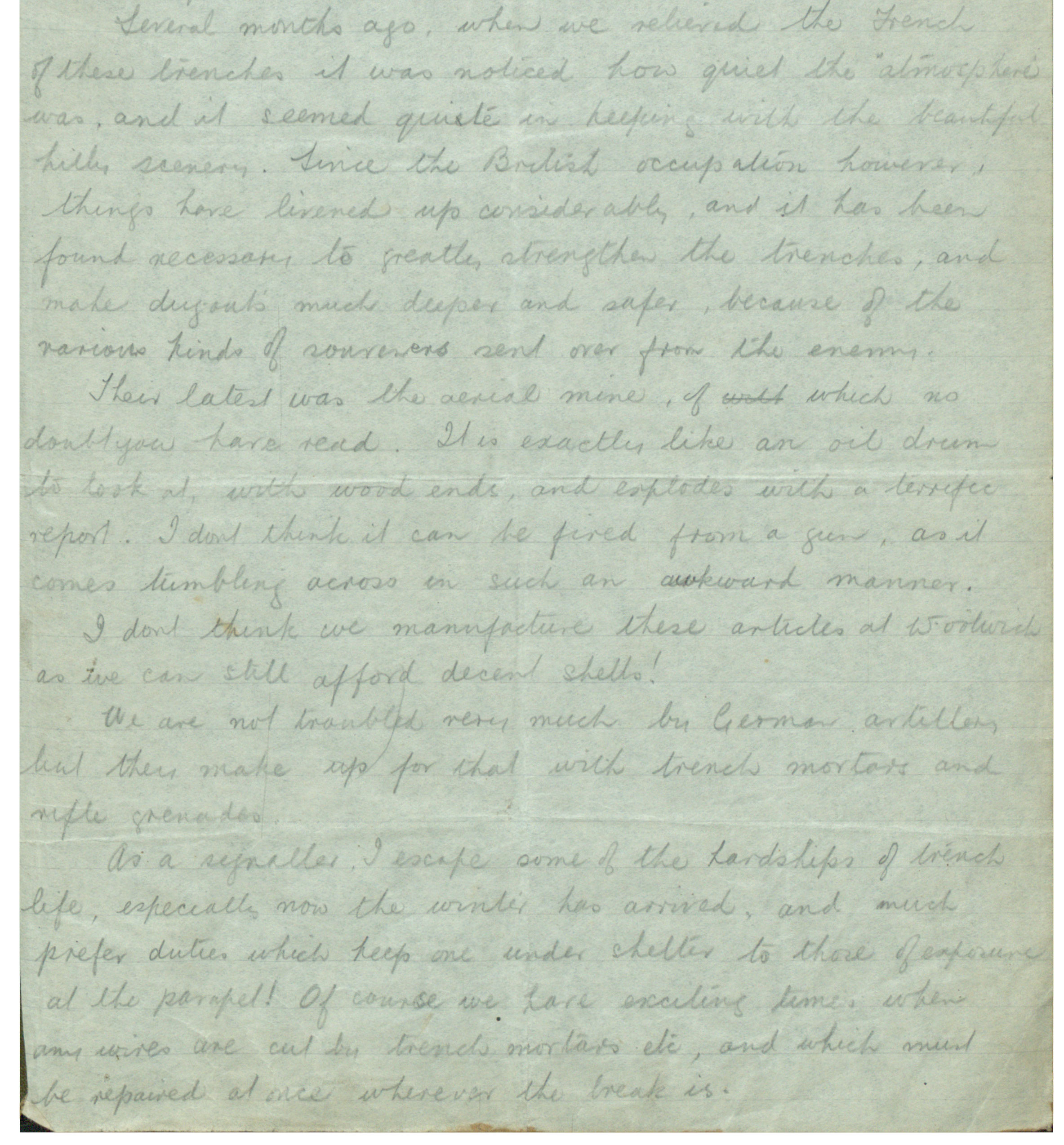 This is one of many letters sent by staff of the Great Western Railway Audit office at Paddington who had enlisted to fight in the First World War. Image shows part of letter. (RAIL 253/516)
R.C.S. Frost, 3 November 1915, France. Born: 30 January 1888, Regiment: 8th Argyll and Sutherland Highlanders; Duke of Cornwall's Light Infantry, Regiment number: 1998; 300470, Rank: Private; Second Lieutenant, Died: 1962
Transcript (extract)
…Several months ago, when we relieved the French of these trenches it was noticed how quiet the 'atmosphere' was, and it seemed quite in keeping with the beautiful hilly scenery. Since the British occupation however, things here have livened up considerably, and it has been found necessary to greatly strengthen the trenches, and make dugouts much deeper and safer, because of the various kinds of souvenirs sent over from the enemy.
Their latest was the aerial mine, of which no doubt you have read. It is exactly like an oil drum to look at, with wood ends, and explodes with a terrific report. I don't think it can be fired from a gun, as it comes tumbling across in such an awkward manner.
I don't think we manufacture these articles at Woolwich as we can afford decent shells! We are not troubled very much by German artillery, but they make up for that with trench mortars and rifle grenades.
As a signaller I escape some of the hardships of trench life, especially now the winter has arrived, and much prefer duties which keep one under shelter to those of exposure at the parapet! Of course we have exciting times, when any wires are cut by trench mortars etc. and which need to be repaired at once wherever the break is.
Just lately I am having a lot of experience at making and fitting fireplaces in dugouts. We generally use biscuit tins to hold the fire and rummage among old houses in the village nearby for pieces of piping to take the smoke out, usually through the entrance as it is impossible to cut a hole through the roof on account of the sheet of iron. Fuel for burning is generally a problem but a small supply of coke is allowed and we add to it all kinds of wood etc. When sitting up at night it is surprising what good time we keep when waking up the next fellow to carry on, if there is no fire, but if a good fire is on, we get quite generous, and don't mind allowing the next man an extra hour or so to sleep!
We have had several days of rain this week, which doesn't tend to improve life in the trenches, or out. On our journey to billets last Saturday night, we took a road through a wood constructed by the Royal Engineers. It wasn't quite finished, and in places was ankle deep in water, so our march was more of a paddle. Parts of this wood, which is in a valley had been purposely flooded, so the road had to be laid on faggots and will be a piece of work when finished.
We are fortunate in having dry billets, with beds raised above the floor and a small fire. Sheep skin coats have been issued to us, and are very warm. There is a fellow here now imitating a monkey and holding out a small cup to an audience seated on the beds, while another chap is playing an accordion! All we need now are top boots (tall rubber waders or gum boots designed to try and avoid the problem of trench foot) to paddle through the trenches! There is plenty of water about but very little to drink or wash in. It is a fine place for people who are good at finding excuses for not washing! But there are very good hot water baths here, only it isn't any good having a bath unless one really needs it, on account of the colour of the water!!
We do very well though, for food and clothing both of which are good, and well supplied, and considering the many distant places it is sent from, it speaks well of the splendid way our Navy is doing 'its bit'…
Return to Letters from the First World War, part one