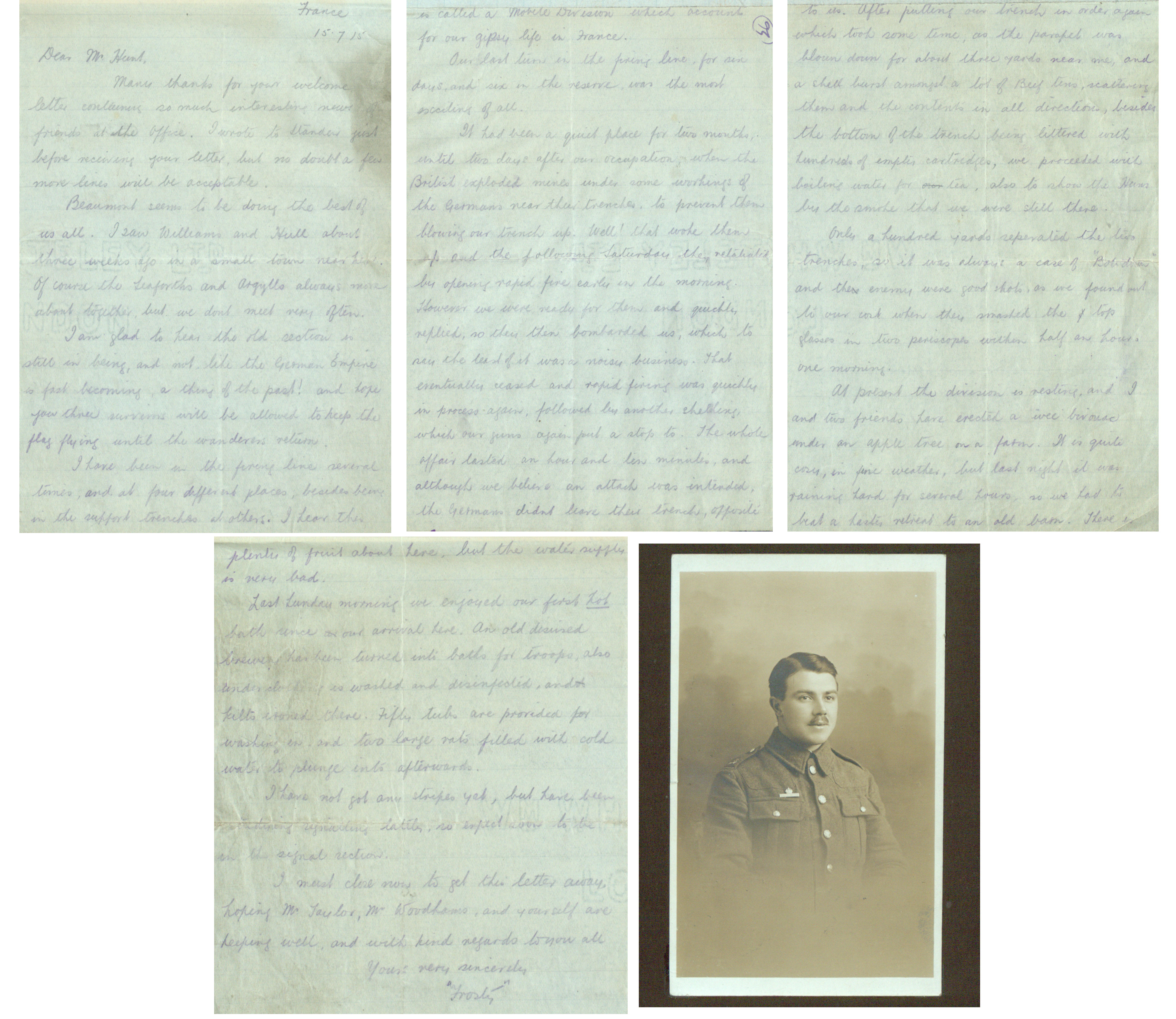 This is one of many letters sent by staff of the Great Western Railway Audit office at Paddington who had enlisted to fight in the First World War. (RAIL 253/516)
R.C.S. Frost, 15 July 1915, France. Born: 30 January 1888, Regiment: 8th Argyll and Sutherland Highlanders; Duke of Cornwall's Light Infantry, Regiment number: 1998; 300470, Rank: Private; Second Lieutenant, Died: 1962
Transcript
Dear Mr Hunt
Many thanks for your welcome letter volunteering so much interesting news of friends at the office. I wrote to Standew just before receiving your letter, but no doubt a few more lines will be acceptable.
Beaumont seems to be doing the best of us all. I saw Williams and Hull about three weeks ago in a small town near here. Of course the Seaforths and Argylls (regiments) always move about together, but we don't meet very often. I am glad to hear the old section is still in being, and not like the German Empire is fast becoming a thing of the past! And hope your three survivors will be allowed to keep the flag flying until the wanderers return.
I have been in the firing line several times, and at four different places, besides being in the support trenches at others. I hear this is called a mobile division which accounts for our gipsy life in France.
Our last turn in the firing line, for six days and six in the reserve was the most exciting of all.
It has been a quiet place for two months, until two days after our occupation, when the British exploded mines under some workings of the Germans near their trenches, to prevent them blowing our trench up. Well! That woke them up and the following Saturday they retaliated by opening rapid fire early in the morning.
However we were ready for them and quickly replied, so they then bombarded us, which to say the least of it was a noisy business. That eventually ceased and rapid firing was quickly in process again, followed by another shelling, which our guns again put a stop to. The whole affair lasted an hour and ten minutes, and although we believe an attack was intended, the Germans didn't leave their trench, opposite to us. After putting our trench in order again which took some time, as the parapet was blown down for about three yards near me, and a shell burst amongst a lot of beef tins, scattering them and the contents in all directions, besides the bottom of the trench being littered with hundreds of empty cartridges, we proceeded with boiling water for tea, also to show the Huns by the smoke that we were still there. Only a hundred yards separated the two trenches, so it was always a case of "bob down" and the enemy were good shots, as we found out to our cost when they smashed the top glasses in two periscopes within half an hour one morning.
At present the division is resting, and I and two friends have erected a wee bivouac under an apple tree on a farm. It is quite cosy, in fine weather, but last night it was raining hard for several hours, so we had to beat a hasty retreat to an old barn. There is plenty of fruit about here, but the water supply is very bad.
Last Sunday morning we enjoyed our first hot bath since our arrival here. An old disused brewery has been turned into baths for troops, also under clothing is washed and disinfected, and kilts ironed there. Fifty tubs are provided for washing in and two large vats filled with cold water to plunge into afterwards.
I have not got any stripes yet, but have been studying signalling lately, so expect soon to be in the signal section.
I must close now to get this letter away, hoping Mr Taylor, Mr Woodhams, and yourself are keeping well, and with kind regards to you all.
Yours very sincerely,
'Frosty'
Return to Letters from the First World War, part one