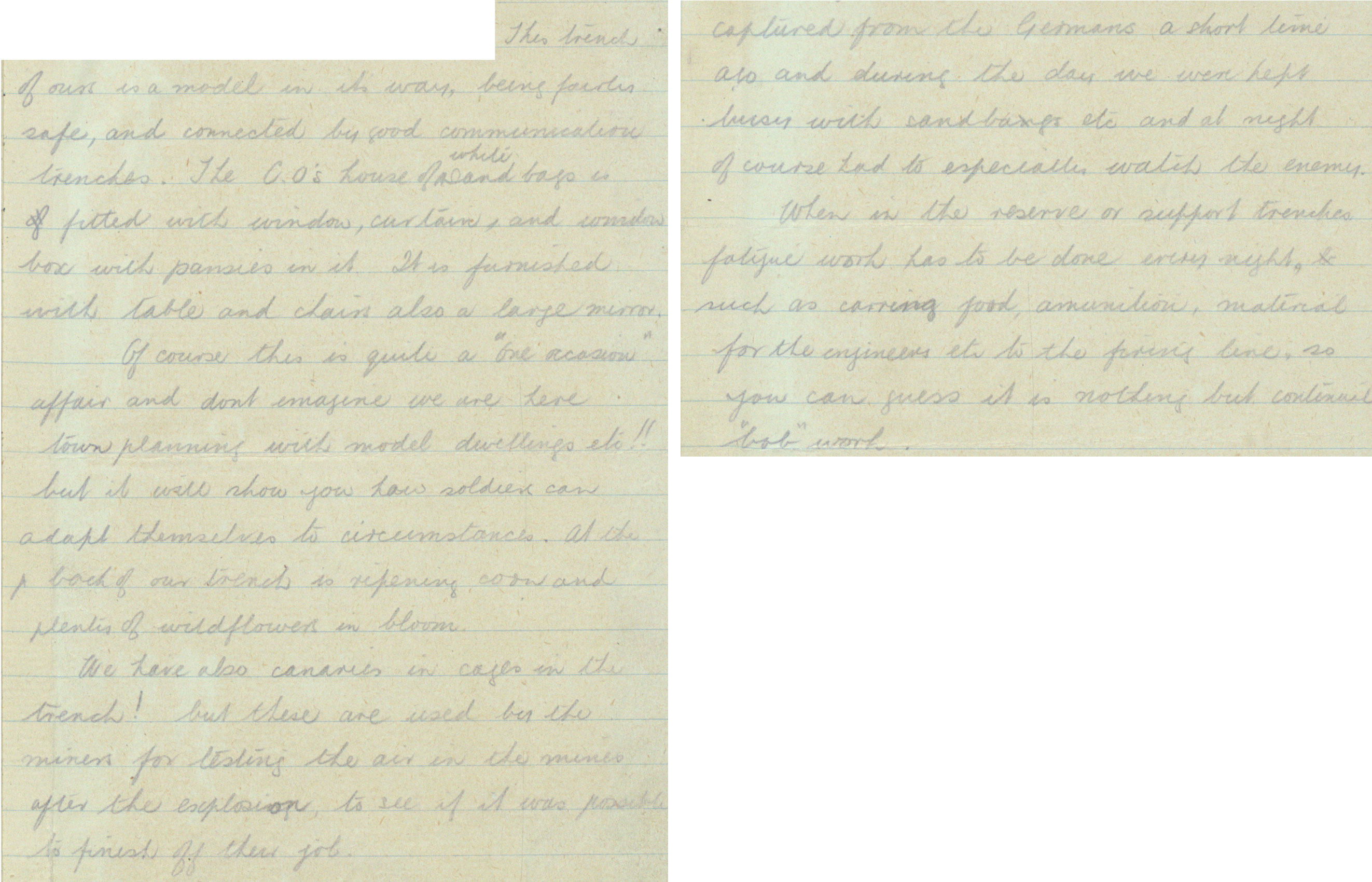 This is one of many letters sent by staff of the Great Western Railway Audit office at Paddington who had enlisted to fight in the First World War. (RAIL 253/516)
R.C.S. Frost, 6 July 1915, France. Born: 30 January 1888, Regiment: 8th Argyll and Sutherland Highlanders; Duke of Cornwall's Light Infantry, Regiment number: 1998; 300470, Rank: Private; Second Lieutenant, Died: 1962
Transcript (extracts)
… This trench of ours is a model in its own way, being fairly safe, and connected by good communication trenches. The Commanding Officer's house of white sandbags is fitted with window, curtains, and window box with pansies in it. It is furnished with table and chairs also a large mirror. Of course this is quite a 'one occasion' affair and don't imagine we are here town planning with model dwellings etc! But it will show you how soldiers can adapt themselves to circumstances. At the back of our trench is ripening corn and plenty of wildflowers in bloom.
We have also canaries in cages in the trench! But these are used by the miners for testing the air in the mines after the explosion, to see if it was possible to finish off their job. [Censored line] captured from the Germans a short time ago and during the stay we were kept busy with sandbags etc. and at night of course had to especially watch the enemy.
When in the reserve or support trenches fatigue work has to be done every night, such as carrying food, ammunition, material for the engineers etc. to the firing line, so you can guess it is nothing but continual 'bob' work (odd jobs).
Return to Letters from the First World War, part one