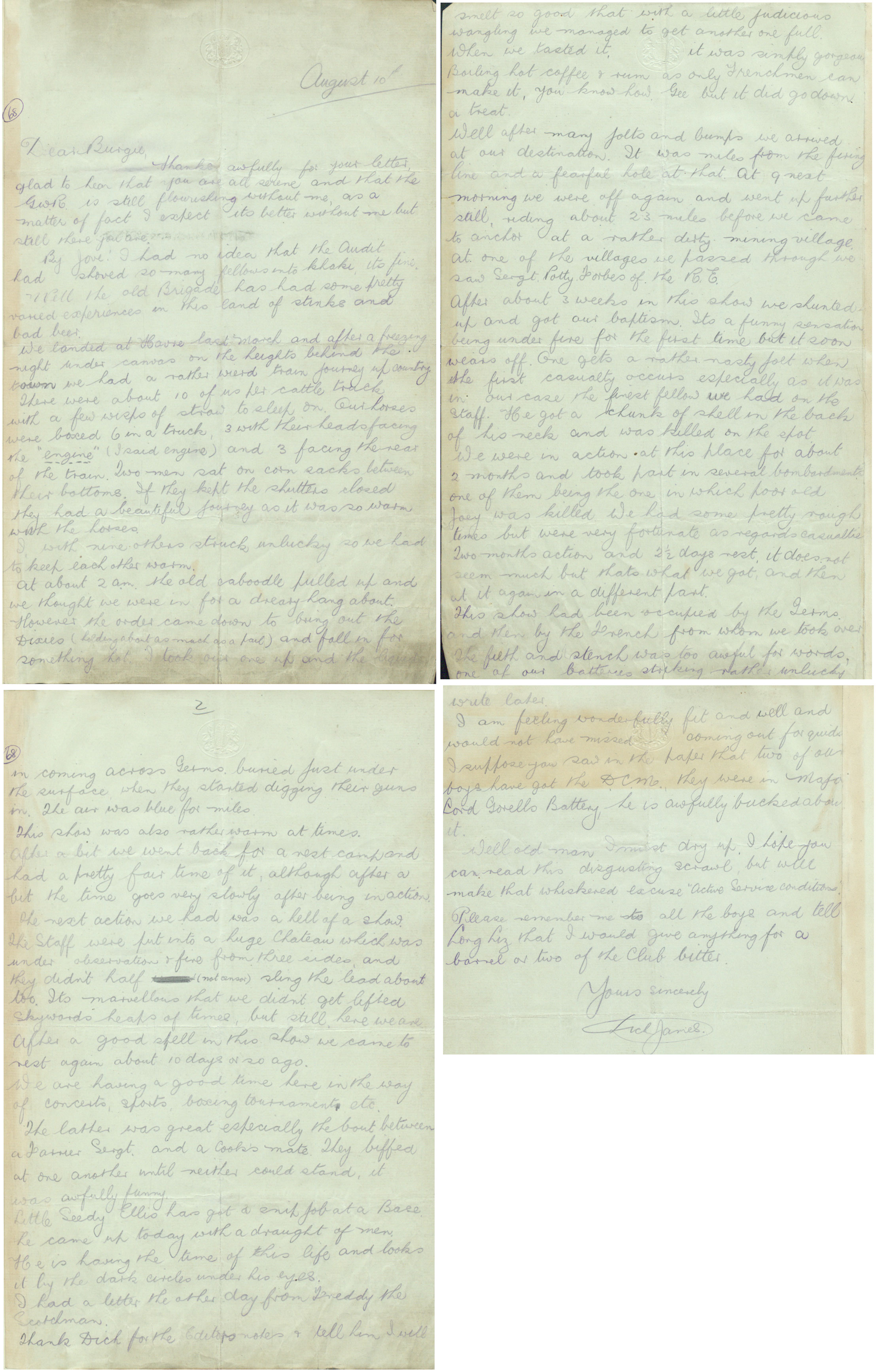 This is one of many letters sent by staff of the Great Western Railway Audit office at Paddington who had enlisted to fight in the First World War. (RAIL 253/516)
Richard James, 10 August 1915, France. Born: 8 January 1894, Regiment: Royal Field Artillery, Rank: Corporal, Died: 1969
Transcript
Dear Burgie,
Thanks awfully for your letter, glad to hear that you are all serene and that the G.W.R. is still flourishing without me, as a matter of fact I expect it's better without me but still there you are.
By Jove! I had no idea that the Audit had shoved so many fellows into khaki, its fine. Well the old Brigade has had some pretty varied experiences in this land of stinks and bad beer.
We landed at Havre last March and after a freezing night under canvas on the heights behind the town we had a rather weird train journey up country. There were about 10 of us per cattle truck with a few wisps of straw to sleep on. Our horses were boxed six in a truck, three with their heads facing the 'engine' and three facing the rear of the train. Two men sat on corn sacks between their bottoms. If they kept the shutters closed they had a beautiful journey as it was so warm with the horses…
At about 2am the old caboodle pulled up and we thought we were in for a dreary hang about, however the order came down to bring out the dixies… and fall in for something hot. I took our one up and the liquid smelt so good that with a little judicious wangling we managed to get another one full. When we tasted it, it was simply gorgeous. Boiling hot coffee and rum as only Frenchmen can make it, you know how. Gee but it did go down a treat.
Well after many jolts and bumps we arrived at our destination. It was miles from the firing line and a fearful hole at that. At nine next morning we were off again and went up further still, riding about 23 miles before we came to anchor at a rather dirty mining village…
After about three weeks in this show we shunted up and got our baptism. It's a funny sensation being under fire for the first time but it soon wears off. One gets a rather nasty jolt when the first casualty occurs especially as it was in our case the finest fellow we had on the staff. He got a chunk of shell in the back of his neck and was killed on the spot.
We were in action at this place for about two months and took part in several bombardments, one of them being the one in which poor old Joey was killed. We had some pretty rough times but were very fortunate as regards casualties. Two month's action and 2½ days' rest, it doesn't seem much but that's what we got, and then at it again in a different part.
This show had been occupied by the Germs and then by the French from whom we took over. The filth and stench was too awful for words, one of our batteries striking rather unlucky in coming across Germs buried just under the surface when they started digging their guns in. The air was blue for miles…
The next action we had was a hell of a show. The staff were put into a huge Chateau which was under observation and fire from three sides. And they didn't half sling the lead about too. It's marvellous that we didn't get lifted skywards heaps of times, but still here we are. After a good spell in this show we came to rest again about 10 days or so ago.
We are having a good time here in the way of concerts, sports, boxing tournaments etc. The latter was great especially the bout between a Farrier Sergeant and a cook's mate. They biffed at one another until neither could stand, it was awfully funny.
Little Seedy Ellis has got a snip job at a base. He came up today with a draught of men. He is having the time of his life and looks it by the dark circles under his eyes…
I am feeling wonderfully fit and well and would not have missed coming out for quids. I suppose you saw in the paper that two of our boys have got the Distinguished Conduct Medal. They were in Major Lord Gorell's Battery; he is awfully bucked about it.
Well old man I must dry up. I hope you can read this disgusting scrawl, but will make that whiskered excuse 'active service conditions'. Please remember me to all the boys and tell Long Liz that I would give anything for a barrel or two of the club bitter.
Sincerely,
Dick James
Return to Letters from the First World War, part one