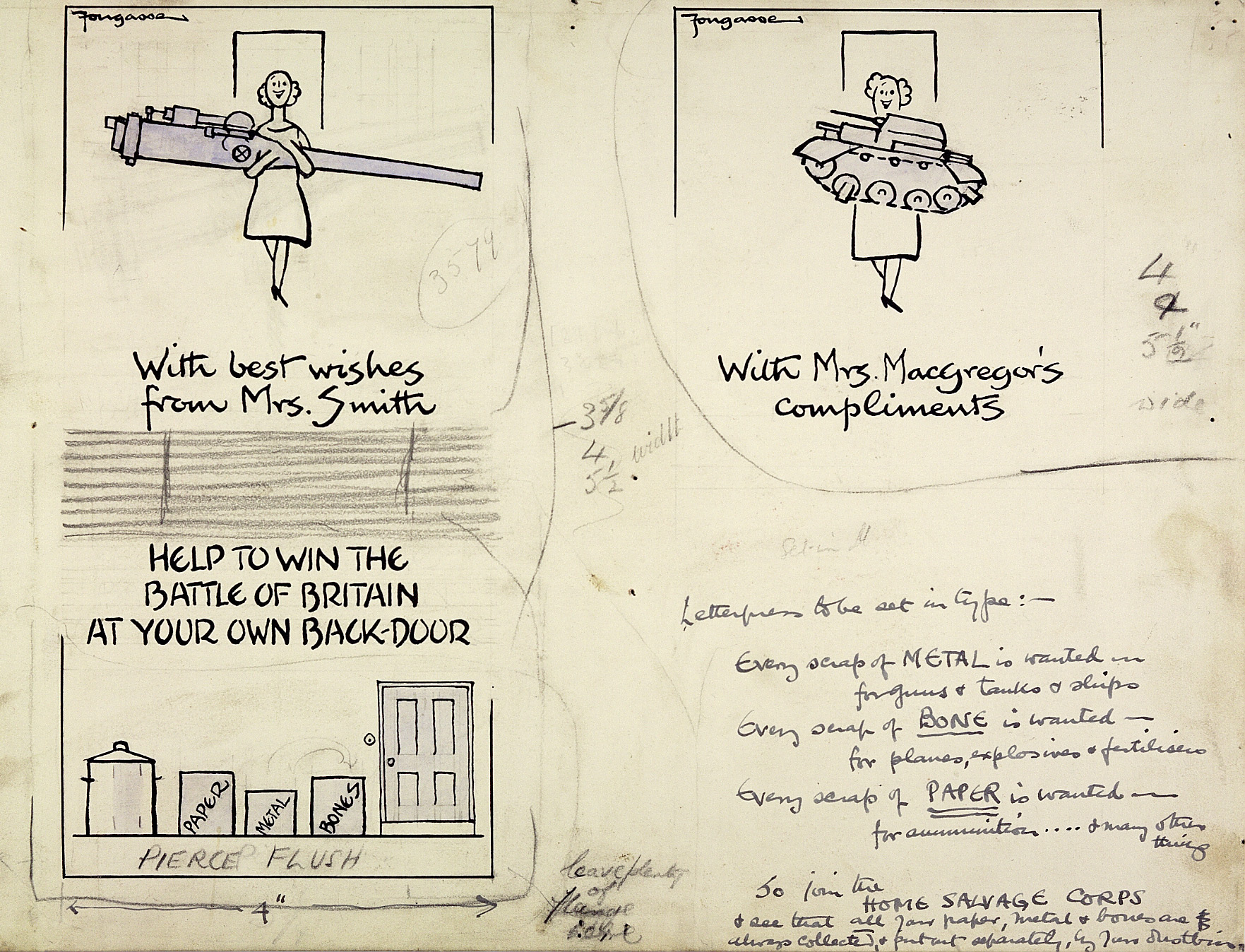 Sketch by the cartoonist Fougasse, (Cyril Kenneth Bird, 1887-1965) for a poster showing how waste could be turned into weapons Catalogue ref: INF 3/220
In 1939 most of the fuel, food and raw materials used in Britain was bought abroad and transported here by ship. This caused big problems at the start of the war. German submarines and aircraft were able to start weakening Britain's defences by attacking the ships and destroying supplies of resources essential for making weapons and fighting the war.
The government needed to try and make the country as self-sufficient as possible. Any savings that could be made in the use of fuel, food and raw materials from abroad meant that fewer sailors had to risk their lives on the boats, and more money could be put into fighting the war.
Transcript
[Illustration of a smiling woman carrying a large gun:]
"With best wishes from Mrs. Smith"
[Illustration of a smiling woman carrying a tank:]
"With Mrs MacGregor's compliments"
"Help to win the Battle of Britain at your own back door"
[Illustration of a bin and boxes labelled 'paper', 'metal', and 'bones' outside a door.]
Letterpress to be set in type:-
Every scrap of METAL is wanted – for guns and tanks and ships
Every scrap of BONE is wanted – for planes, explosives and fertilisers
Every scrap of PAPER is wanted – for ammunition… and many other things
So join the HOME SALVAGE CORPS
and see that all your paper, metal and bones are always collected, and put out separately, by your dustbin
Return to Home Front 1939-1945 (part two)