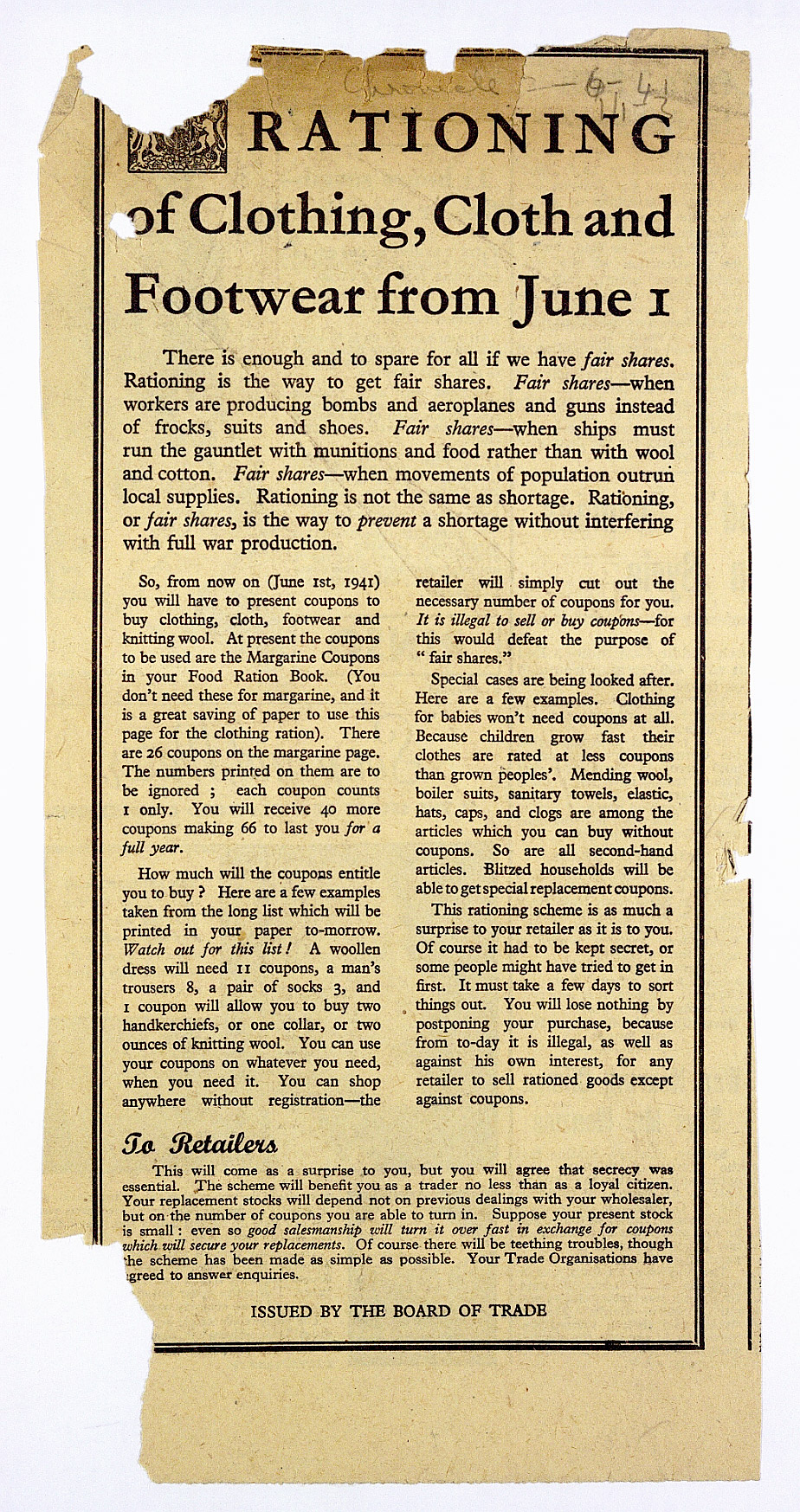 This leaflet was issued by the Board of Trade to explain to the public and retailers that the idea behind the rationing of clothing and footware was to ensure 'fair shares' for all. It was not about shortages. Catalogue ref: BT 64/3026
Clothes rationing was introduced in May 1941. This made sure that everyone had a fair share of what was available. Everybody was given a ration book with 66 clothing coupons that had to last for a year. Each item of clothing that was rationed was worth a certain number of coupons, for example one dress was worth eleven coupons. People still had to pay for clothes, but they had to hand over the right number of coupons each time they bought something.
How does this source explain that rationing meant 'fair shares for all'?
What were the findings of an investigation into attitudes towards clothes rationing, Catalogue ref: BT 64/4101?
What was the Black market? See source on the illegal sale of coupons, Catalogue ref: CRIM 1/1387.
Transcript
RATIONING of Clothing, Cloth and Footwear from June 1
There is enough and to spare for all if we have fair shares. Rationing is the way to get fair shares. Fair shares – when workers are producing bombs and aeroplanes and guns instead of frocks, suits and shoes. Fair shares – when ships must run the gauntlet with munitions and food rather than with wool and cotton. Fair shares – when movements of population outrun local supplies. Rationing is not the same as shortage. Rationing, or fair shares, is the way to prevent a shortage without interfering with full war production.
So, from now on (June 1st 1941) you will have to present coupons to buy clothing, cloth, footwear and knitting wool. At present the coupons to be used are the Margarine Coupons in your Food Ration Book. (You don't need these for margarine, and it is a great saving of paper to use this page for the clothing ration). There are 26 coupons on the margarine page. The numbers printed on them are to be ignored; each coupon counts 1 only. You will receive 40 more coupons making 66 to last you for a full year.
How much will the coupons entitle you to buy? Here are a few examples taken from the long list which will be printed in your paper tomorrow. Watch out for this list! A woollen dress will need 11 coupons, a man's trousers 8, a pair of socks 3, and 1 coupon will allow you to buy two hankerchiefs, or one collar, or two ounces of knitting wool. You can use your coupons on whatever you need, when you need it. You can shop anywhere without registration – the retailer will simply cut out the necessary number of coupons for you. It is illegal to sell or buy coupons – for this would defeat the purpose of "fair shares."
Special cases are being looked after. Here are a few examples. Clothing for babies won't need coupons at all. Because children grow fast their clothes are rated at less coupons than grown peoples'. Mending wool, boiler suits, sanitary towels, elastic, hats, caps, and clogs are among the articles which you can buy without coupons. So are all second-hand articles. Blitzed households will be able to get special replacement coupons.
This rationing scheme is as much a surprise to your retailer as it is to you. Of course it had to be kept secret, or some people might have tried to get in first. It must take a few days to sort things out. You will lose nothing by postponing your purchase, because from today it is illegal, as well as against his own interest, for any retailer to sell rationed goods except against coupons.
To Retailers
This will come as a surprise to you, but you will agree that secrecy was essential. The scheme will benefit you as a trader no less than as a loyal citizen. Your replacement stocks will depend not on previous dealings with your wholesaler, but on the number of coupons you are able to turn in. Suppose your present stock is small: even so good salesmanship will turn it over fast in exchange for coupons which will secure your replacements. Of course there will be teething troubles, though the scheme has been made as simple as possible. Your Trade Organisations have agreed to answer enquiries.
ISSUED BY THE BOARD OF TRADE
Return to Home Front 1939-1945 (part two)