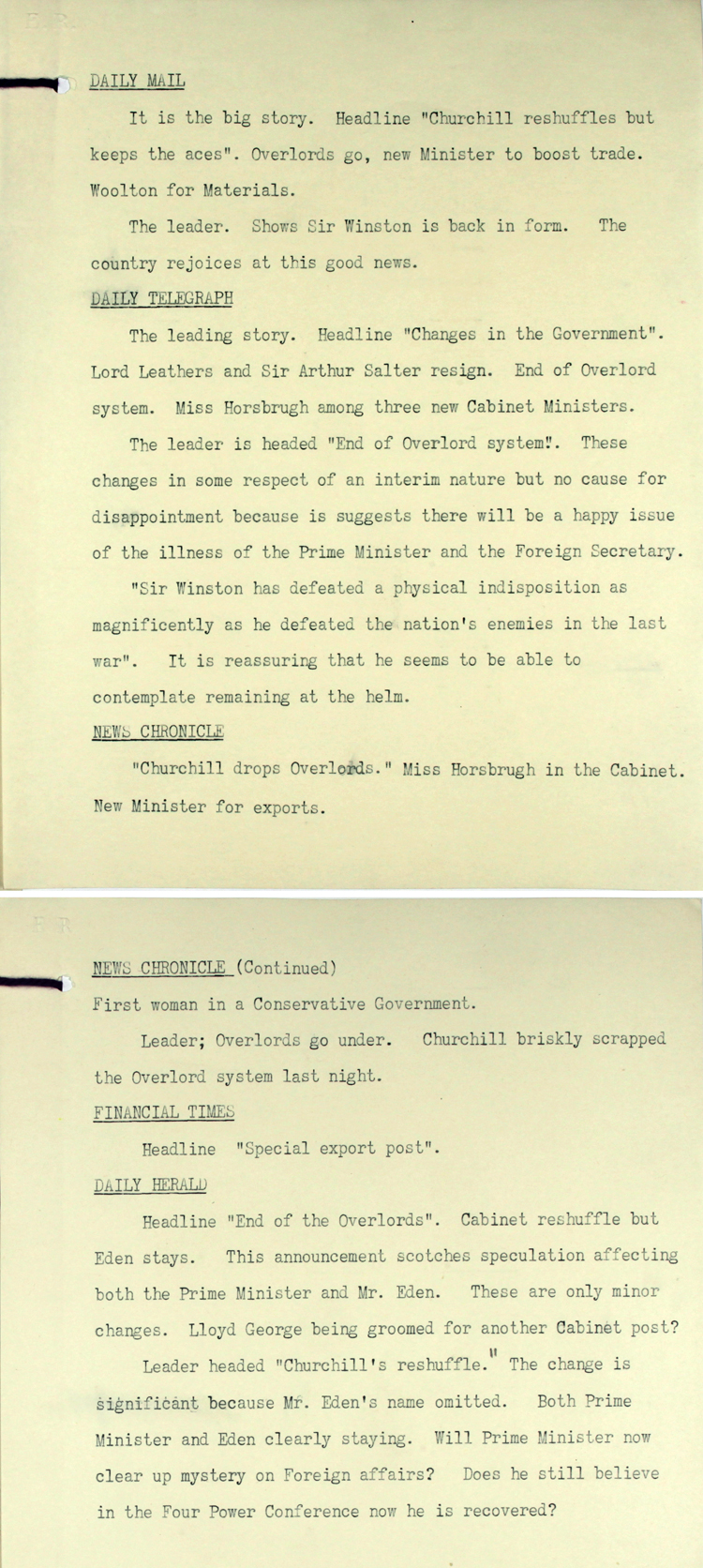 Extract from a press summary, September 1953 on Prime Minister Winston Churchill's Cabinet reshuffle (PREM 5/225)
Transcript
DAILY MAIL
It is a big story. Headline "Churchill reshuffles but keeps the aces". Overlords go, new Minister to boost trade. Woolton for Materials. The leader [main article] Shows Sir Winston is back in form. The country rejoices at this good news.
DAILY TELEGRAPH
The leading story. Headline "Changes in the Government". Lord Leathers and Sir Arthur Salter resign. End of Overlord system. Miss Horsbrugh among three new Cabinet Ministers.The leader is headed "End of Overlord system". These changes in some respect of an interim nature but no cause for disappointment because is suggests there wull be a happy issue of the illness of the Prime Minister and the Foreign Secretary."Sir Winston has defeated a physical indisposition as magnificently as he defeated the nation's enemies in the last war." It is reassuring that he seems to be able to contemplate remaining at the helm.
NEWS CHRONICLE
"Churchill drops Overlords." Miss Horsbrugh in the Cabinet. New Minister for Exports. First woman in a Conservative Government.Leader: Overlords go under. Churchill briskly scrapped the Overlord system last night.
Financial Times
Headline "End of the Overlords". Cabinet reshuffle but Eden stays. This announcement scotches speculation affecting both the Prime Minister and Mr. Eden. There are only minor changes. Lloyd George being groomed for another Cabinet post? Both Prime Minister now clear up mystery on Foreign affairs? Does he still believe in the Four Power Conference now he is recovered?
Return to Fifties Britain