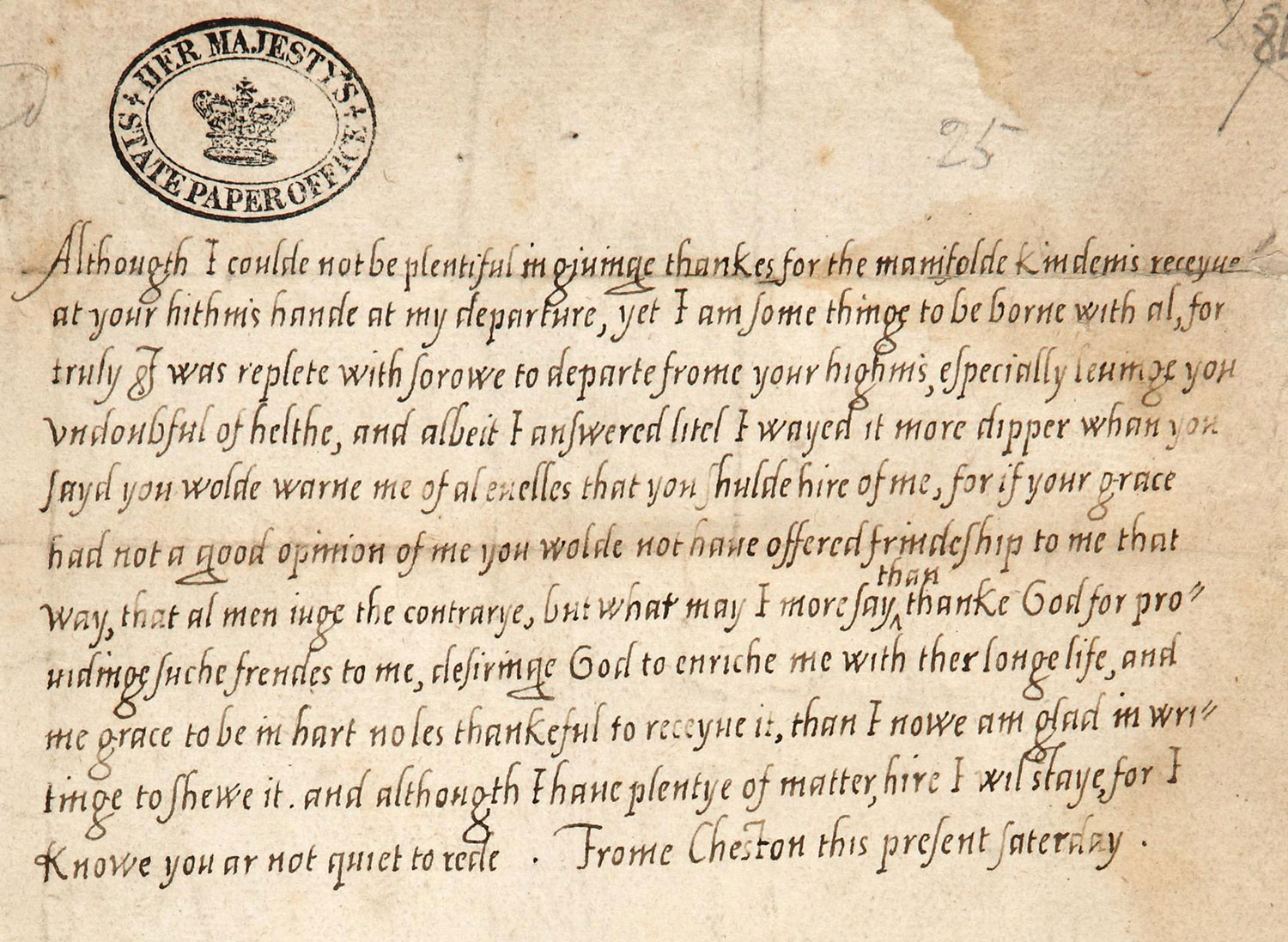 Princess Elizabeth to Dowager Queen Katherine Parr, c.June 1548 (SP10/2 f.84c)
Elizabeth wrote this letter to Katherine, her last and favourite stepmother, when she was in deep disgrace. With what many people viewed as unseemly haste, Katherine had married her long-standing love, Thomas Seymour, very soon after the death of Henry VIII. Elizabeth went to live with the newlyweds at Chelsea, and although she thrived in the intellectually stimulating environment, she soon found herself at the centre of a scandal. Seymour clearly found the 13 year-old princess an irresistible prospect. He would visit her early in the morning, before she was dressed, and tickle her in bed. At first, Katherine colluded in her husband's antics, but when she found Elizabeth in his arms she sent the girl away. The episode had a profound effect upon the young princess, reinforcing the need to safeguard her reputation at all costs and strengthening her resolve never to marry.
Transcript
Although I coulde not be plentiful in giving thankes for the manifold kindenis received at your hithnis hande at my departure, yet I am some thinge to be borne with al, for truly I was replete with sorowe to departe frome your highnnis, especially leaving you undoubtful of helthe, and albeit I answered litel I wayed [weighed] it more dipper [deeper] when you sayd you wolde warne me of al evelles that you shulde hire of me, for if your grace had not a good opinion of me you wolde not have offered friendship to me that way, that al men iuge [judge] the contrarye, but what may I more say than thanke God for providinge suche frendes to me, desiringe God to enriche me with ther [their] longe life, and me grace to be in hart no les thankeful to receyve it, than I nowe am glad in writinge to shewe it. And although I have plentye of matter, hire I wil staye [stop] for I knowe you ar not quiet to rede. Frome Cheston this present saterday.
Return to Elizabeth I's monarchy