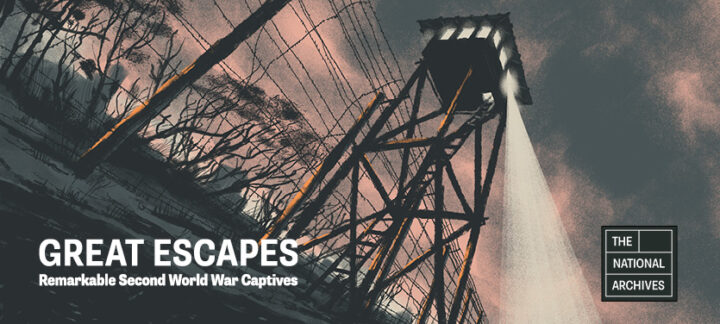 Great Escapes: Remarkable Second World War Captives will be our next exhibition, opening on Friday 2 February 2024 and closing on Sunday 21 July 2024.
Great Escapes explores the human spirit of hope and resilience during times of captivity, revealing both iconic and under-told stories of prisoners of war and civilian internees during the Second World War.
From famous escape attempts such as the escape from Stalag Luft III that we know as "the Great Escape" and British officer Airey Neave's escape from Colditz Castle dressed as a German soldier, to remarkable stories of individuals seeking escape through art, music and finding love, the exhibition offers glimpses of the courage and ingenuity that is possible in desperately hard times.
Drawing on The National Archives' vast collections of wartime era documents and photographs, the exhibition features never previously displayed records from MI9 – a highly secretive British government agency set up to help military personnel evade and escape capture, war office records recently catalogued by volunteers and incredible loans from organisations such as IWM, Tate, Leicester Museum and Art Gallery and Eden Camp Modern History Museum. More information to be revealed.
The exhibition will be free to visit and you do not need to book a ticket.
The exhibition will be accompanied by a book, Captives: Prisoners of War and Internees 1939:1945 published by The History Press.
Sign up to our mailing list or follow us on social media to find out more about the exhibition as it is released and book tickets to our accompanying programme of events and activities.