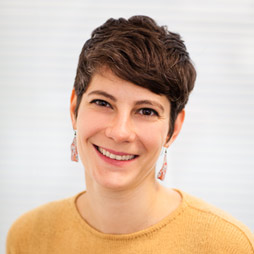 Position: Head of Conservation Research and Audience Development
Specialism: Chemistry, Conservation, Heritage science

lora.angelova@nationalarchives.gov.uk
Lora's role is to ensure that the Collection Care department at The National Archives is recognised as an international centre for research excellence in heritage and conservation research. Through coordinating and leading on a wide range of scientific and conservation research projects, engagement with public and academic audiences, and supporting the wider archives conservation and heritage science research sector, she aims to align the department's research programme with The National Archives' research strategy, and to develop their priorities in the areas of applied and interpretive research.
She works across departments, participates in, and directs, national and international research projects, and manages a team within Collections Care to ensure the delivery of ongoing programmes of heritage science research and material analyses, environmental assessment, and the implementation of collection management tools.
She represents The National Archives as a trustee on the National Heritage Science Forum board, is the Principle Investigator of the AHRC Towards a National Collection project Deep Discoveries, and Research Advisor on the Carlsberg Foundation ArcHives project.
Prior to joining The National Archives, Lora was a Conservation Science Researcher at Tate, where she worked on the Nanorestart project, evaluating nanotechnology-based cleaning systems designed to tackle the challenging treatments of modern and contemporary art.
Lora received a PhD in Chemistry from Georgetown University and the National Gallery of Art, Washington DC, for her research on the design and application of polymer gels for surface cleaning heritage materials. Following her move to the UK as a Newton International Fellow, she completed a year of research at the Melville Laboratory for Polymer Synthesis at the University of Cambridge, and a year at the Material Studies Laboratory, Department of History of Art, University College London.
Alongside her work at The National Archives, Lora also contributes to the conservation science field as a book editor and conference organiser; she also leads workshops and consults on complex cleaning treatments. You can learn more about her work through this podcast and the National Heritage Science Forum (NHSF) blog.