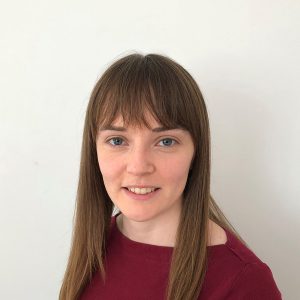 Position: Principal Records Specialist – Visual Collections
Specialism: Digital humanities, Material culture, Social and cultural history, Visual culture

katherine.howells@nationalarchives.gov.uk
Katherine Howells specialises in visual collections, British social and cultural history and digital methods. She holds a PhD in Digital Humanities and an MA in Early Modern History both from King's College London. She joined The National Archives in 2019.
Her main research interest is in how historical images are remembered and reused in culture and society, and the impact of this reuse on people's sense of identity and perception of the past. Her doctoral research focused on British cultural memory of famous propaganda posters produced by the government during the Second World War. This was part of a larger AHRC-funded project researching the publishing history of the Ministry of Information. Prior to this, she has explored the impact of photography and film in shaping the cultural memory of the First World War and how images, architecture and the heritage industry have influenced how British people imagine the Tudor period.
Katherine is interested in various visual records at The National Archives, including photographs, advertising and artwork in the copyright collection, registered designs, patents and trademarks, and government publicity and propaganda records. She is also particularly interested in employing digital methods in archival research in order to more effectively extract, analyse and visualise catalogue data and improve public engagement with records.