The National Archives offers the following volunteering opportunities:
Remote projects
On site projects
Projects involving online collaboration – you do not need to contact us to take part in these activities
Get started using the links below.
To find out more about upcoming opportunities, sign up for regular email updates from The National Archives.
You can contact volunteer@nationalarchives.gov.uk if you would like to get involved.
You can also read more about other volunteering projects happening at The National Archives now and the experiences of our volunteers.
Remote projects
We are currently hosting a selection of remote volunteering projects using the transcription and collaboration website From The Page. Although this is limited at present, we are looking to add further projects in the future.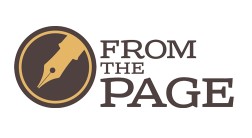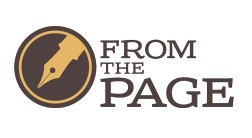 To get involved in one of our projects head over to our page on From the Page. You will need to create a free account but once you have done this you can start transcribing our records with us.
The projects that we currently have online are:
Copyright entry forms: Paintings and drawings (COPY 1)
19th

–

century British army records (WO 25 and WO 76)
There is guidance on the web page for each project to help you, but if you have any questions regarding these projects then please email remotetranscription@nationalarchives.gov.uk or leave a note on an individual page and we will answer.
Scarlets and Blues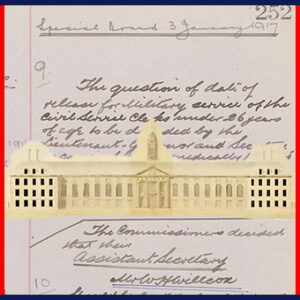 The National Archives has launched a new citizen research project, Scarlets and Blues, which is now open to volunteers. The project invites volunteer transcribers to take a behind-the-scenes look at the lives of people at the Royal Hospital Chelsea around the time of the First World War, with the project title referencing the coats worn by the Chelsea Pensioners.
The work undertaken by volunteers will provide new information for our catalogue Discovery, while also permitting investigation of research questions around how the hospital was organised, plus medical, women's and social history in wartime. The efforts of volunteers will also feed into wider work on the activities of citizen researchers.
Scarlets and Blues is a key component of the Arts and Humanities Research Council-funded research project, Engaging Crowds: Citizen research and heritage data at scale, which is part of the Towards a National Collection research programme.
To get involved in this project click here: Scarlet and Blues.
C 115 – Schedule Project
In 1815, the Court of Chancery became responsible for the maintenance of Frances Scudamore, Duchess of Norfolk, a childless widow with mental health problems. Chancery appointed Thomas Bird, a Herefordshire solicitor, to produce a schedule (inventory) of the Duchess's family papers in 1816.
Bird's single-volume schedule assigned numbers and descriptions to the Duchess's papers. In 1881, both schedule and papers were transferred to the Public Record Office (now The National Archives).
The schedule was later accessioned as part of the IND 1 series of original court indexes as IND 1/23396. The papers became series C 115, Chancery: Master Harvey's Exhibits: Duchess of Norfolk's Deeds.
The content of series C 115 is quite varied, including: conveyance or title deeds related to the estates of the Scudamore family in various counties of England; cartularies; court rolls; estate account books; correspondence of the Scudamore family, dating from the 15th century onwards; wills; bonds; and family settlements.
One deed in the series is one of the oldest records we hold, dated 1085.
The schedule (IND 1/23396) is arranged logically and gives the following details about each itemised paper from the C 115 series: old box number; document number; date; parties involved (grantor, grantee etc.); places; purport (content) of the deeds, with conditions, remainder etc.
What volunteers will be doing
This is a wonderful opportunity for volunteers to assist in improving data in Discovery, our online catalogue.
The aim of the project is to transcribe the content of the schedule using a spreadsheet template. This will enable the information contained within the schedule to be adapted to form detailed descriptions for upload into Discovery, improving access for all researchers.
This is a remote project – there is no need to travel to Kew, as we will be sharing digital images of the schedule.
Precise guidelines will be given.
Skills required
Basic knowledge of Excel
Ability to read handwriting from the 19th century
Some knowledge of Latin would be an advantage but it is not essential
Get in touch for further details
If you are interested in this opportunity, please contact Volunteer@nationalarchives.gsi.gov.uk.
On site projects at Kew
There are currently no on site projects at Kew.
Projects involving online collaboration
Help us to describe our records online. We are encouraging users to help tag and contribute to our records, both in our online catalogue, Discovery, and on other interfaces such as the photo-sharing website Flickr.
Discovery – the introduction of a tagging tool to Discovery allows users to assign key words or phrases to our records, helping other users to find records that they previously wouldn't have identified. As much of the catalogue data also uses older language to describe our records, tagging presents the opportunity to refresh and modernise some of this language, making it relevant to today's users. This will lay the foundations for future developments, such as adding user-generated content to catalogue descriptions and tagging records with location information.
Through a lens – our 'Through a lens' series has seen the publication on Flickr of the CO 1069 series of photographs, providing online access to thousands of photographs previously only available at Kew. This has given users the opportunity to engage with our records, to tag and contribute comments and suggestions to help improve catalogue descriptions and geographical references. Our ultimate intention is to extract these contributions from Flickr and add them to our catalogue. Building on the success of our Africa through a lens project in 2011, and the Your Caribbean Heritage cataloguing project, our wider Caribbean through a lens project seeks to build relationships with under-represented communities regionally and engage with non-traditional audiences of archives. Contribute to our collections on Flickr now.