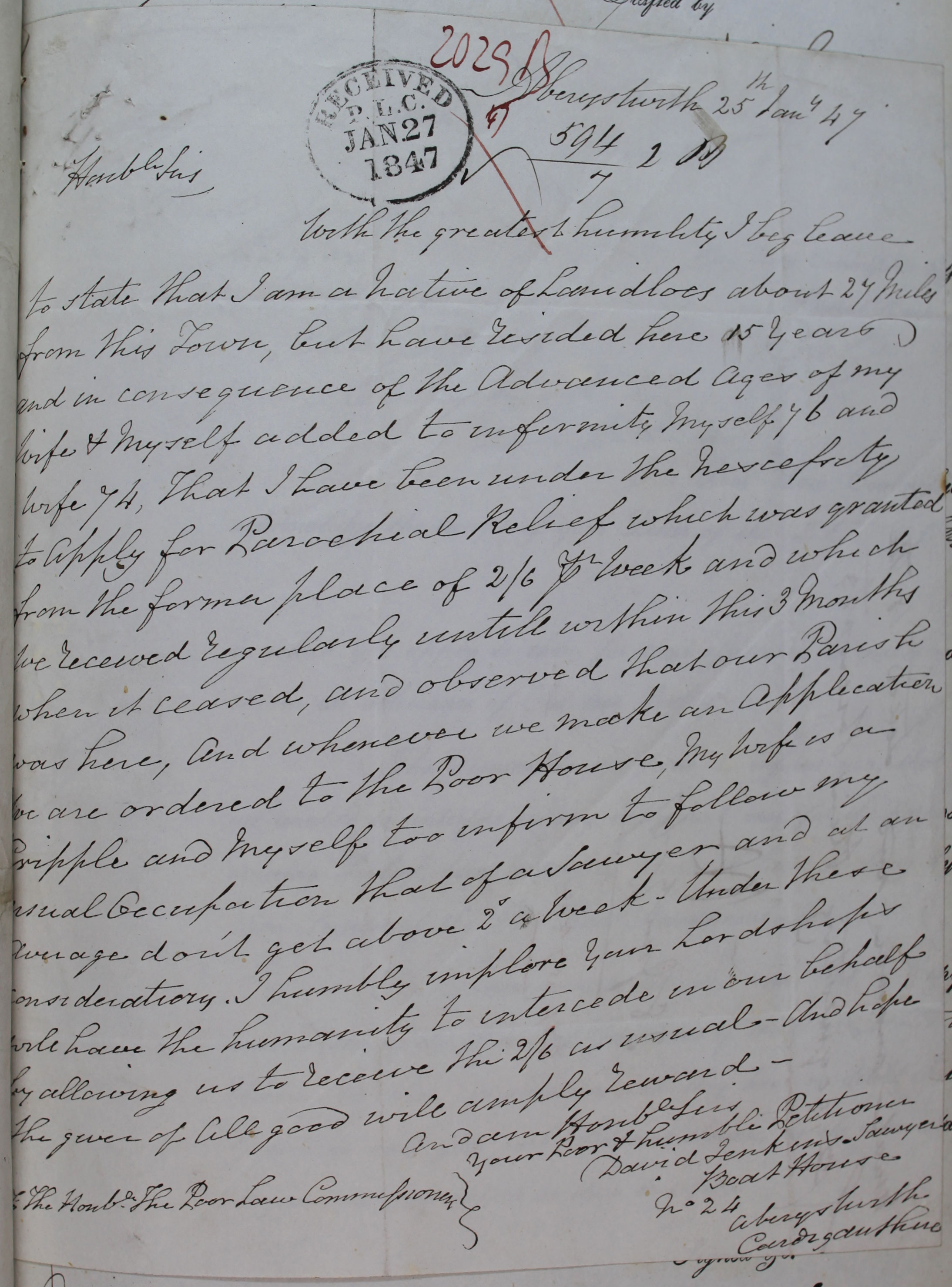 Pauper letter from an elderly couple asking for intercession from Poor Law Commission, 25 January, 1847, Catalogue ref: MH12/ 15797
Poor Law Union: Aberystwith. Union counties: Cardiganshire.
Transcript:
Aberystwyth 25th January 1847
Honourable Sirs,
With the greatest humility I beg leave to state that I am a native of Llanidloes about 27 miles from this town, but have resided here 15 years and in consequence of the advanced ages of my wife & myself added to infirmity, myself 76 and wife 74, that I have been under the necessity to apply for parochial relief  [outdoor parish relief] which was granted from the former place of 2 shillings and 6 pence per week and which we received regularly until within this 3 months when it ceased, and observed that our parish was here. And whenever we make an application we are ordered to the Poor House, my wife is a cripple and myself too infirm to follow my usual occupation, that of a sawyer [saws timber for a living] and at an average don't get above 2 shillings a week. After considering this, I humbly implore your Lordships will have the humanity to intercede in our behalf by allowing us to receive the 2 shillings and 6 pence as usual, and hope the giver of all good will [be] amply reward, and [I] am Honourable Sirs,  your poor & humble petitioner,
David Jenkins, Sawyer, Boat House No 24 Aberystwith Cardiganshire
To The Honourable The Poor Law Commissioners.
Return to Workhouse Voices