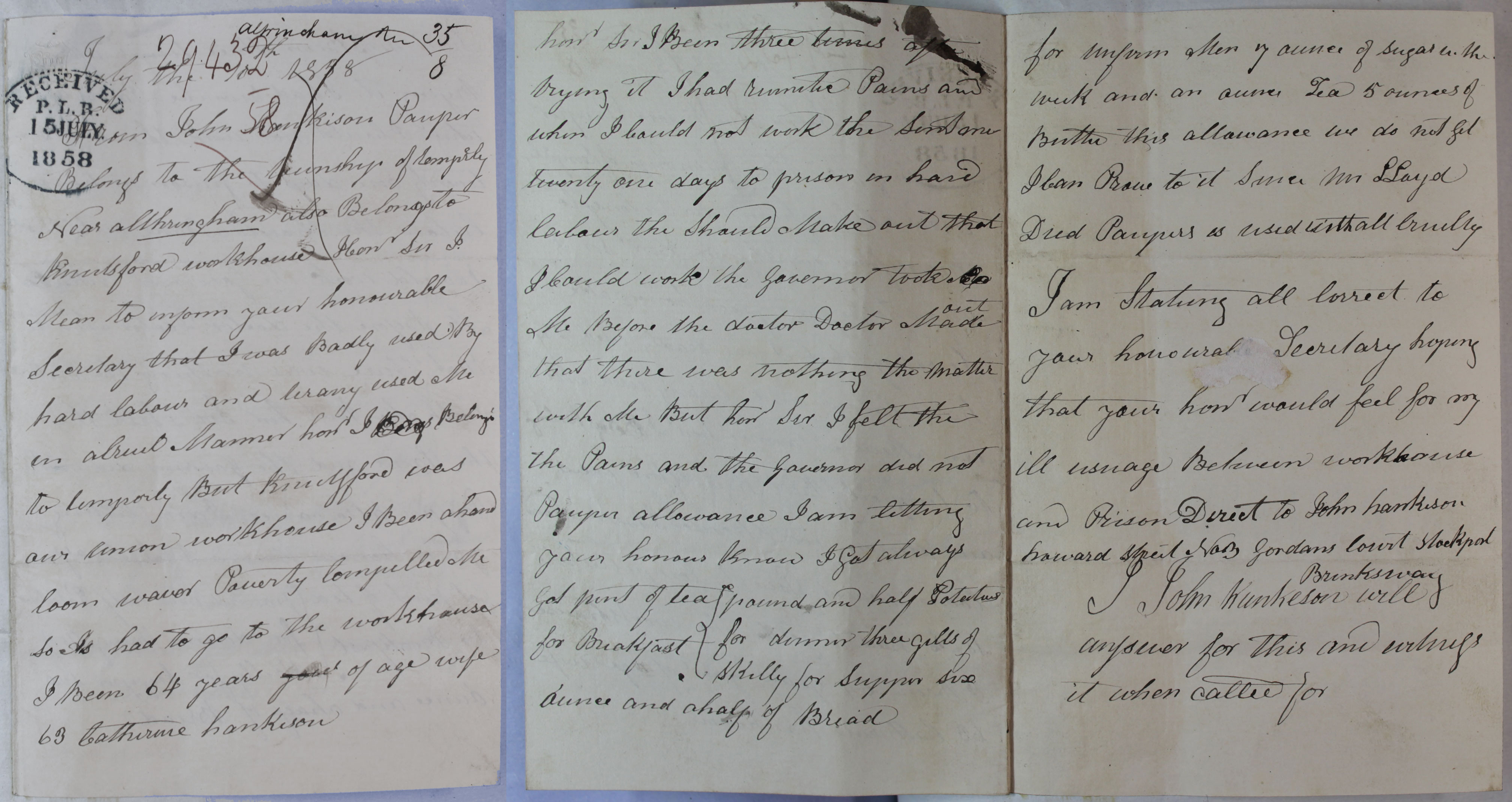 Pauper letter from John Hankinson complaining he has been forced to work in the workhouse when he is unable and the diet is not adequate. 10 July 1858. Catalogue ref:  MH12/775
Poor Law Union: Altrincham
Union counties: Cheshire
Transcript:
Altrincham July the 10th 1858
I am John Hankison, pauper [who] belongs to the township of Timperly near Althringham [and] also belongs to Knutsford workhouse. Honourable Sir, I mean to inform your Honourable Secretary that I was badly used by hard labour and tyranny [cruel hard treatment] used me in abruit [rough] manner. I belongs to Timperly, but Knutsford was our union workhouse. I have been a hand loom weaver, poverty compelled me, so I had to go to the house I [am] 64 years of age, [my] wife 63, Catherine Hankison. Honorable Sir, I have been three times, after trying it I had rheumatic pains and when I could not work, the summoner [workhouse official] sent [me] to prison for hard labour for twenty one days. They made out that I could work and the Governor took me to the doctor, who made out that there was nothing the matter with me. But honourable Sir I felt the pains and the Governor did not. [For] the pauper allowance [food allowance] I am letting your honour knows, I got always a pint of tea, pound and half potatoes for breakfast, for dinner three gills [measures] of skilly [thin porridge or soup] for supper six and a half ounces of bread. For infirm [sick] men 7 ounces of sugar in the week and an ounce tea, 5 ounces of butter. This allowance we do not get, I can prove to it since Mr Lloyd died. Paupers are used with all cruelty I am stating all correct to your honourable Secretary hoping that your honourable would understand my ill treatment between workhouse and prison.
Direct [answer] to John Hankison, Howard Street, Gordons Court, Stockport Brinksway.
I John Hankison will answer for this and witness it when called for.
Return to Workhouse Voices