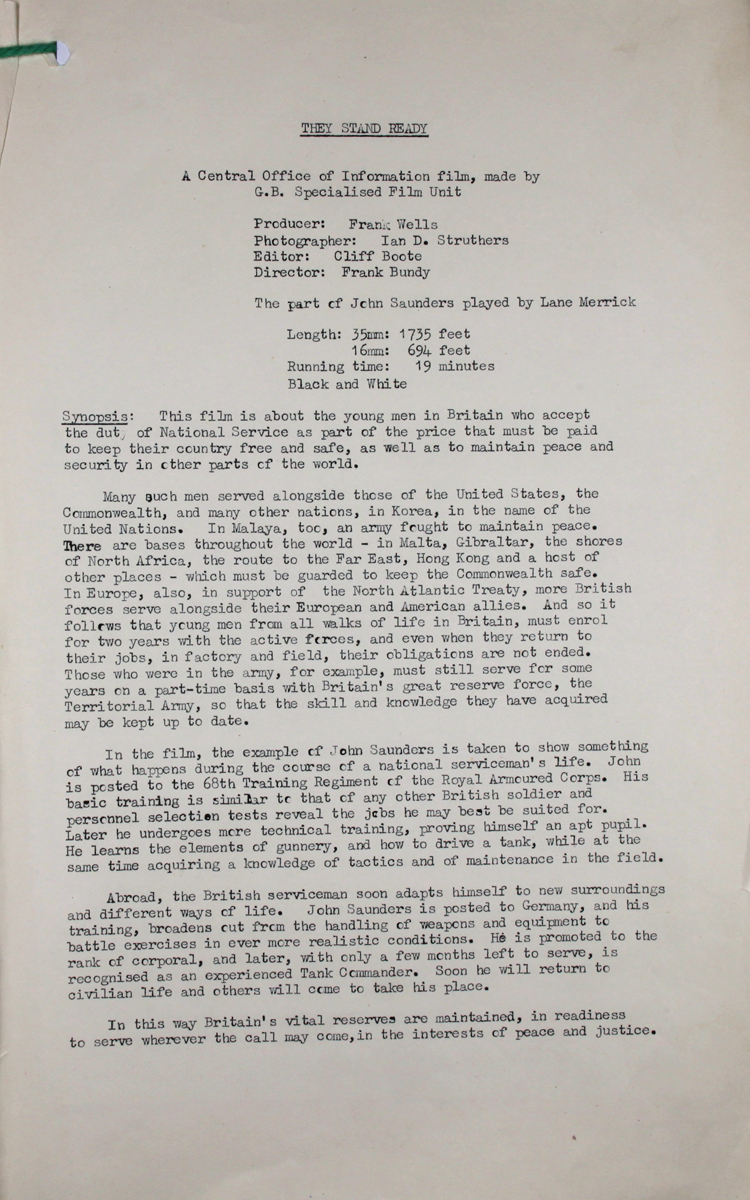 Plot synopsis for 'They Stand Ready', an official film about National Service made by Frank Bundy for the Central Office of Information, June 1955 (INF 6/812)
Transcript
THEY STAND READY
A Central Office of Information film, made by
G.B. Specialised Film Unit
Producer: Frank Wells
Photographer Ian D. Struthers
Editor Cliff Boote
Director: Frank Bundy
The part of John Saunders played by Lane Merrick
Length 35mm: 1735 feet
16mm: 694 feet
Running time: 19 minutes
Black and White
Synopsis: This film is about the young men in Britain who accept the duty of National Service as part of the price that must be paid to keep their country free and safe, as well as to maintain peace and security in other parts of the world.
Many such men served alongside those of the United States, the Commonwealth, and many other nations, in Korea, in the name of the United Nations. In Malaya, too- Gibraltar, the shores of North Africa, the route to the Far East, Hong Kong and a host of other places- which must be guarded to keep the Commonwealth safe. In Europe, also, in support of the North Atlantic Treaty, more British forces serve alongside their European and American allies. And so it follows that young men from all walks of life in Britain, must enrol for two years with the active forces, and even when they return to their jobs, in factory and field, their obligations are not ended. Those who were in the army, for example, must still serve for some years to come on a part-time basis with Britain's great reserve force, the Territorial Army, so that the skill and knowledge they have acquired may be kept up to date.
In the film, the example of John Saunders is taken to show something of what happens during the course of a national serviceman's life. John is posted to the 68th Training Regiment of the Royal Armoured Corps. His basic training is similar to that of any other British soldier and personnel selection tests reveal the jobs he may be suited for. Later he undergoes more technical training, proving himself an apt pupil. He learns the elements of gunnery, and how to drive a tank, while at the same time requiring a knowledge of tactics and of maintenance in the field.
Abroad, the British serviceman soon adapts himself to new surroundings and different ways of life. John Saunders is posted to Germany, and his training, broadens out from the handling of weapons and equipment to battle exercises in ever more realistic conditions. He is promoted to the rank of corporal, and later, with only a few months left to serve, is recognised as an experienced Tank commander. Soon he will return to civilian life and others with come to take his place.
In this way Britain's vital reserves are maintained, in readiness to serve wherever the call may come, in the interests of peace and justice.
Return to Fifties Britain