How long it takes
You need to give us at least eight weeks' notice of your need to archive.
The archiving process (from the beginning of the crawl to when the archived website becomes publicly available) can take several weeks to complete, depending on the size and complexity of the website.
You can help make the process run more quickly and easily by checking that your website is prepared for archiving.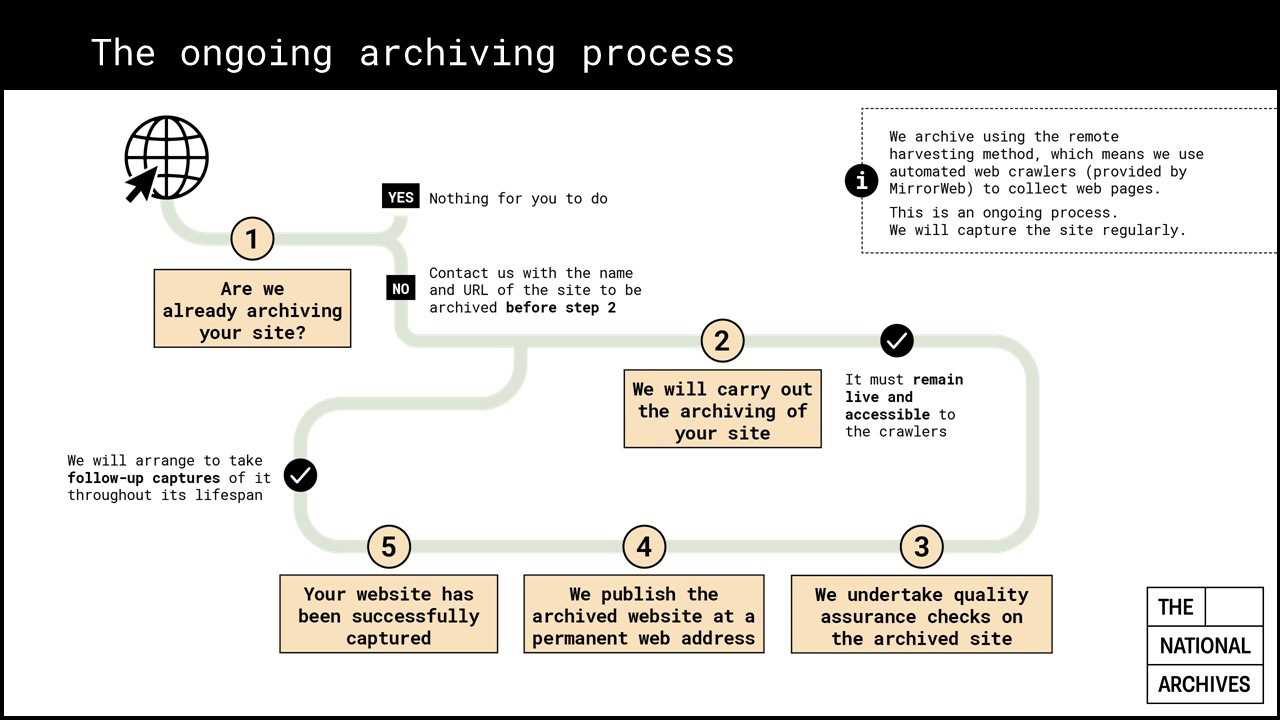 The process
Step one
Step two
Step three
Step four
Step one
Check to see if we have already archived your site by searching our A-Z list.
If the site is already listed, you do not need to do anything unless the site is closing or being relaunched.
If the site is not already listed, contact us and tell us the name and web address of the site you want to archive.
We will confirm that your site is eligible and appropriate to be archived, and will let you know proposed timescales and details. We will also let you know if we can see any immediate potential issues that may affect our ability to archive.
Step two
We will carry out the archiving of your site remotely. Your site must remain live and accessible to our web crawlers at all times during the archiving process.
If any issues come up that prevent us from archiving your site, we will attempt to contact you.
Step three
Our team will check the archived website and then, if there are no problems, we will publish the archived website at a permanent web address where it will be accessible to everyone. You can get a link to an archived website at any time.
We always publish new archived sites on a Thursday, so your site will be published on the next available Thursday after confirmation. It will be added to our web archive search as soon as possible. We update the index of our search regularly, but it can take up to several months for a new addition to appear. We also add a description of the website to Discovery (The National Archives catalogue) so it can be viewed alongside the wider record of government.
Step four
We will arrange to take follow-up captures of your site throughout its lifespan. In most cases each website is captured twice per year.
When your website needs to be closed, you will need to contact us so we can go through the process for archiving a closing website.