How long it takes
You need to give us at least eight weeks' notice of your need to archive.
The archive process (from the beginning of the crawl to when the archived website becomes publicly available) can take several weeks to complete depending on the size and complexity of the website.
You can help make the process run more quickly and easily by checking that your website is prepared for archiving.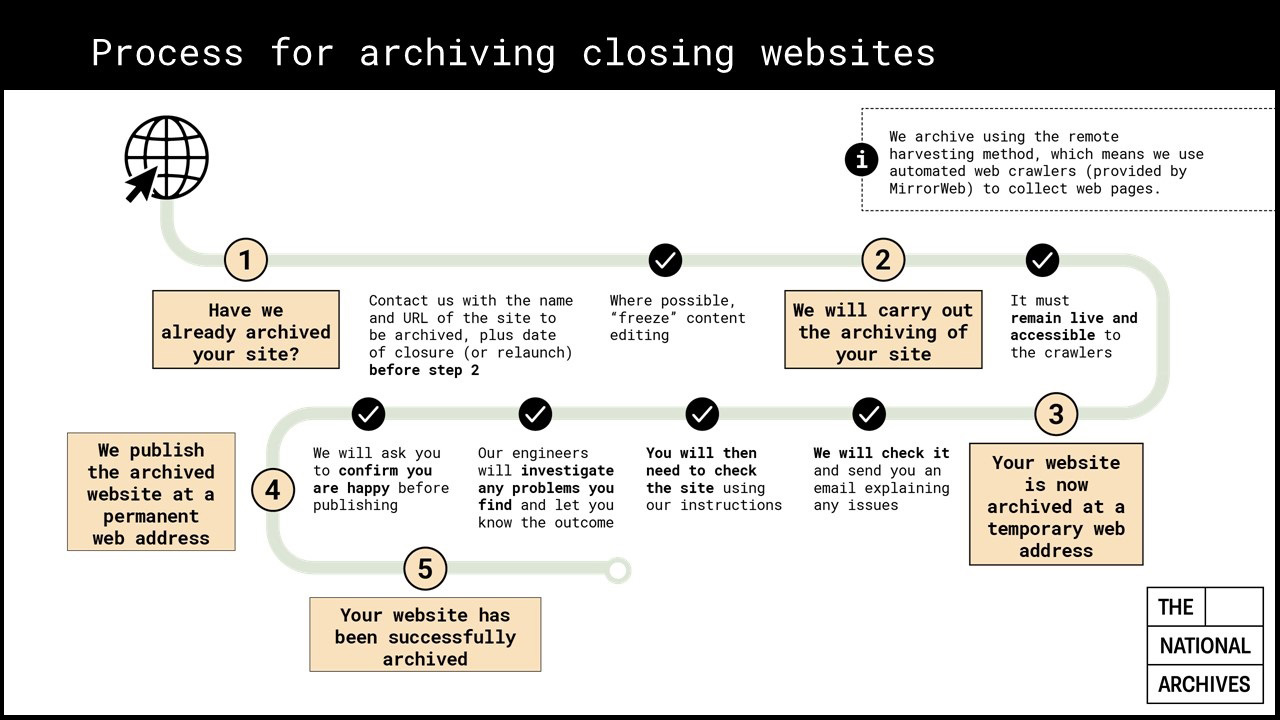 The process
Step one
Step two
Step three
Step four
Step five
Step one
Contact us and give us the following information:
The name and web address of the site you want to archive.
The date your website is closing, or being relaunched.
We will confirm that your site is eligible and appropriate to be archived, and will let you know proposed timescales and details. We will also let you know if we can see any immediate potential issues that may affect our ability to archive.
Step two
We will carry out the archiving of your site. Your site must:
remain live and accessible to the crawlers at all times during the archiving process.
wherever possible have content editing 'frozen' during the archiving. Any content added or removed during/after that part of the site has been crawled will not be preserved. Edits to the site during crawling can also affect the quality assurance and patching carried out during step three.
Step three
Your website is now archived at a temporary web address.
Our team will check it and send you an email giving you this web address and explaining any issues that came up during the process.
You will then need to check the site yourself using our instructions and tell us about any problems you find. Your archived website should resemble the live website as closely as possible, taking into account the limitations.
We will ask our engineers to investigate the problems you find and let you know the outcome. If it was possible to fix the problem, we will ask you to check again. If it was not possible to fix the problem, we will let you know.
When our work is complete, we will ask you to confirm that you have checked the site and you are happy for it to be published.
Step four
We publish the archived website at a permanent web address, where it will be accessible to everyone. You can get a link to an archived website at any time.
We always publish new archived sites on a Thursday, so your site will be published on the next available Thursday after confirmation.
Step five
Your website has been successfully captured and published, and will be added to our archive search as soon as possible. We update the index of our search regularly, but it can take up to several months for a new addition to appear.
We also add a description of the website to Discovery (The National Archives catalogue) so it can be viewed alongside the wider record of government.