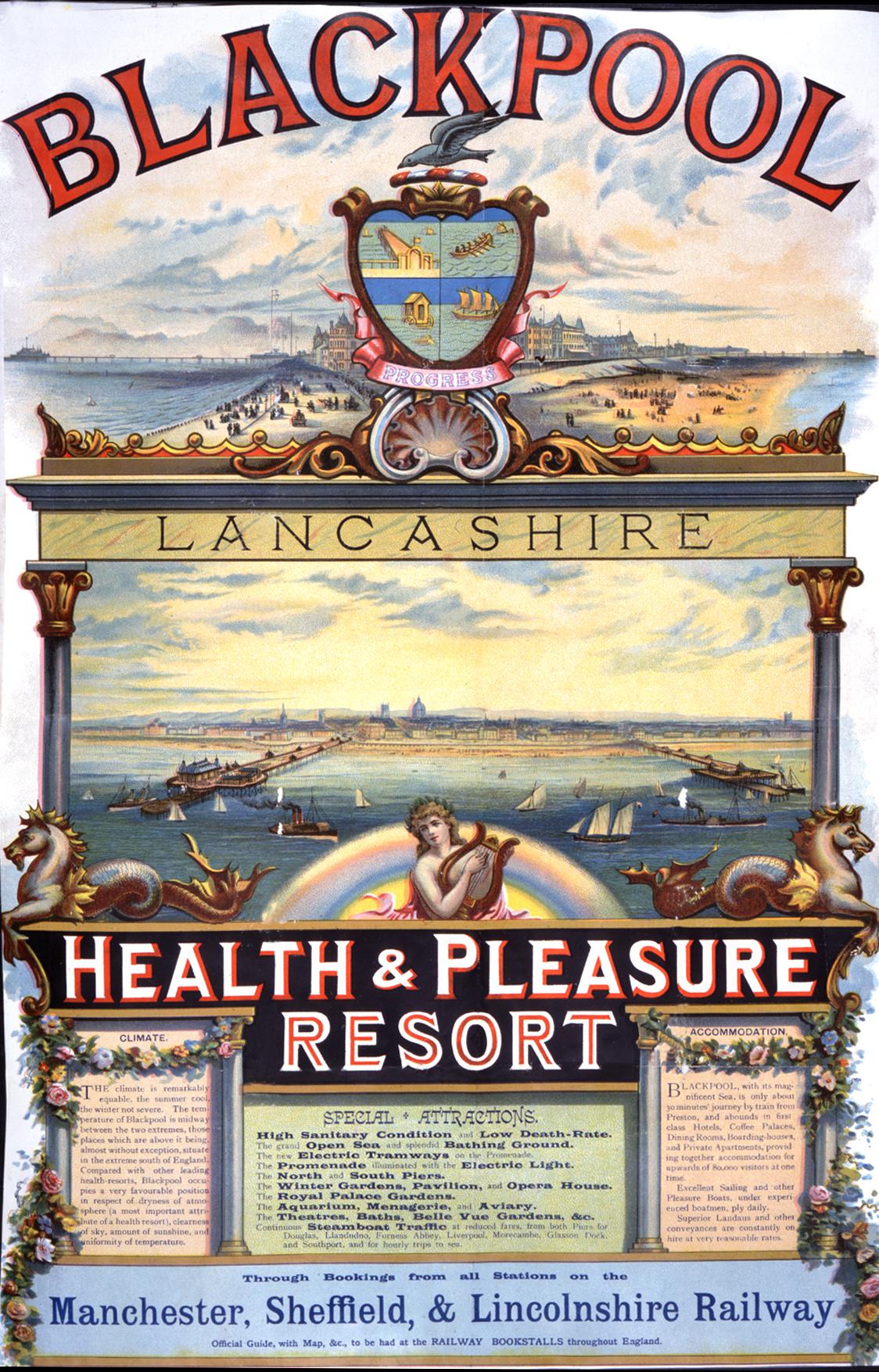 Poster advertising the attractions of Blackpool as a holiday destination, 1889. (Catalogue ref: COPY 1/88 f593)
Transcript
BLACKPOOL
PROGRESS
L A N C A S H I R E
HEALTH & PLEASURE RESORT
CLIMATE
The climate is remarkably equable, the summer cool, the winter not severe. The temperature of Blackpool is midway between the two extremes, those places which are above in being, almost without exception situated in the extreme south of England. Compared with other health-resorts, Blackpool occupies a very favourable position in respect of dryness of atmosphere (a most important attribute of a health resort), clearness of sky, amount of sunshine and uniformity of temperature.
SPECIAL ATTRACTIONS
High Sanitary Conditions and Low Death Rate.
The grand Open Sea and Splendid Bathing Ground.
The new Electronic Tramways on the promenade.
The North and South Piers.
The Winter Gardens, Pavilion, and Opera House.
The Aquarium, Menagerie and Aviary.
The Theatres, Baths, Belle Vue Gardens, &c.
Continuous Steamboat Traffic at reduced fares from both Piers for
Douglas, Llandudno, Furness Abbey, Liverpool, Morecambe, Glasson Dock,
And Southport and for hourly trips to sea.
ACCOMMODATION
BLACKPOOL, with its magnificent Sea, only about 30 minutes journey by train from Preston, and abounds in first class Hotels, Coffee Palaces, Dining Rooms, Boarding-Houses and Private Apartments, providing together accommodation for upwards of 80,000 visitors at one time.
Excellent Sailing and other Pleasure Boats, under experienced boatmen, ply daily.
Superior Landaus [carriages] and other conveyances are constantly on hire at very reasonable rates.
Through Bookings from all Stations on the
Manchester, Sheffield, & Lincolnshire Railway
Official Guide, with Map &c, to be had at the RAILWAY BOOKSTALLS throughout England
Return to Significant Places