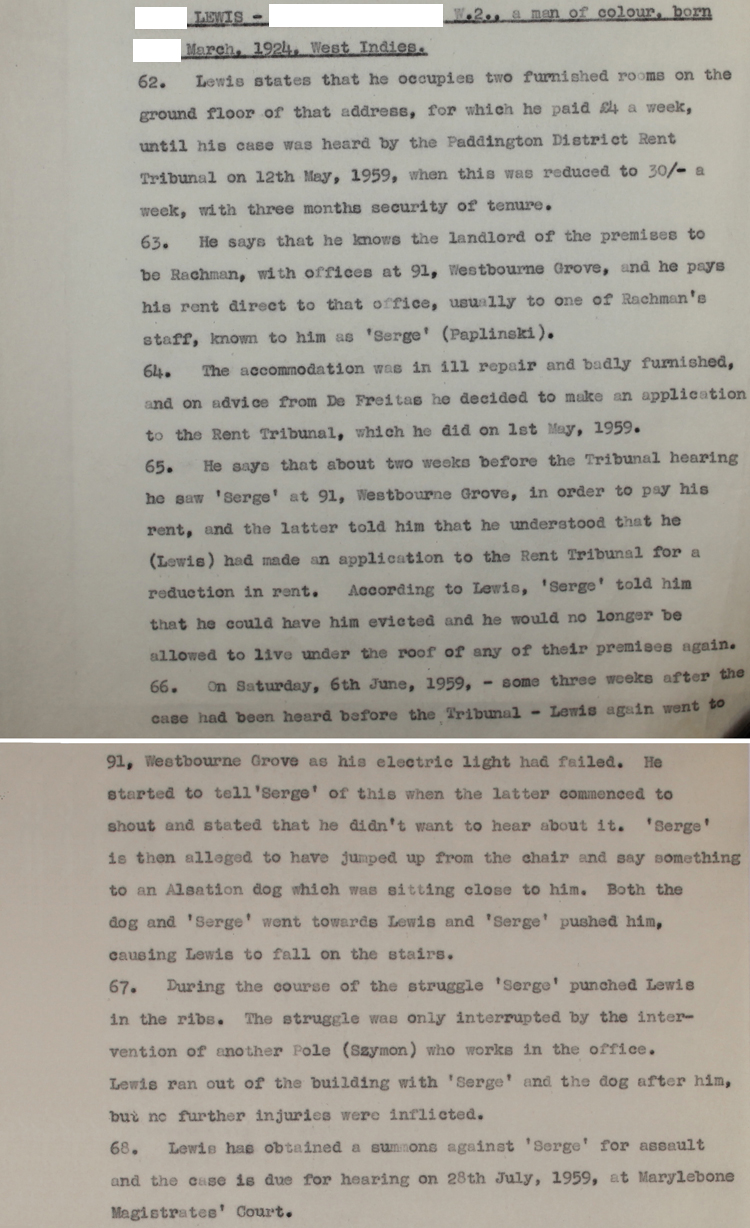 A witness statement by a Mr. Lewis taken from a report by the Metropolitan & City Police Fraud Department into threats against tenants who applied to rent tribunals in respect of accommodation rented from Perec (or Peter) Rachman, 27th July 1959 (MEPO 2/10077)
Transcript
[Mr.] Lewis – …W.2, a man of colour, born … March, 1924, West Indies.
62. Lewis states that he occupies two furnished rooms on the ground floor of that address, for which he paid £4 a week, until his case was heard by the Paddington District Rent Tribunal on 12th May, 1959, when this was reduced to 30/- [shillings] a week, with three months security of tenure.
63. He says that he knows the landlord of the premises to be Rachman, with offices at 91, Westbourne Grove, and he pays his rent direct to that office, usually to one of Rachman's staff, known to him as 'Serge' (Paplinski).
64. The accommodation was in ill repair and badly furnished, and on advice from De Freitas he decided to make an application to the Rent Tribunal, which he did on 1st May, 1959.
65. He says that about two weeks before the Tribunal hearing he saw 'Serge' at 91, West Bourne Grove, in order to pay his rent, and the latter told him that he understood that he (Lewis) had made an application to the rent Tribunal for a reduction in rent. According to Lewis, 'Serge' told him that he could have him evicted and would no longer be allowed to live under the roof of any of their premises again.
66. On Saturday, 6th June, 1959,- some three weeks after the case had been heard before the Tribunal- Lewis again went to 91 Westbourne Grove as his electric light had failed. He started to tell 'Serge' of this when the latter commenced to shout and stated that he didn't want to hear about it. 'Serge' is then alleged to have jumped up from the chair and say something to an Alsatian dog which was sitting close to him. Both the dog and 'Serge' went towards Lewis and 'Serge' pushed him, causing Lewis to fall on the stairs.
67. During the course of the struggle 'Serge' punched Lewis in the ribs. The struggle was only interrupted by the intervention of another Pole (Szymon) who works in the office. Lewis ran out of the building with 'Serge' and the dog after him, but no further injuries were inflicted.
68. Lewis has obtained a summons against 'Serge' for assault and the case is due for hearing on 28th July, 1959, at Marylebone Magistrates' Court.
…
Return to Fifties Britain