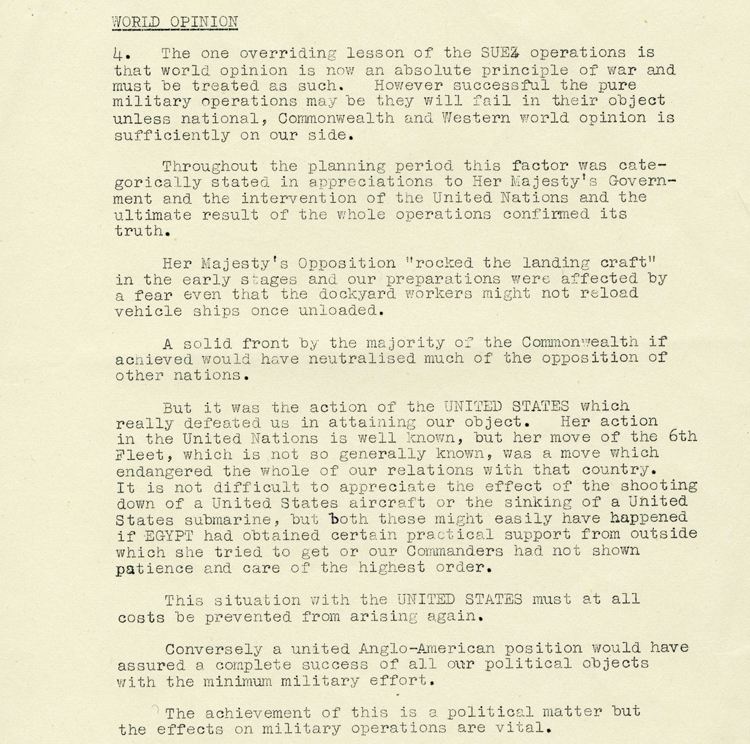 Extract from a report dated 11th Oct 1957 by General Charles Keightley on Suez operations in the Eastern Mediterranean, November-December 1956 (AIR 8/1940)
Transcript
WORLD OPINION
4. The one overriding lesson of the Suez operations is that world opinion is now an absolute principle of war and must be treated as such. However successful the pure military operations may be they will fail in their object unless national, Commonwealth and Western World opinion is sufficiently on our side.
Throughout the planning period this factor was categorically stated in appreciations to Her Majesty's Government and the intervention of the United Nations and the ultimate result of the whole operations confirmed its truth.
Her Majesty's Opposition "rocked the landing craft" in the early stages and our preparations were affected by a fear even that the dockyard workers might not reload vehicle ships once unloaded.
A solid front by the majority of the Commonwealth if achieved would have neutralised much of the opposition of the other nations.
But it was the action of the UNITED STATES which really defeated us in attaining our object. Her action in the United Nations is well known, but her move of the 6th Fleet, which is not so generally known, was a move which endangered the whole of our relations with that country. It is not difficult to appreciate the effect of the shooting down of a United States aircraft or the sinking of a United States submarine, but both these might easily have happened if Egypt had obtained certain practical support from outside which she tried to get or our Commanders had not shown patience and care of the highest order.
This situation with the UNITED STATES must at all costs be prevented from arising again.
Conversely a united Anglo-American position would have assured a complete success of all our political objects with the minimum of military effort.
The achievement of this is a political matter but the effects on military operations are vital.
Return to Fifties Britain