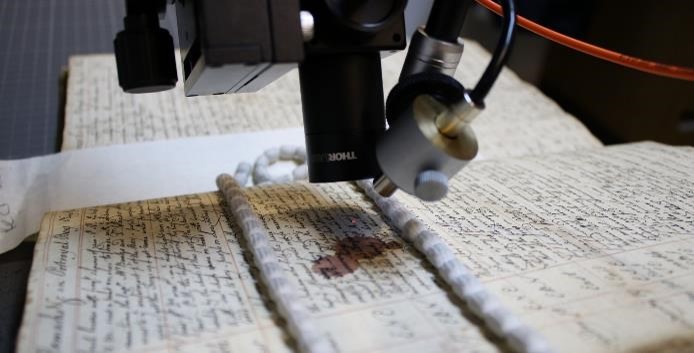 Our aim is to co-create applied and interpretive research projects with conservators, archivists and scientists from a range of disciplines leading to enhanced knowledge and understanding of the material composition of The National Archives' collection. Our research activities ensure we are at the forefront of conservation, preservation and documentation methods related to the diverse holdings of The National Archives.
As an Independent Research Organisation (IRO), we also lead on and participate in a variety of national and international funded research projects. Contact our team or the Research and Academic Engagement Department for more information or to work with us.
You can download our Heritage Science and Conservation research strategy below:
Heritage Science and Conservation Research Strategy 2021 (PDF, 0.5 MB)
Beeswax is a versatile, chemically stable yet physically fragile material used by humans for practical purposes and cultural practices for millennia.
Analysis, characterisation and conservation of early, rare photographic processes The Designs Registers, part of the Board of Trade (BT) series, contain almost three million British patterns, designs and trademarks from 1839 until 1991.
This joint collaborative project with the IMC Group aims to develop software that incorporates expert knowledge within a diagnostic tool.
Watermarks are images imprinted in paper that appear lighter when viewed in transmitted light, as they are thinner and therefore more transparent areas in the bulk of the sheet.
In 1765 Samuel Holland created the first truly modern and accurate map of Prince Edward Island, Canada, which had a considerable impact on the island - one that continues to this day.
Dust can speed up the chemical processes that lead to chemical deterioration of heritage collections, and makes them dirty.
Transparent papers are well represented in The National Archives given the transparent quality of the paper was the perfect medium for drawing maps, designs, and engineering plans.
A team of leading academic and cultural institutions has published a report explaining that a new working culture and a longer-term approach to funding, which reflects the changing landscape of heritage science, is essential for delivering research with greater impact.