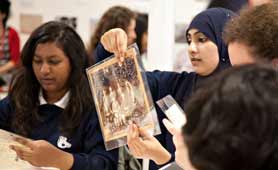 Bishopsgate Institute is an independent charitable organisation in the Spitalfields area of east London. The Institute runs courses for adult learners and a programme of public events, including concerts, debates and talks. It also houses a reference library with collections on the history of London and the labour, co-operative, freethought and humanist movements.
The schools and community learning department was established in 2010 alongside the library specifically to deliver the learning elements of a Heritage Lottery funded capital works and activity programme (2009-2013) to introduce new audiences to the Institute's expanding collections. The department was asked to develop, trial, market and deliver a series of learning workshops using original sources.
Key target audiences were:
school groups (key stages 2-4)
local community groups whose core activities were not heritage or learning-related
formal learners with English as a second or other language
Learning activities are expected to continue as part of ongoing business beyond the end of the HLF grant.
Date of project: 2010-2014
Partnership working
The core activity was carried out by the Bishopsgate Institute but the delivery of discrete projects involved partnership working, including:
Historic Royal Palaces, on the National Gallery's Take One project (using one item from our archives to inspire cross-curricular learning at Key Stage 2)
Crisis English Club, working with ESOL learners to curate a 2-d display using historic guidebooks, pamphlets and manuscripts from our London Collection
Camden Carers, working with users from a local carers' group and a creative writing tutor on an eight week project which used materials from the archives to inspire short pieces of creative writing around the theme of 'Monarchy and Republicanism'
Funding: The department is part-funded internally and part-funded by an HLF grant.
Challenges
Challenges include the need to play to the strengths of a diverse archive collection without compromising an appeal to a range of formal and informal learners and making archives relevant to participant groups:
building an audience, particularly school groups given the problems faced by teachers in obtaining cover from colleagues to undertake off-site visits
balancing the department needs with wider Institute needs: the learning area is shared with other departments within the organisation
regularly using original source materials but being aware of preservation issues
balancing the needs of the department and those of users
responding positively to requests for tailor-made workshops or devising a set of 'off-the-peg' sessions
some partners (particularly non-history subject specialists) struggled to see how sessions might work without replica objects or costumed interpretation
Opportunities
operating out of a fully-resourced department within an established library and cultural institution with a generous allowance of time dedicated to activities
undertaking a thorough audit of archival holdings to ensure strengths of the collection were fully exploited
consultation with teachers and community group leaders before developing workshops
a chance to devise high-quality learning workshops which were relevant and meaningful for all types of learners and would showcase the potential for using archives to engage with new and diverse audiences
Responding to the challenges or opportunities
seeking the views of teachers and group leaders in planning the workshop learning offer
devising sessions to reflect the strengths of collections and showcase some of the more visually arresting, thought-provoking and accessible items
devising worksheets to focus and direct inquiry
a structured approach helped all types of learners feel 'safe' and made engagement with the sources appear manageable
trialling sessions during the first six month helped reassure teachers and group leaders
'One pupil has been truanting lately – he has walked out of school four times this week. Today he was engaged and focussed and making links between the archives and current events. It was great for us to see this side of him.' Year 7 SEN, Learning Support Teacher
second bookings frequently followed these trial sessions and through word-of-mouth recommendations more bookings were secured
Outcomes
six 'off-the-peg' archive learning workshops for KS2-4 school groups and five 'off-the-peg' sessions for community groups
archives workshop for formal ESOL learners
worked with a range of partner organisations to develop and produce four temporary exhibitions inspired by the archive collections (one is now available as an online exhibition)
acting as heritage partners on two external projects
devised and delivered four small community projects in-house
in the first two years, delivered almost 200 learning workshops to over 2,000 participants of all ages and from a range of backgrounds
evaluation responses were extremely positive, for example, 70% of teachers rated our sessions excellent and 30% very good and all teachers stated that they would recommend the workshops to colleagues
Teacher feedback includes:
'Great to trust young people with original historical sources' Year 10 teacher
'Genuine problem-solving took place in the session' Year 9 teacher
Participant feedback includes:
'This workshop made me feel inspired to start looking at other archives' Year 7 SEN pupil
'I learnt that history isn't boring but very interesting' Year 8 pupil
'It was an overall awesome experience' Year 9 pupil
What did you learn?
regarding schools, differentiating activities to maintain focus in large, mixed-ability groups, always including extension activities for more able learners
regarding community groups, be responsive and flexible, allow the pace and content of sessions to be directed by the participants
visits to schools and community groups, word-of-mouth recommendations, project work, umbrella marketing schemes and existing personal contacts all had a positive impact on bookings
distributing marketing flyers front of house has failed to generate bookings
time and dedication is needed to build an audience
the drop-in sessions organised (reminiscence sessions, teacher twilight events and 'open' archive workshops) were less successful aspects of our activity
evaluating the sessions means the learning offer is promoted more effectively (using qualitative data from the feedback) as well as ensuring sessions are pitched at the right level
allowing large groups of novice researchers to handle original sources required the support of colleagues to preserve and protect the collections
open communication between departments has helped us work happily with library/archive colleagues
How will this work be developed in the future?
work is expected to continue beyond the end of HLF grant funding
increased knowledge of the archive collections means the Institute can now respond to requests for subject-specific sessions from new organisations and add three new workshops to our basic learning offer
two classroom learning resources will be made available online in 2013 to enable schools to access the archives for learning remotely
devising two walking trails for school groups to add value to the local history workshops
Further information about the case study contact learning@bishopsgate.org.uk or look at the Bishopsgate Institute website.