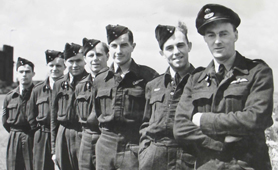 This is a brief guide to researching records of Royal Air Force squadronssquadron - an airborne unit in the RAF. RAF squadron records are largely complete and fairly detailed. They are held in a variety of places, but the majority of relevant records can be found at The National Archives.
This guide will help you to find out if the information you are looking for exists, and if it does where to find it or more information about it. This guide is for people interested in RAF squadrons themselves as opposed to those interested in finding a specific person.
What do I need to know before I start?
What records can I see online?
What records can I find at The National Archives at Kew?
What records can I find in other archives and organisations?

Non-operational crashes and casualties (1918-present)

Browse the Ministry of Defence Air Historical Branch website for information on tracing records of crashes and casualties which occurred on non-operational flights from 1918 onwards. These do not usually contain personal details.
What other resources will help me find information?
The National Archives is not responsible for the content of external websites.