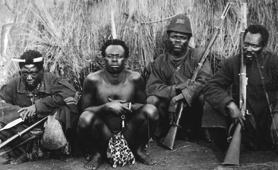 This is a brief guide to researching British government and military records of a war involving Britain. Guidance is available for some major conflicts elsewhere on this site, but this guide will help you find general records not covered in other research signposts.
War records are wide-ranging, sometimes incomplete and are kept in a variety of places. This guide will help you gain a general overview of the main sources of the information that exists, and where to find it. This guide is for people interested in the subject of a war as opposed to those interested in finding a specific person who fought in a conflict.

What records can I see online?

Cabinet papers (1915-1978)

Search records of the Cabinet Office for the period 1915 to 1978 for documents concerning decisions and discussions before, during, and after a conflict or a war.

Our online records

Browse Discovery, our catalogue to find out what records are available digitally from The National Archives concerning conflicts and wars.
What records can I find at The National Archives at Kew?
What records can I find in other archives and organisations?

British Library records

Visit the British Library's website to find out what information they hold on wars and conflicts involving Britain, especially those concerning Asia, Africa and the Pacific.

Imperial War Museum

Visit the Imperial War Museum's website to find out what information they hold on wars and conflicts involving Britain and the Commonwealth in the 20th and 21st centuries.

Records held locally

The National Archives' catalogue has details of collections held by over 2500 archives across the UK. Search our catalogue using keywords to find records in local archives. You may need to refine your results using the filters.
What other resources will help me find information?
The National Archives is not responsible for the content of external websites.