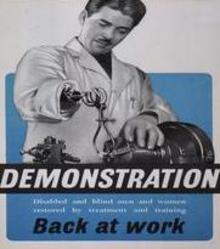 This is a brief guide to researching records of disability. Research requires an understanding of the history of disability and how attitudes and terminology changed over time. This guide highlights some of the key sources and demonstrates the wide variety and large number of government departments in which they are found. The records held at The National Archives will often complement records kept in a variety of local archives and specialist collections. Most of these records are not of specific disabled people but of government policy and services.
What would it be useful to know before I start?

Try to find out:

the type of disability and how it was referred to historically
the dates and places associated with your research
how and why the state was involved
What records can I see online?

Census records 1851-1911

Search and view census records from 1851 to 1911 through Ancestry (£There may be a charge for accessing this information. Searching indexes may be free.) or free of charge at The National Archives building in Kew. From 1851, the information recorded for each individual on the census included a record of certain disabilities. Enter the following terms in the 'Keyword' search box to find these records:

deaf
dumb
blind
lunatic
imbecile
idiot
asylum
inmate
patient

Cabinet Papers 1915-1980

Search The National Archives Cabinet Papers 1915-1980 website for a wide range of Cabinet Papers chosen for their historical significance. Learn how legislation and services for the physically disabled evolved in the post-war period and search the site for information on the work and findings of the following committees:

Committee on the Rehabilitation and Resettlement of Disabled Persons
Piercy Committee
Younghusband Committee
What records can I find only at The National Archives at Kew?

Some of the broad range of records of disability at The National Archives are listed below. Find others by searching Discovery, our catalogue. Use a wide variety of search terms, including combinations of words, historical terms, place names and institutions. Sometimes search terms only broadly connected to the subject matter can be the key to uncovering files. For example:

Search for early records on the Paralympics using 'Stoke Mandeville'
Search for records of disability caused by industrial accidents with combinations such as mine AND rehab* or coal AND paraplegia
Search for research carried out on debilitating illnesses using terms such as rickets or occupational injuries using terms such as 'beat elbow'

Records of the Disabled Persons Employment Corporation and Remploy Ltd 1945-2001

Search our catalogue by keyword or browse the BM department for records of the Disabled Persons Employment Corporation and the non-profit company Remploy Ltd, set up under the provisions of the Disabled Persons (Employment) Act 1944. Search for related records in LAB 9, LAB 16 and LAB 20. The following search terms will prove useful:

Cripplecraft
Chailey Heritage

War pensions from First World War

Use our catalogue to search PIN 26 by nature of injury (for example, amputation or deafness) or by injured body part (for example, head or hip) for details of individuals awarded war disability pensions following the First World War. See the PIN 26 series arrangement for abbreviations used to describe some of these records. For more information see our guide to Disability and dependents' pensions in the First World War.

Ministry of Labour files 1918-1980

Use our catalogue to search or browse the Ministry of Labour's files on disabled persons (1919-1978) in LAB 20 and training schemes for the rehabilitation of the disabled (1922-1980) in LAB 18.

Charities for the disabled

Search our catalogue with the advanced search by charity name for charities which relate to disabilities in the Charity Commission files in CHAR 7 (1750-2002) and the files relating to public health services in MH 55 (1853-1970). Some charities have changed their names since the files were created and you will need to search by the old name.

Government Acts

Search our catalogue by the title of individual government acts relevant to disability issues in MH 55, T 161 and AST amongst others. One of the first pieces of legislation passed specifically for a disability was the Blind Persons Act of 1920. For a useful timeline, see the English Heritage website.

Development of assistive technology

Use the advanced search in our catalogue to search by name of product (for example, 'hearing aid', 'invalid chair' or 'artificial limb') for records of designs, copyright and funding of assistive technologyAny product or service designed to enable greater independence for disabled people in the following record seriesA grouping of records held by The National Archives, based on common function or subject. and departmentsdepartment - The highest level in our records hierarchy, usually corresponding to the government department of origin:

Ships' medical journals 1785-1963

Use the advanced search in Discovery, our catalogue, to search ADM 101 for surgeons' journals, a very small number of which are available online. These journals were kept on board ships to track the health of the ship's company. Amongst accounts of the medical or surgical treatments carried out on board, they also include details of long-term disabilities and some sketches. Search using historical terms (see 'Did you know?').
What records can I find in other archives and organisations?
What other resources will help me find information?
The National Archives is not responsible for the content of external websites.