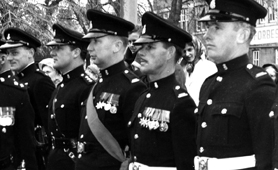 This is a brief guide to researching records of British army regiments. Regimental records are varied, sometimes incomplete and can be complicated. They are held in a variety of places. This guide will help you to find out if the information you are looking for exists, and if it does where to find it or more information about it. This guide is for people interested in regiments themselves as opposed to those interested in finding a specific person.
What do I need to know before I start?

Try to find out:

the identity (name and number) of the regiment
a date range and location to help focus your search
What records can I see online?
What records can I find at The National Archives at Kew?

Regimental muster books, pay lists and records (c1730-1991)

Search our catalogue by regiment name, number or county for a regimental muster book or pay list between c1730 and 1898 (WO 10, WO 11, WO 12, WO 13, WO 14, WO 16, WO 68, WO 69) or for other regimental records between 1737 and 1991 (WO 379 and WO 380). These are arranged by unit type, regiment and date. They are also incomplete.

Second World War unit war diaries (1938-1947)

Refer to section 5 in the research guide British Army operations in the Second World War for a list of seriesa grouping of records held by The National Archives, based on common function or subject containing unit war diaries for the Second World War. Unit war diaries do not generally contain biographical information.
What records can I find in other archives and organisations?

The National Army Museum

Visit the National Army Museum's website for more information on what records they hold on British army regiments.

Regimental museums and other records held locally

The National Archives' catalogue has details of collections held by over 2500 archives across the UK. Search our catalogue using keywords to find records held in regimental museums and local archives. You may need to refine your results using the filters.
What other resources will help me find information?
The National Archives is not responsible for the content of external websites.